Many homes incur thousands of dollars in damage before termites are even detected. Drive-Bye Exterminators is the answer to your termite treatment needs and we provide protection for your home or business against ALL types of termites.
As State Certified Inspectors, we specialize in termite treatment and in alternatives to the traditional extermination methods. We can also treat with a combination of traditional Fumigation and alternative methods to maximize effectiveness.
If you think you have termites, it's nearly impossible to get rid of them on your own. How can you tell if termites are in or near your home? Unfortunately, there may be little or no warning, but You can click here to take our Termite Survey to get a better idea of your situation and you can Click here to fill out a quick form for a FREE Inspection from one of our State Certified Technicians.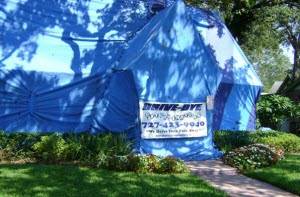 Preventative Treatments and Elimination of Termites Treatment Clearwater
Fumigation / Tenting
Non Tenting
Baiting
Termidor
All of our service technicians are highly trained and State Certified. We arrive at your home or business properly equipped with the tools to effectively solve your termite problems and then….We drive your pest away!
*Call Us Today for Same Day Service (727) 423-9040
We've built our company by serving our customers with honesty, excellent service and dependability and we are committed to offering cost effective solutions for termite and pest control to our customers.
*certain conditions apply