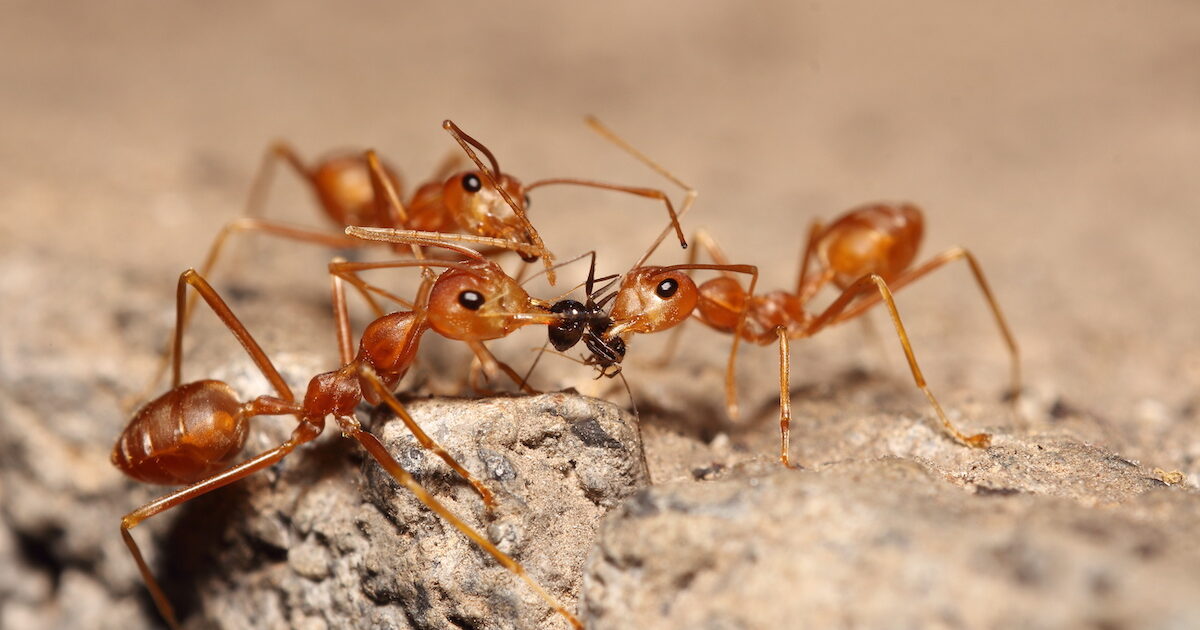 Ants are all over Florida, coming in all shapes and sizes. But what are the most dangerous ants in Florida? Ants are a possible threat to the environment as well as humans. While you don't have to fear every ant that crosses your path, you should pay attention to the few that might cause trouble.
The good news is that you can protect yourself and your family by learning about the most dangerous ants in Florida. Taking a look at the top 3, please call us at Drive-Bye Exterminator if you suspect an ant infestation at your home.
Fire Ants: Aggressive and Harmful
The famous fire ant blazes trails here in the Sunshine State–and not in a good way. One of the most well-known and dangerous ant species in Florida is the firt ant. You can recognize them by their reddish-brown color and seriously painful stings.
Aggressive and relentless, fire ants attack in swarms and their stings can cause severe allergic reactions in some people. These ants are not only a health hazard but also cause significant agricultural and property damage. They build large mounds, often seen in open areas, and can harm electrical systems and crops.
What are the signs of a fire ant infestation?
Living in Florida, you're likely familiar about fire ants. But do you know the signs of a fire ant infestation? Here are a few clues to keep in mind.
Mound Nests
The most obvious sign of a fire ant presence is their distinctive mound nests. Unlike other ant hills, fire ant mounds do not have a central opening at the top. These mounds are usually found in open areas like lawns and fields and can be quite large, sometimes reaching up to 18 inches in height. The mounds are often dome-shaped and appear fluffy, as if the soil has been loosely piled up.
Swarm Behavior
Fire ants are known for their aggressive behavior, especially when their nest is disturbed. If you accidentally step on or disturb a mound, you may trigger a swarm. Fire ants rapidly emerge from the mound and can climb onto nearby objects, including humans, where they can inflict painful stings.
Damage to Plants and Crops
These ants can cause significant damage to plants and crops. Fire ants are omnivorous and may feed on young plant shoots and seedlings, leading to reduced crop yields. Fire ants can specifically cause problems in vegetable gardens.
Increased Ant Activity
An increase in ant activity around your property, especially of red ants moving in lines or foraging. This is a possible sign of a nest nearby. Fire ants are typically more active during cooler parts of the day, such as early morning or late afternoon.
Sightings of Winged Ants
Fire ants reproduce through flights of winged ants, known as swarmers. Seeing these winged ants around your property can be a sign of a colony.
Unexplained Animal Distress
Pets and livestock may show signs of distress due to fire ant bites or stings. If animals avoid certain areas or exhibit discomfort or injuries, particularly on their legs or underbelly, it could be due to fire ant activity.
Carpenter Ants: Structural Threats
The good news is that carpenter ants are not directly dangerous to humans. But when it comes to homes and structures, it's a completely different story. So, what makes them one of the most dangerous ants in Florida?
These ants are larger than most other species and are typically black or dark brown. They are often found in moist or decaying wood, making Florida's humid climate a perfect habitat.
Why are carpenter ants dangerous?
Unlike termites, they do not eat wood but excavate it to build their nests. They can be a big problem to your home (and quality of life) for the following reasons:
Structural Damage
Carpenter ants excavate wood to build their nests, which over time can cause significant damage to the wooden structures within a building. This damage is primarily due to the hollowing out of wood, which weakens structural elements such as beams, joists, and studs. Unlike surface damage, the destruction caused by carpenter ants often goes deep into the wood, potentially compromising the stability and safety of the affected structure.
Difficult to Detect Early
One of the challenges with carpenter ants is that their damage can be hard to detect in the initial stages. These ants prefer to nest in secluded, moist areas, often inside walls, beneath floors, or in other hidden parts of a building.
Consequently, by the time you discover an infestation, they may have already caused considerable structural damage.
Attraction to Moist and Decayed Wood
Carpenter ants are particularly drawn to moist or decaying wood, which is easier for them to excavate. This preference means that any existing moisture problems in a building, such as leaks, condensation, or poor drainage, can attract these ants and encourage infestation.
Potential for Extensive Infestations
A single property can host multiple carpenter ant colonies. This can include a parent colony and several satellite colonies.
Multiple colonies leads to a widespread infestation within a structure, amplifying the level of damage. Addressing a carpenter ant problem often involves not just treating the visible symptoms but also tracking down and eliminating all the nests.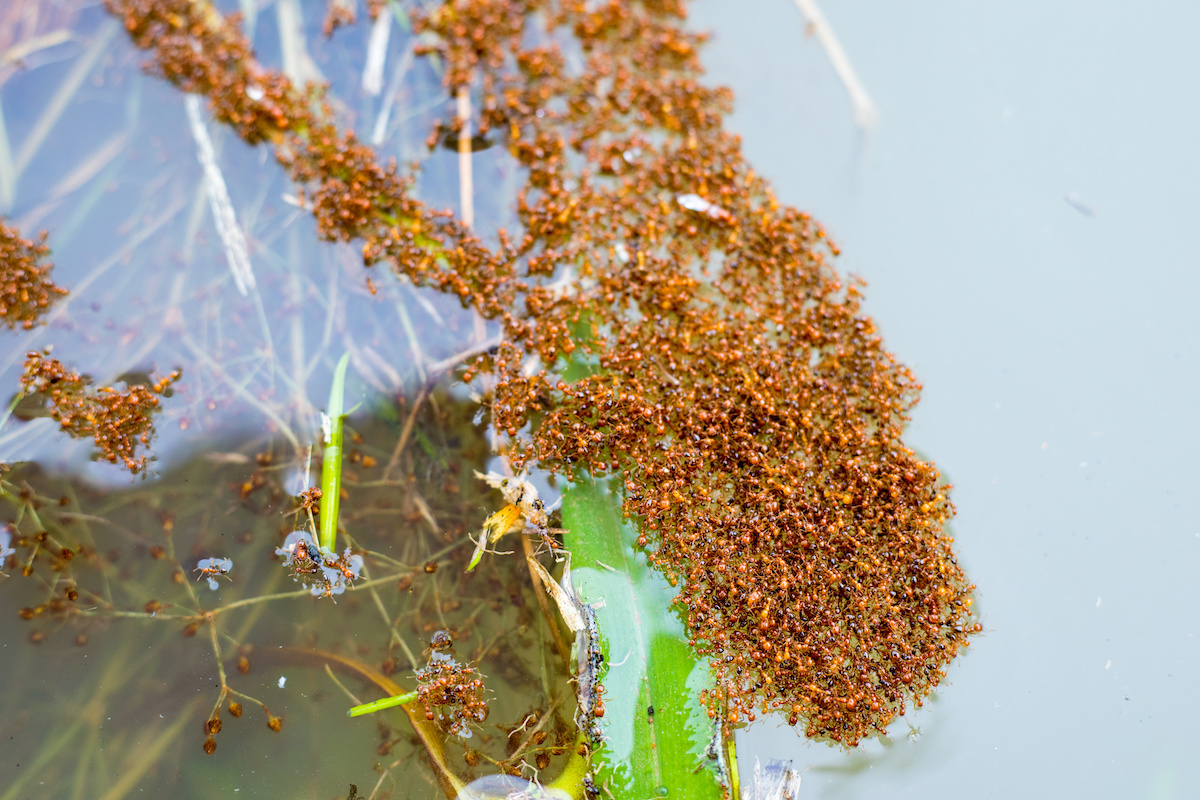 Tawny Crazy Ants: Invasive and Destructive
Haven't heard of the Tawny Crazy Ant? This ant is an invasive species and increasingly problematic in Florida. Formerly known as the Caribbean Crazy Ant, these ants make erratic movements and form massive colonies.
Crazy ants might bite, but they don't have stingers. The even bigger problem is that large numbers can overrun ecosystems, displacing native species and disrupting local biodiversity. They are also known to short-circuit electrical equipment, causing damage to appliances and machinery.
Little Fire Ants: Small but Dangerous
Wait, didn't we already talk about fire ants? Yes, but not these fire ants. Not all fire ants are the same. Here, we are talking about title fire ants–a different species from the fire ants you are probably thinking about.
These ants are roughly 1.0 mm long. Despite their small size, Little Fire Ants are a significant concern due to their painful stings, which can cause allergic reactions in some people.
These ants are an invasive species and, like their larger Fire Ant relatives, are aggressive in defense of their nests. They pose a threat to native wildlife and can impact agricultural practices by protecting aphids and other pests from natural predators in exchange for honeydew.
Fun fact: little fire ants are called electric ants in Australia.
Concerned About the Most Dangerous Ants in Florida? Call us at Drive-Bye Exterminators
Did some of the most dangerous ants in Florida surprise you? If you suspect that you have an ant infestation, don't hesitate to reach out to us for help. We can help you find the source of the infestation and get rid of ants, no matter the species. Call us today to get started.