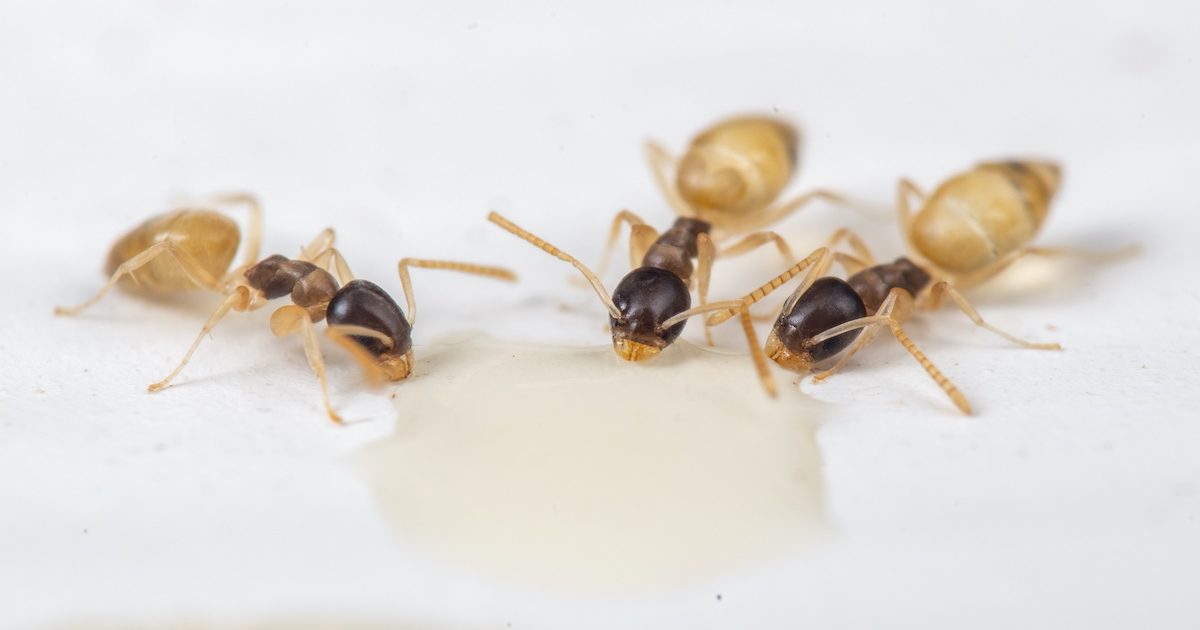 As we creep closer to Halloween, we have ghosts on our mind here at Drive-Bye Exterminators–but not the type of ghosts that you think! We're talking about ghost ants. These tiny white ants can plague your Florida home, causing an infestation right under your nose. If you are wondering how to get rid of ghost ants in Florida, we're here to help.
The ghost ant has increasingly become a common household nuisance in the Sunshine state. This is particularly true in areas from Tampa and Sarasota, to Orlando and southward. If you've spotted these minuscule ants—identified by their dark head and thorax with a pale, almost translucent abdomen and legs—it's time to take action.
Learning how to get rid of ghost ants in Florida is important for the health of your home. From there, we will show you some prevention techniques so you can keep your home free of ghost ants for good.
How to Get Rid of Ghost Ants: Origins and Identification
Despite their name, ghost ants aren't the spirits of dead ants coming back to haunt you. The ghost ant is believed to be of either African or Oriental origin. The problem is that this species has spread significantly due to global commerce. Its presence is notable across various parts of the United States, particularly in warmer climates like Florida and Hawaii.
In Florida, their infestations are so widespread that they've been recognized as one of the top nuisance ants in the state. Scared yet?
There's no need to fear the ghost ant, especially since they are so tiny. In fact, identifying ghost ants can be slightly tricky due to their very small size–approximately 1.3 to 1.5 mm long.
They are characterized by their unique coloration: a dark head and thorax contrasted against a milky-white gaster (abdomen) and legs. Their almost invisible appearance on surfaces is what gives them their "ghostly" moniker.
Behavioral Patterns and Diet Preferences of of Ghost Ants
Ghost ants don't spend their days haunting houses and dragging around chains, but they sure are adaptable creatures when it comes to nesting. They are equally comfortable setting up colonies outdoors in the soil. The ants also like to make themselves at home indoors within wall cavities and beneath your floorboards.
They prefer moist environments, often found nesting in potted plants or beneath debris. These ants are highly social, living in large colonies that sometimes fragment into smaller sub-colonies, each with multiple queens. As if one ghost queen ant isn't bad enough, right?
Their diet primarily consists of sweets and proteins, which includes other dead insects. These ants also love honeydew like nothing else. They are also happy to feast on any insects that
Furthermore, ghost ants are rapid and erratic runners. But their movement becomes more deliberate when following established trails to food sources.
The Economic and Ecological Hauntings of Ghost Ants
Ghost ants pose significant challenges both in households and in commercial settings, especially greenhouses. In homes, they are notorious for invading kitchens, attracted by sugary substances and other foods–and you guessed right if you said honeydew.
Inside greenhouses, they've been known to protect honeydew-producing pests from their natural predators, thereby disrupting biological control measures.
In certain areas, ghost ants play a role in the local ecology, such as preying on eggs of certain insect species. However, in environments like Florida, their presence in large numbers is generally viewed more as a pest problem than an ecological benefit.
How to Get Rid of Ghost Ants in Florida: Detecting and Managing Ghost Ant Infestations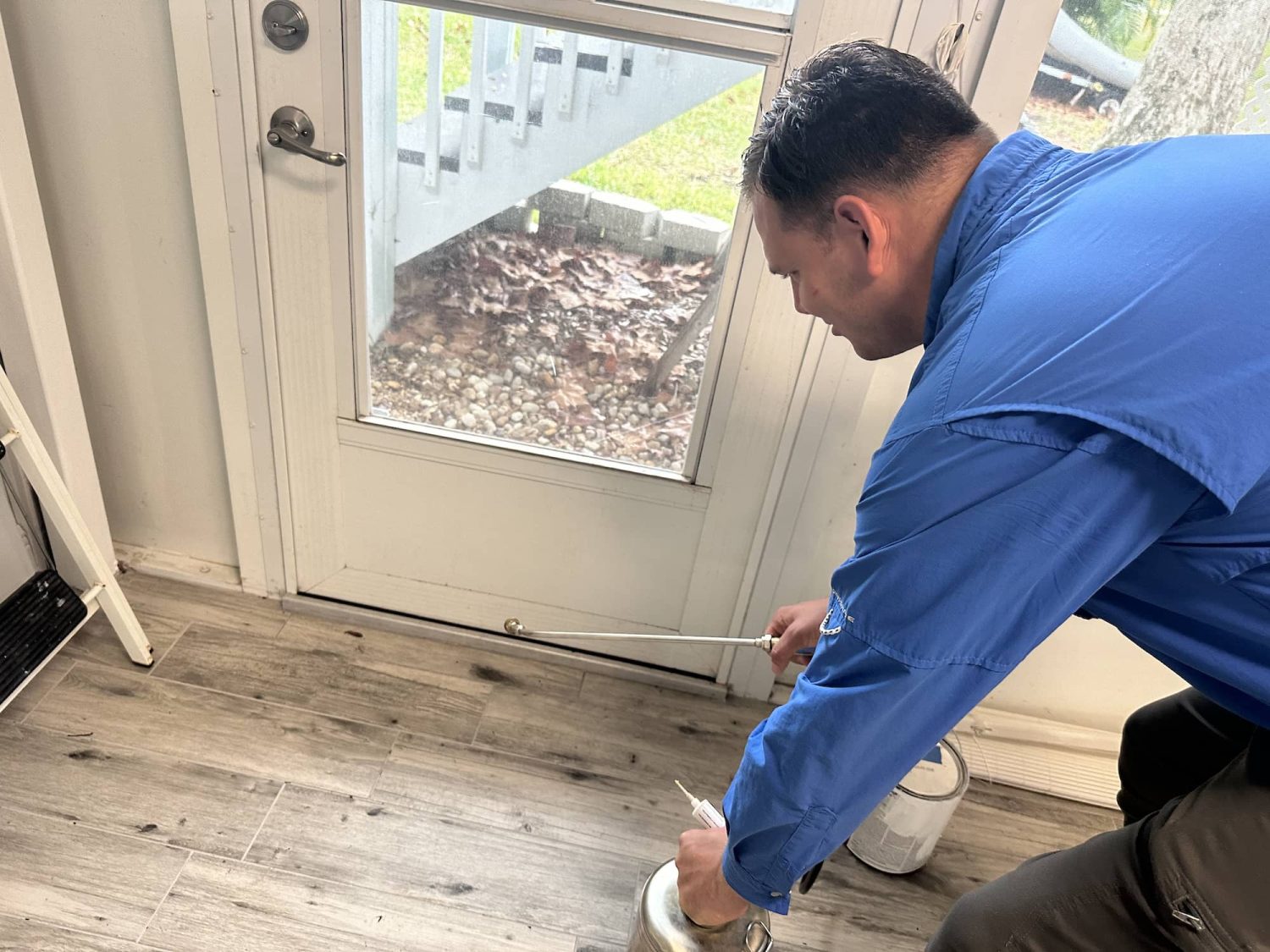 If you want to see ghost ants for yourself, you better pull out a magnifying glass. Detecting ghost ants involves keen observation. Because of their small size and pale color, they can be difficult to spot until they've formed a significant infestation.
Typically, you might notice these ants in kitchens and bathrooms, where they search for water and food. And yes, they're probably on the hunt for honeydew.
Top Signs of a Ghost Ant Infestation
How do you know for sure that you have a ghost ant infestation on your hands? Keep an eye out for the following signs:
Seeing ghost ants in your home or business.
Finding ghost ant trails leading to food sources or water.
Discovering ghost ant nests in walls, ceilings, or other areas of your home or business.
Seeing ghost ant droppings, which are small, dark specks.
Hearing ghost ants scurrying around in walls or other areas of your home or business.
Smelling a sweet, musty odor, which is the scent of ghost ant pheromones.
If you notice any of these signs, it is important to take action to get rid of the ghost ants as soon as possible. Ghost ants can be difficult to control, so it is best to call a professional pest control company for help.
Getting Rid of Ghosts Ants for Good
When it comes to eradication, tracing the ant trails back to the nest and treating the nest directly is the most effective strategy. Let's take a closer look at how this works and other remedies on how to get rid of ghost ants in Florida.
Identify the Trails and Nests
Ghost ants are habitual trail-followers. Observing these tiny ants' movement patterns often reveals the paths they travel from food sources back to their nests. Typically, they establish their colonies in concealed, protected areas This might be within the walls or the foundation of your home. Careful observation and a little patience can help locate these trails and, eventually, the nests.
Effective Baiting Techniques
Using baits is highly effective against ghost ants because these ants are "sharing" insects. They take the bait back to their colony, effectively distributing the insecticide to other members, including the queens.
However, choosing the right bait is crucial. Ghost ants prefer sweet baits, and these should be placed close to their trails for the best results. Regularly check and replenish bait stations, ensuring they are fresh and palatable for the ants to transport back to their nests.
Persistent and Consistent Treatment
Given their ability to split their colonies and have multiple queens, ghost ants require a persistent approach for successful eradication. Don't give up too soon!
It's essential to continue the treatment beyond the immediate disappearance of visible ants. Ant populations can fluctuate. Unfortunately, the seeming disappearance doesn't necessarily mean the entire colony, including the queens, are gone.
Getting Professional Professional Help
Sometimes, the best approach, especially for widespread or persistent infestations, is to call in pest control professionals. They have the expertise to identify, treat, and provide ongoing strategies to keep your home ant-free. Additionally, they can offer specific insights into ghost ant behavior, considering regional factors in Florida that might not be commonly known.
Preventing Ghost Ants from Returning
Effective management of ghost ant populations starts with preventive measures. Maintaining cleanliness is critical–ensure that food crumbs are cleaned up, and food items are stored in sealed containers. Controlling humidity and fixing water leaks can also make your home less attractive to these moisture-loving ants.
Say Goodbye to Ghost Ants with Drive-Bye Exterminators
Ghost ants can be a hassle, but they don't have to haunt you forever. Drive-Bye Exterminators are happy to help fight off ghost ants while keeping them out of your home. If you are having trouble figuring out how to get rid of ghost ants in Florida, please contact us today.