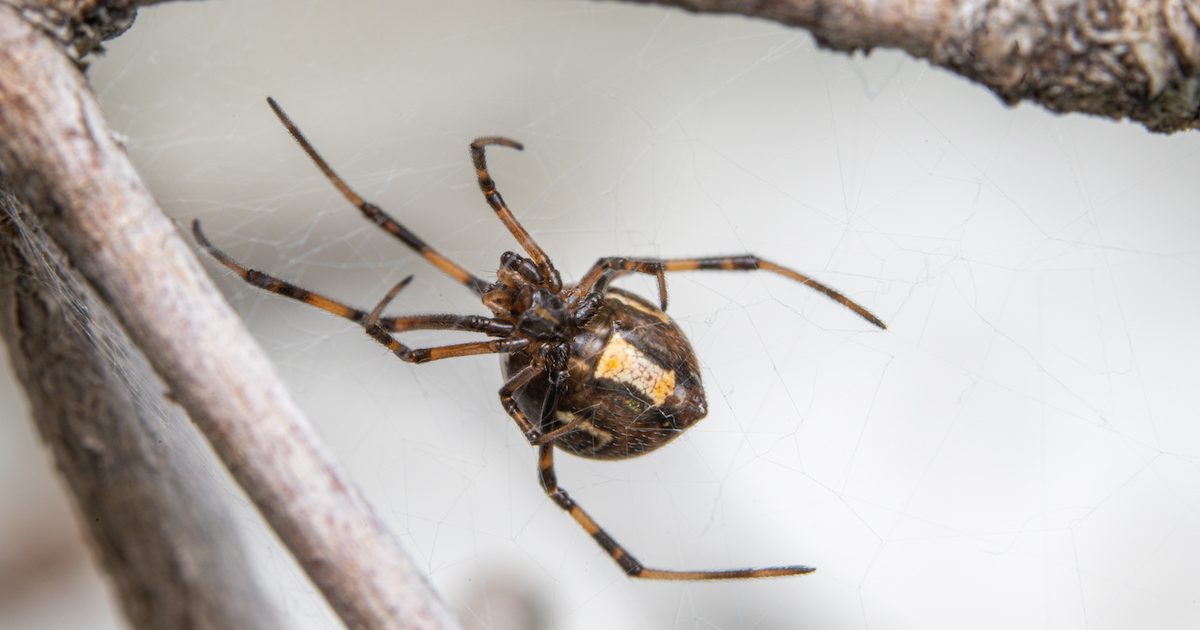 Most of us know about the notorious black widow spider with its distinguishable black body and red markings. However, another spider also lurks in the shadows with a similar name: the brown widow. While these two spiders are not directly related, they do share a similar appearance.
Brown widows are an invasive species from southern Africa that has established a foothold in the United States, and it has the potential to be a serious problem for our native species. Brown widows live in pantropical and subtropical places throughout the world. This species has established populations in Florida as well as Hawaii, Japan, and other areas.
Is the brown widow dangerous? What should you do when an infestation occurs? We'll tell you everything you need to know about the brown widow in this blog.
What Does the Brown Widow Look Like?
The brown widow spider has a similar body plan to the black widow spider, but the abdomen of the brown widow is a tan or light brown color instead of black. This spider has a violin-shaped marking on the underside of its abdomen, which is usually a lighter shade of tan than the body.
These spiders have a very distinct appearance. Males are brown with a light brown band around the outside of their abdomens. The females are more tan in color, with a black spot on the back of their abdomens. These spiders have stripes on their legs, as well as a brown cephalothorax.
How Common is the Brown Widow Spider in Florida?
The brown widow spider is native to sub-Saharan Africa but has spread to the southern United States and parts of Central America. It is one of the most commonly found spiders in California and has been found throughout the southwestern United States. The brown widow spider is extremely adaptable and is most commonly found in humid, tropical areas with tall grasses and a lot of vegetation.
It was first identified in the U.S. in the 1990s, spreading from Florida to California. It is now considered an invasive species because it is increasing in population.
This spider is common in Florida. Although you may find them in undisturbed areas of your home, like in empty containers and storage closets, they are more commonly found outdoors.
How is the Black Widow Different?
Black widow vs. brown widow spider: what's the difference? This is a very common question that we receive.
Black widows and brown widows are both members of the genus Latrodectus, in the black widow spider family, Latrodectidae. All members of this family are venomous and you should treat them with caution. Although the brown widows are more poisonous than the black widow, their bite is less harmful.
Although both species feature an hourglass shape on their abdomen, the black widows will be bright red and the brown widows will be yellow to orange in color.
What Should You Do if You See One?
You should exercise caution anytime you see a spider in your home, especially if you aren't able to identify the type. A good way to trap a spider without getting too close is to use a vacuum with a long-handled attachment to suck it up. Keep in mind that vacuuming the spider won't necessarily kill it, so be sure to dispose of it outdoors right away.
What Should You Do if You Get Bit?
If you get bit, don't panic, the brown widow bite is not deadly. The bite is typically no worse than a wasp sting, but it may be painful, especially if you are bitten by a female.
Here's what you should do if you are bitten by this spider:
Control bleeding by applying pressure to the wound.
Use ice to reduce swelling and pain.
Seek emergency medical treatment for severe pain or symptoms of an allergic reaction.
What are the Symptoms of a Brown Widow Spider Bite?
There is a range of symptoms you might experience after a brown widow spider bite including:
Severe pain
Tingling or burning
Warmth, redness, and swelling around the bite site
Faintness
Shortness of breath
Muscle spasms
Sweating
Chills and shaking
Headache
In rare cases, you may experience nausea and vomiting.
A blister and an open sore may develop in some cases, so be sure to wash the area with soap and water to avoid infection.
Over-the-counter pain medications can help with minor symptoms, but if your reaction seems severe, seek medical attention right away.
Signs of an Infestation
Do you have a spider infestation? Hopefully, this isn't the case, but it's an unfortunate reality that you may experience. What are the signs of a brown widow infestation?
Brown widow spiders are experts at hiding, so be sure there's a good source of light in your home so they are easier to spot. Brown widows like to hang out in basements, closets, garages, and dark corners of the home. They want to stay away from you and slip by undetected, so if you begin to see more than the occasional spider or two around your house, it may be a sign that you have an infestation.
You may also notice their webs around your garage and other areas of your home. What does a brown widow spider web look like? Brown widow spiders usually build their webs near the ground in dark, undisturbed areas. They are nicknamed 'cobweb spiders' for their irregular web pattern. They do not weave the beautiful, intricate webs you find from other species, instead, they usually appear tangled and asymmetrical.
If you find a web, be sure to check for brown widow egg sacs which are usually round, yellow, and spikey giving it the appearance of a tiny sandspur. If you find a brown widow egg sac, be sure to destroy it. You'll need to get rid of eggs before they hatch into babies and cause big problems.
How to Get Rid of Brown Widow Spiders
If you have a brown widow infestation, don't panic. Brown widows are not aggressive or harmful. They can be a nuisance but are not dangerous to humans.
There are several steps you can take toget rid of them in addition to contacting a quality pest control company.
Some of the DIY techniques for brown widow spider control include:
Turn on the lights. They like to live in dark, undisturbed areas. So, they are likely to move away from well-lit spaces.
Try an Insecticide. The bug sprays that you can buy at a hardware store are an option, but they will not be the most effective. If your problem is persistent, or if you have an infestation, it's always best to contact a professional.
Give your home a thorough cleaning. To get rid of brown widow spiders, you need to clean up their webs and egg sacs. Adult spiders like to hide in dark corners, under furniture, and behind appliances. Don't forget to check seldom used areas like basements and storage closets.
Identify how they are getting inside. Seal off potential entry points to block spiders from coming inside, including broken window screens and cracks in the foundation.
Getting Help with Pest Control
While some of these DIY techniques can help reduce the number of brown widow spiders around your home, you may need the assistance of the pros.
When you're dealing with an infestation, or if you have brown widow spiders in an area you can't fully eliminate, it may be time to call in professionals like Drive-Bye Exterminators.
Brown widows are small and difficult to spot. We understand this and have the equipment needed to find and eliminate them from your home. We have years of experience in spider control, which means that we are able to spot the signs of an infestation even if you can't see them.
Our effective brown widow removal techniques will efficiently identify, collect and dispose of the spiders. We can even show you how to prevent future infestations.
Drive-Bye Exterminators is the go-to pest control company for spider nfestations. If you need assistance in handling brown widows on your property, please reach out to us today.