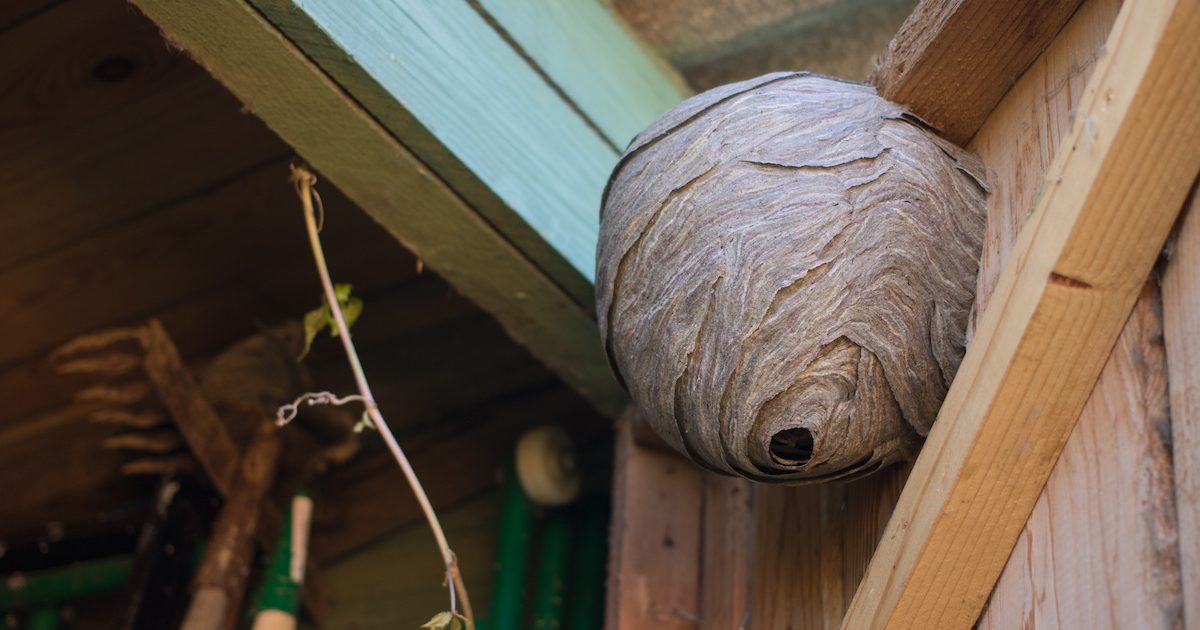 You're innocently walking around in your yard. You look and discover a cone-shaped object hanging from the side of your gutters or in a tree. It looks as though it's made from paper mâché. Your heart sinks a little when you realize what you're looking at: a wasp nest. Homeowners wondering how to get rid of wasp nests are often in a panic, and finding a wasp nest is not usually a pleasant experience. Fortunately, there are ways that you can get rid of wasp nests for good.
A word of advice: if you have any wasp nests in your yard or even in your home, you'll want to do anything you can to get rid of them as quickly as possible. The sooner that you take care of the nests, the less agitated the wasps will be, and the less of a chance you'll have of being stung. If you have a nest that is particularly large, however, you may not want to attempt to do so yourself.
This guide will explain how to get rid of wasp nests along with other helpful information.
What do Wasp Nests Look Like?
If you are worried about wasp nests, it's helpful to know what they look like before you go into a panic. But what do wasp nests look like?
The answer to this question depends on the type of wasp, such as a yellowjacket or a paper wasp. A single wasp nest is a cluster of hundreds of gray, papery wasps' nests. These are not the paper wasp's nests that you find on your deck or in the birdhouse or gazebo on your porch. Paper wasp nests hang from trees or deck railings. These nests are paper, even though they are gray. The wasp's nest has folded wings (or what looks like folded wings) sticking out of the side of it.
A yellowjacket nest looks like a small beehive, usually in an attic or the soffit of your house. Yellowjackets are social insects, and they can sting you multiple times. It is best to call a professional pest control operator to handle yellowjacket nests.
Wasp Nest Size and Eggs
Wasps nests range from the size of a baseball to several inches across and have a hard outer shell. Depending on the type of wasp, queen wasps can lay anywhere from 300 to 800 eggs and it better be quick because she'll only live for three or four weeks after that. After the queen lays the eggs, the first generation of workers hatches and begin building the nest, foraging for food to feed the queen and their siblings, and taking care of the queen.
What Kind of Wasps are in Florida?
You can Google about different types of wasps, but this doesn't necessarily mean you will encounter them all. The main wasps that you'll need to worry about here in Florida include:
Paper Wasp – It is important to identify paper wasps. Though you may have heard of other types of wasps, paper wasps are known for their cone-shaped nests that hang from a ceiling. Paper wasps, like other types of wasps, feed on insects. They are sometimes confused with yellowjackets because they look similar in color and have a tendency to sting. These wasps are also sometimes called umbrella wasps, with 22 species existing in the United States.
Yellowjacket – One of the most infamous wasps in America is the yellowjacket. They are beneficial to humans, but they get aggressive during the late summer and early fall months. The adults eat mostly fruit juices, while their larvae eat soft-bodied insects like caterpillars and flies. Yellowjackets are often found in voids of buildings or in the ground around landscaping features.
Mud Daubers – Mud daubers are solitary wasps. They build their nests from mud and are found throughout the United States. They can be identified by their thread-like waist separating their abdomen and thorax, which helps differentiate them from other wasps. Mud daubers are not aggressive and will typically only sting you if their nest is threatened.
Cicada Killer Wasps – Female Cicadas killers are the largest wasps in North America. These wasps sting their prey, paralyze them, and carry them back to the nest. The cicada killer's preferred habitat is the U.S., Mexico, and parts of Central America. They can be found on sloped terrain, in flower beds, along patios or sidewalks, as well as in yards.
Where Can You Find Wasps Nests?
Most times you will find wasps nests by accident. Homeowners typically don't go looking around for wasp nests unless they have a suspicion that there is one nearby. But where can you find wasp nests?
The most common places that you'll find them are by chimneys, porches, patios, attics, and basements. You can also find them along the foundation of your home.
Not only do these wasp nests pose a potential danger to you and your family but they also pose a threat to the entire neighborhood. The wasps that make these nests are not the kind that is friendly to people.
What About Hidden Wasp Nests?
Unfortunately, not all wasp nests are visible. There are three types of wasp nests that are typically easy to see, including open combs, enclosed combs, and exposed paper combs. However, many wasp nests are hidden. This is especially common in the case of paper wasps, which have a tendency to build under eaves of homes, in attics, and so on.
Some species build their nests underground, in wall cracks, or in attics. If you are unsure if you have a nest in your yard or home, a pest control professional may be able to help. You may not discover these nests at all until you, a child or a pet is stung.
You'll also want to beware of wasps nests during the winter season, such as wasp's nest in a tree. In the winter, wasps will exit their nests to hibernate. They form large clusters on the outside of their nest, often on a branch near the ground. A cluster of hibernating wasps may look a lot like a bird's nest, but you'll still need to be cautious.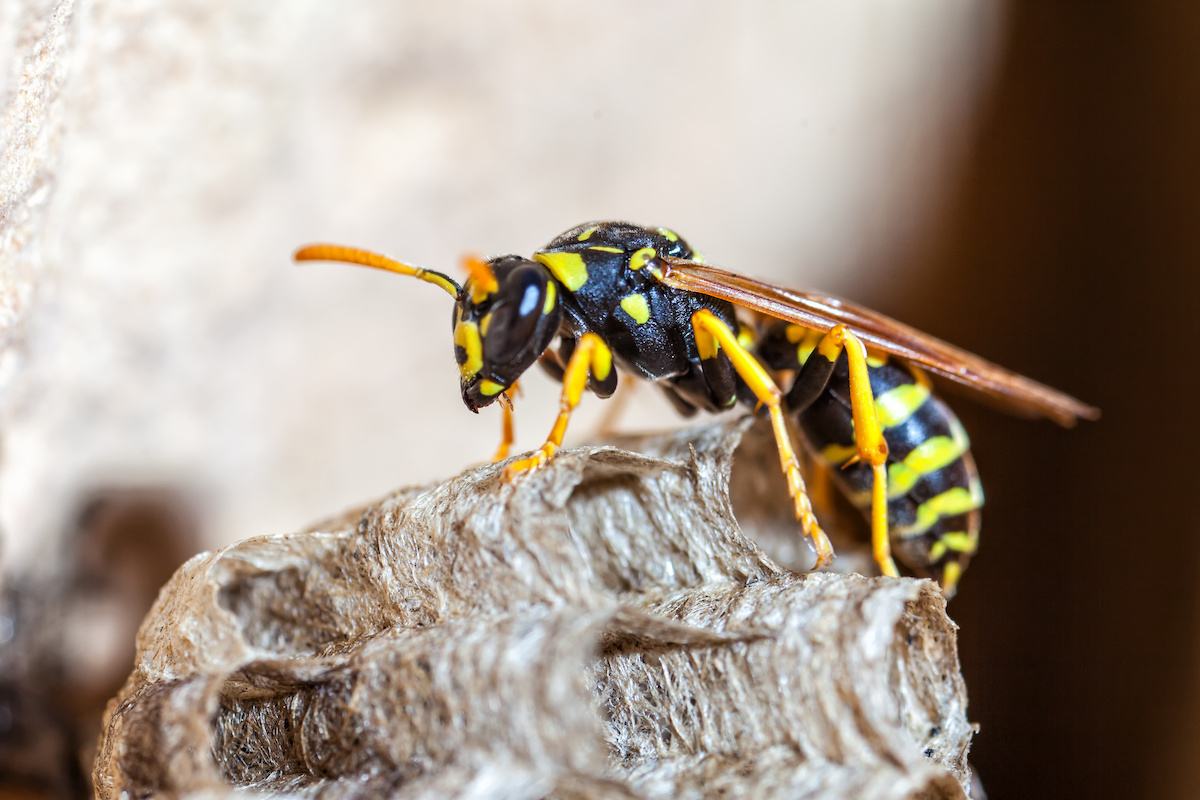 How to Get Rid of Wasps Nests
Now that you know about the different types of wasps and where they nest, let's talk about how to get rid of wasp nests. Certain species of wasps can be killed using a basic pesticide purchased from your local hardware store. You may need to repeat the treatment for two or three weeks as the queens are not always killed by the initial application.
There are many different methods you can use to get rid of wasps, but you want to make sure any control methods you use are legal and sanctioned by your local government. Here are a few of the ways you can get rid of wasp nests:
1. Wasp Deterrents
These are products that irritate the wasps and deter them from hanging around your home or property. Wasp deterrents can be liquids or aerosol sprays, or something that is set out on the ground to help keep them away. They can contain chemicals or natural substances. The key is to read the labels on products that contain chemicals and make sure you are willing to use something with chemicals and that you read the labels on any natural deterrents, so you know how to use them. Keep babies and children away from any deterrents that you decide to use.
2. Use the Right Type of Pesticide
What kind of pesticides should you use to get rid of wasp nests? You want to choose pesticides that are labeled for wasps. This means that it is designed to stop wasps and will not harm other insects or animals in your yard or around your house. Many pesticides are not labeled for wasps, meaning they can be harmful to other insects, animals or people. You may not see any bees or honeybees when you first approach a wasp nest, but they may be attracted by the smell of the pesticide you are using.
3. Only Approach Wasp Nests in the Evening Hours
When you decide to spray a wasp nest with pesticides, only attempt to do this during the evening hours. This is when wasps are typically less aggressive and are most likely to be inside the nest or hanging around the nest.
If you spray during the day, the wasps will be more active, meaning that they have a greater chance of attacking you and being in the area when the chemicals are being used. This is not only dangerous, but it also means that you're wasting your pesticide. Only spray when the wasps are not going to be as active and you'll have a greater chance of the wasps dying.
4. Do Not Wear Bright Colors When You Spray Wasp Nests
Did you know that it matters what you wear when it comes to getting rid of wasps? Wasps are potentially attracted to bright color clothing, especially orange, yellow, and blue. Try to stick to brown and khaki colors while you spray the nest.
Get Rid of Wasp Nests Now
Need help getting rid of wasp nests? Call us today for an evaluation and approach to extermination. Working with us is the best approach for the safety of your family, as well as getting rid of wasp nests now.