Are termites living inside the wood components of your home? If so, they are silently chewing away at its structure and causing irreversible damage. With a termite infestation, this damage happens at a rapid rate. In fact, they can potentially consume 1 pound of wood in 24 hours. Yikes!
These small pests can cause significant damage to your property, costing you thousands of dollars in repairs. The good news is that you can avoid termite infestations entirely with some easy prevention strategies. It's important to take proactive steps to protect your home from termite infestations. This will help you avoid the hassle and expense of dealing with these destructive pests.
Whether you are in the midst of a termite infestation or you suspect that you have a problem, Drive-Bye Exterminators are here to help!
What are the Common Termites Found in Florida?
Did you know that there are four main types of termites found in Florida? It's true! Each type of termite has its own unique characteristics and behaviors. It's important to understand them in order to keep your property safe. Let's take a closer look at each type:
Eastern Subterranean Termites
The most common termite in Florida
Lives in the soil and creates mud tubes to access food sources above ground
Can infest any wood structure, including homes, sheds, and fences
Drywood Termites
Does not require soil contact and can live in dry, wooden structures like attics and furniture
Often found near coastal areas, especially in older homes
Can cause significant damage if left untreated
Dampwood Termites
Prefers to infest damp or decaying wood and likes high humidity areas like crawl spaces and basements
Not as common as subterranean or drywood termites in Florida
Can damage outdoor wooden structures like decks and fences
Formosan Termites
An invasive species that's found in several counties in Florida
Capable of causing significant structural damage in a short amount of time
Can form colonies of millions of termites, making them difficult to control
How to Spot a Termite Infestation
Are you worried about termites taking over your home? Knowing the signs of termite activity is key to catching an infestation early. It can also save you an incredible amount of money in damages. Here are some of the key things to look for:
Mud Tubes: These pencil-width tunnels can often be found along exterior walls or foundations, and are a telltale sign of subterranean termites.
Winged Swarmers: These are young adult termites that leave their colonies to start new ones. They can often be seen flying around windows or other light sources.
Hollow-Sounding Wood: When termites feed on wood, they hollow it out from the inside, which can make it sound hollow or papery when tapped.
To inspect your home for termite damage, here are some tips to keep in mind:
Check for signs of termite activity on the exterior of your home, including mud tubes and discarded wings.
Look for any wood damage, including peeling paint, wood that sounds hollow, or areas that are visibly damaged.
Consider hiring a professional to perform a termite inspection if you suspect an infestation. We have the experience and tools to spot even the smallest signs of termite activity.
How to Prevent Termite Infestations
Florida is notorious for its termite infestations, which can cause significant damage to homes and other wooden structures. Fortunately, there are steps that homeowners can take to prevent termite infestations and keep their homes safe. Here are some effective prevention strategies to keep in mind:
Maintaining a Dry Home Environment
Termites are attracted to moisture, so it's important to keep your home dry and well-ventilated. Be sure to fix any leaks or drainage issues around your home to reduce moisture level. You'll also need to eliminate any standing water sources around your home
Use Treated Lumber
Pressure-treated lumber or other termite-resistant materials can make it harder for termites to gain access to your home. Consider using these materials for building or renovation projects. Furthermore, regularly inspect any wood structures around your home for signs of termite damage
Keep Firewood and Debris Away from the House
Do you enjoy bonfires or cooking out in your backyard? Storing firewood or other debris near your home can create a bridge for termites to reach your home. Keep these items away from the house Furthermore, remove any dead or decaying trees or stumps from your yard. Keep gutters and downspouts clean and well-maintained to prevent water from pooling around your home's foundation
Reduce Moisture and Humidity Levels in Your Home
Use dehumidifiers and ventilation fans to control humidity levels in your home, especially in areas like basements or crawl spaces. Seal up any cracks or gaps in your home's foundation, walls, or windows to prevent termites from entering
Lastly, consider scheduling regular termite inspections with a professional exterminator to catch any signs of termite activity early.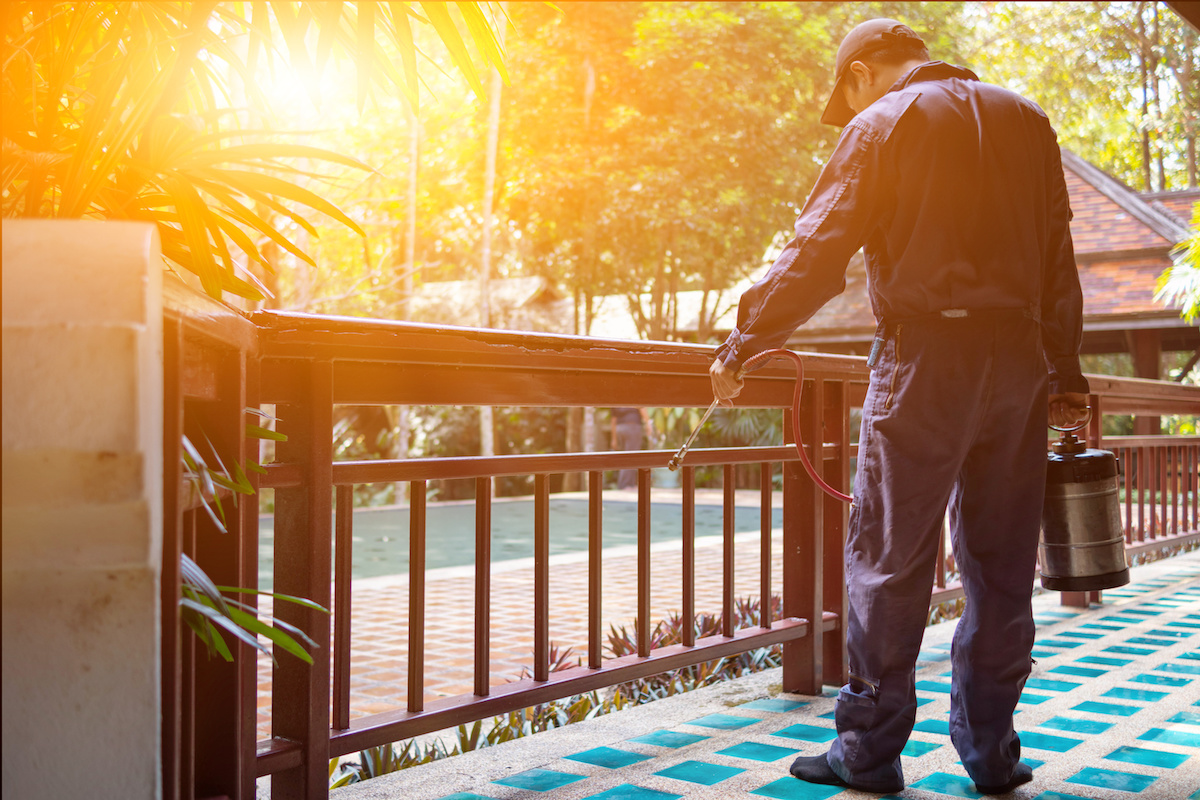 Do You Need Professional Termite Control in Florida?
Termite infestations can be a serious problem in Florida. In some cases, a termite infestation is too far gone for a homeowner to handle alone. It may be necessary to call in a professional exterminator for treatment and control. Here's what you need to know:
When it's Time to Call in an Exterminator
You find evidence of a termite infestation
There is a potential that your home is infested but you aren't entirely sure
Your home has a lot of old and decaying wood
A professional exterminator can assess the extent of the infestation and recommend the most effective treatment options
Benefits of Professional Termite Control Services
Professional exterminators have access to specialized tools and treatments, including termite tenting
They can safely and effectively eliminate termite infestations, helping to protect your home and property
Regular termite inspections and treatments can help prevent future infestations and save you money
Tips for Choosing a Reputable and Experienced Exterminator
Look for an exterminator with experience treating termite infestations in Florida
Check online reviews and ratings to get an idea of their reputation
Ask for references and don't be afraid to contact them to ask about their experience with the exterminator
Should You Try DIY Termite Control? Key Thoughts to Consider
While the idea of saving money by treating a termite infestation on your own may be tempting, DIY termite control is a bad idea for several reasons. The tools and treatments available to homeowners are often less effective than those used by professional exterminators. Furthermore, it can be difficult to properly diagnose the extent of the infestation and select the most appropriate treatment. This only leads you to spending more money without results.
Without proper training, homeowners may not apply treatments correctly. This can lead to continued termite activity and damage. Meanwhile, termite control can be dangerous if not done properly. It may affect homeowners and their families with hazardous chemicals. That's why it's best to leave termite control to the professionals to ensure the safety of your home and family.
The good news is that you don't have to get rid of termites with trial and error. Drive-Bye Exterminators have the right tools to rid of termites for good. Please contact us today for assistance.