It took months but you finally found your dream home. It has everything you're looking for and you even negotiated a great price. However, all of the little fees are starting to add up; bank fees, realtor fees, inspection fees, and more, and you are desperate for a way to cut a few corners. But have you thought about a termite inspection?
Your real estate agent will likely recommend scheduling a termite inspection as part of the buying process. The house looks fine, it's nice and clean and you don't see any bugs. Is a termite inspection something you really need? Or can you skip it to save a few dollars?
Although it may seem like an unnecessary precaution, termites are capable of completely destroying wooden structures in just a few years. The money you saved by skipping the inspection could turn into thousands of dollars in repair fees. In fact, termites cause more than 5 billion dollars in damage each year. Unfortunately, most of which is not covered by homeowners insurance.
The sooner you identify dangerous termite activity, the less money you risk losing on your new home. Read on to learn more about why and how you should get a termite inspection when buying a home.
What Are Termites?
Termites are small insects that feed on decomposing organic matter like leaves, soil and wood. There are several species of termites but the ones most frequently found in the US are:
Subterranean Termites- These common termites build large nests underground and travel through mud tubes to the surface of the soil.
Damp Wood Termites- If you live in a humid climate, you may be vulnerable to these termites. They are attracted to wet conditions and can do considerable damage to your home.
Dry Wood Termites- As their name suggests, these termites do not require much moisture. They can even be brought into your home through invested second hand furniture.
How Do Termites Damage Your Home?
Termites do damage by chewing through the wood in your home leaving unsightly holes and compromising the strength and integrity of the structure. The potential for damage is immeasurable, but some of the most common areas termites target are;
Load bearing support beams or other foundational wood
Attics and crawl spaces
Floorboards
Trim around windows and doors
Wood decks
Outdoor structures like garages, barns, gazebos and fencing
Wood furniture within your home
Damage to these areas can be ugly but more importantly it can be dangerous. If left untreated, homes with extensive termite infestations can rack up thousands of dollars in repair bills. They can even collapse entirely.
How to Tell if a Home Has Termite Activity
Termites can attack any home. It has nothing to do with the cleanliness, age or style of home. They can live undetected in your home for months or even years. Most homeowners don't know they have termites until damage becomes apparent. However there are a few red flags you can watch for:
Obvious damage to wood in the home such as; sagging floorboards, warped walls, crumbling doorways or broken support beams.
Tiny mud tunnels in or around the home. These may be mud tubes created by subterranean termites.
Peeling or bubbling wallpaper or paint.
Sawdust stype dust on the floor around wooden structures.
Pinholes in drywall
Excessively squeaky floorboards
The only way to know for sure if a home has termites is to hire a professional pest control company. They are trained to spot signs of termites that most home owners would never notice.
Should You Get a Termite Inspection When Buying a Home
Before you buy a home, you should have it inspected for termites. This is especially important if you're buying a home in an area known for termite infestation, such as humid coastal cities.
A termite inspection can tell you whether or not a home has termites. The inspector will check for mud tubes, wood damage, and other signs of termite activity. If you have a termite inspection done before buying a home, you can determine the extent of the damage and the cost of repairs. This will help you negotiate with the seller.
Once the inspector finds signs of termite activity, he or she can help you understand the extent of the damage. If you choose to continue the purchase of the home, you'll likely have three options. Those options are: replace the damaged wood, chemically treat the wood, or install a termite barrier around the wood.
The cost of these three options depends on the extent of the damage. If you replace the damaged wood, you'll likely have to replace the entire part of the home that's infested. The cost of this could be tens of thousands of dollars. If you chemically treat the wood, you can expect this to also cost thousands of dollars. A termite barrier will likely be the cheapest of the three options.
The Cost of a Termite Inspection
A typical termite inspection could cost anywhere between $150 and $350. The cost of an inspection will vary depending on where you live, the inspector's experience, and the type of inspection you receive.
If you're buying a brand new home, you will likely be responsible for paying the cost of the inspection. If you're buying a used home, the seller might cover the inspection or be required to do so by law.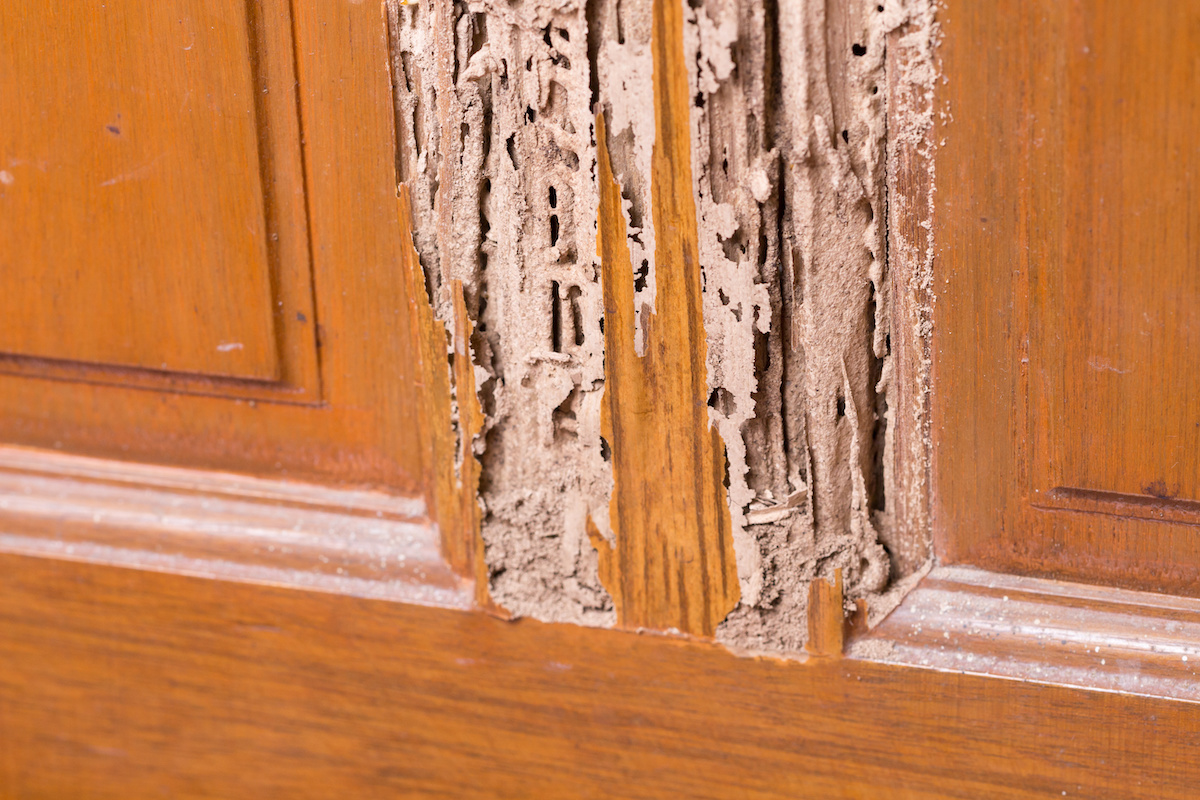 Tips for Buying a Home with Known Termite Activity
If you're buying a home with known termite activity, make sure you have a plan to address the issue. Ask your termite inspector any questions you have about having the termites exterminated. Also ask about the extent of the damage and how you can prevent the termites from returning.
If the infestation and damage isn't extreme, you may choose to proceed with the sale. Discuss your options with your realtor. You may be able to ask the seller to make repairs, contribute to the cost or take a reduced price on the home.
Preventing Termites
Most homeowners insurance policies don't cover termite damage because it is considered preventable with homeowner diligence. So, what can you do to prevent termites and the expense damage they can do to your home?
Reduce soil-to-wood contact- Areas where wood makes contact with soil creates an inviting entryway to termites. Never store wood piles near your home, keep wood siding at least 6 inches above the soil line and use a termite proof paint or stain on decks and fencing.
Keep your yard clean- Keep your grass cut, bushes trimmed and leaves raked up to avoid giving termites access to your home.
Reduce moisture- Run a dehumidifier in moist areas of your home and eliminate any standing water on your property.
Eliminate food sources– Termites feast on any dead plant matter. Have dead wood removed, including tree stumps and keep yard waste and debris picked up.
Have regular termite inspections- Have your home checked for termites by a professional every year. They can spot existing infestations as well as advise you of vulnerable areas of your home. Consider a maintenance plan to keep your home protected and your costs low.
Get a Professional Termite Inspection 
If you are preparing to buy a home, a termite insection is a vital step of the process. The inspection cost is minimal compared to the thousands of dollars you could spend later to repair termite damage to your new home. Even if no termites are found, the peace of mind is worth the money.
If your dream home is found to have minor termite damage, you don't necessarily have to call it quits. Discuss the findings with your termite inspector to determine the extent of the damage. Meanwhile, try to negotiate the repair costs into your final price.
If you are looking for a termite inspector to evaluate your future home in the Clearwater area, call Drive-Bye Exterminators. Our experts have years of experience identifying signs of termites so don't invest in a Florida home without calling us first.