Your Florida home is where the heart is, right? You invest in a home security system to protect it and you hire landscape professionals to create coveted curb appeal. If you aren't protecting the interior of your home–and your family members' health–from disease-carrying cockroaches, now is the time to get started.
Roaches Transmit Disease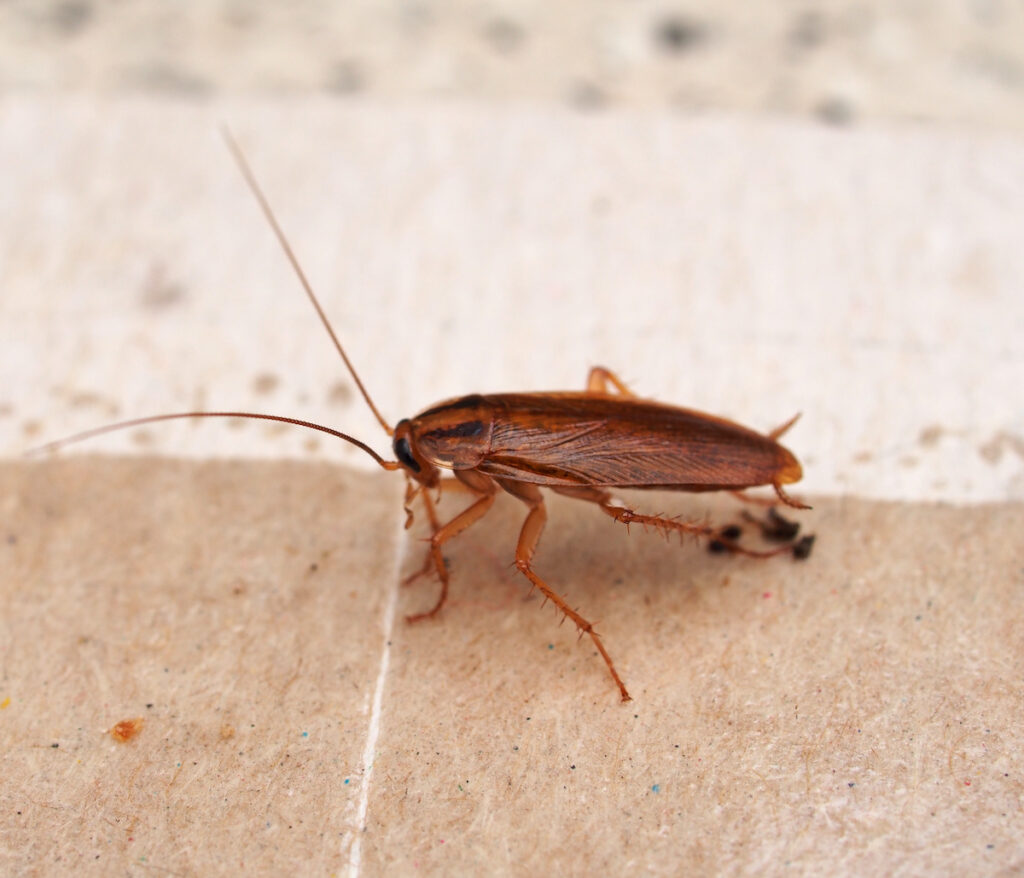 Even though cockroaches are a common nuisance in Florida, it doesn't mean we need to let them run rampant beneath the floor boards and behind pantry doors. The dreaded cockroach is more than just an unsightly nuisance, though. Roaches carry disease on their bodies and in their excrement. When you learn about the way they transmit the microbes they carry, well, it just may prompt you to call for pest control service before you reach the end of this blog post!
Cockroaches feed and live in areas that harbor dangerous bacteria, such as bathrooms, drains, garbage cans, and dumpsters. These creepy crawlers do not discriminate about what they eat: trash, feces, crumbs, sugary spills, and any uncovered food they can access is good eatin' for a roach. Because they travel from feces and trash to your food, they're capable of spreading dangerous bacteria to your next meal. But that's not the only way cockroaches can spread illness to your family…Roaches vomit and defecate on food–the food we eat. Disease is transmitted to humans when we consume food contaminated by the matter that a roach excretes.
Illnesses Cockroaches Spread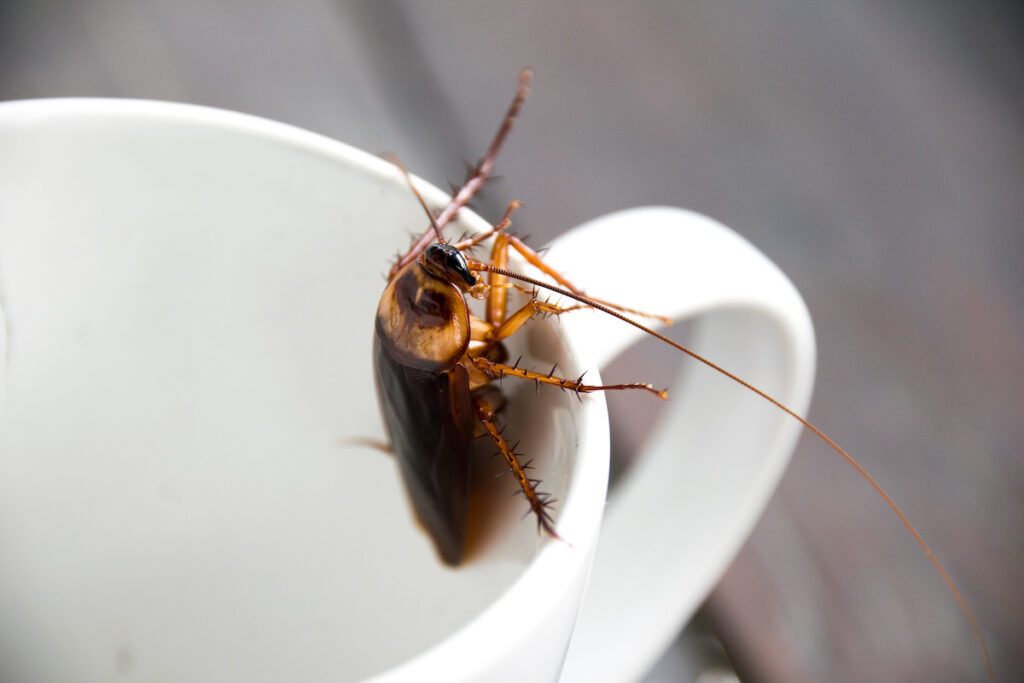 A cockroach's stomach can harbor as many as 33 types of bacteria–many of which cause illness in humans, such as salmonella, e-coli, and listeria. Certain species of cockroaches can cause allergies, especially in children.
Let's take a closer look at the types of illness your family members can be susceptible to if your home is not protected by consistent pest control service:
Gastroenteritis
Cockroaches most commonly cause gastroenteritis, which happens when bacteria spawns an infection in your gut. This causes inflammation in the stomach and the intestines. Symptoms of gastroenteritis include vomiting, severe abdominal cramps, and diarrhea. Some cases can be mild, with just stomach pain and nausea. More severe cases can cause severe diarrhea that can lead to dehydration and require hospitalization.
Salmonellosis
Cockroaches are known to carry salmonella, a bacteria that can cause Typhoid fever, gastroenteritis, and dysentery leading to other medical complications. Salmonella can be excreted in roach feces. If that excrement comes in contact with food that you consume, it will make you ill: Salmonellosis is a disease in humans with symptoms similar to food poisoning.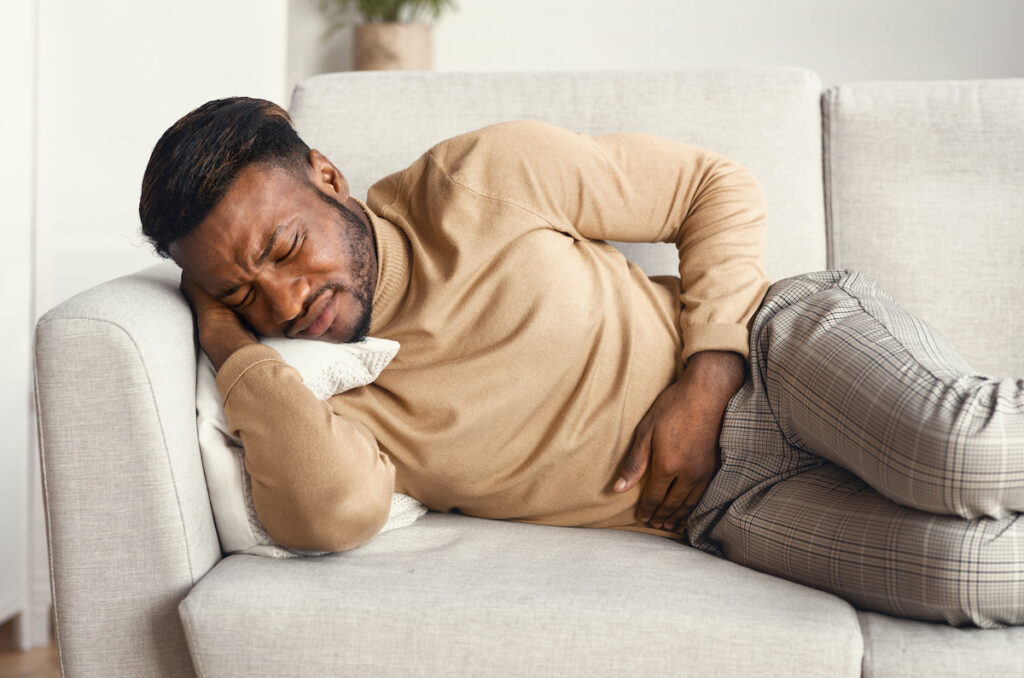 E. Coli
Though more commonly known as a bacteria that causes food poisoning, e. Coli is also carried by cockroaches. And, you guessed it, it is transmitted in the roach's feces. If it gets on to your food…you then have e. Coli infection and the symptoms of food poisoning.
Listeriosis
Listeriosis is another infection transmitted by eating contaminated food. This illness is caused by the germ Listeria monocytogenes, which roaches can carry. Most people with healthy immune systems can handle the germ and avoid getting infected. However, children, elderly, pregnant women and anyone who has a compromised immune system is more susceptible to Listeriosis.
Parasitic worms
Roaches may also carry parasitic worms like pin-worm, tapeworm, hookworm, and roundworm. These parasitic worms can cause serious complications inside the human body as they are difficult for doctors to diagnose and treat.
Allergies and Asthma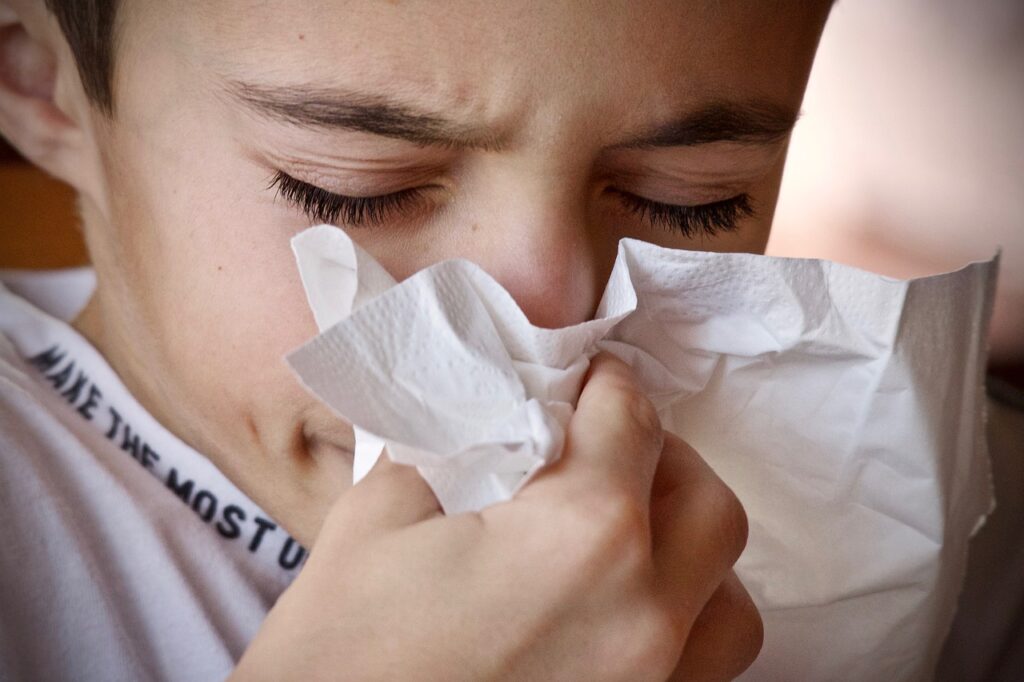 Many people are surprised to learn that cockroaches in the home can cause allergic reactions and worsen symptoms of asthma. This is because cockroach excrement, skins, and saliva contain numerous allergens. Some of the symptoms of cockroach allergies are skin rash, persistent coughing, wheezing, shortness of breath, sneezing, nasal congestion, and watery eyes.
If you have a family member who has asthma, cockroaches in the home can cause, coughing, chest tightness, and shortness of breath, especially in children.
As you can see by the large number of diseases that cockroaches can spread, it is imperative to keep your home clear of these nasty pests.
Tips for Keeping Roaches Out of Your Home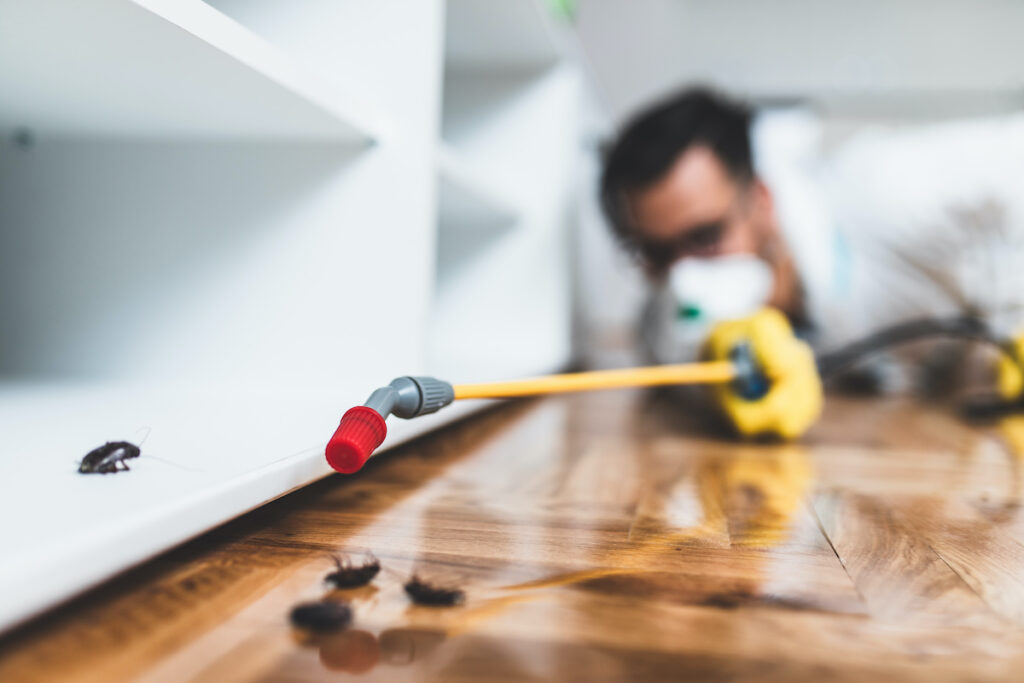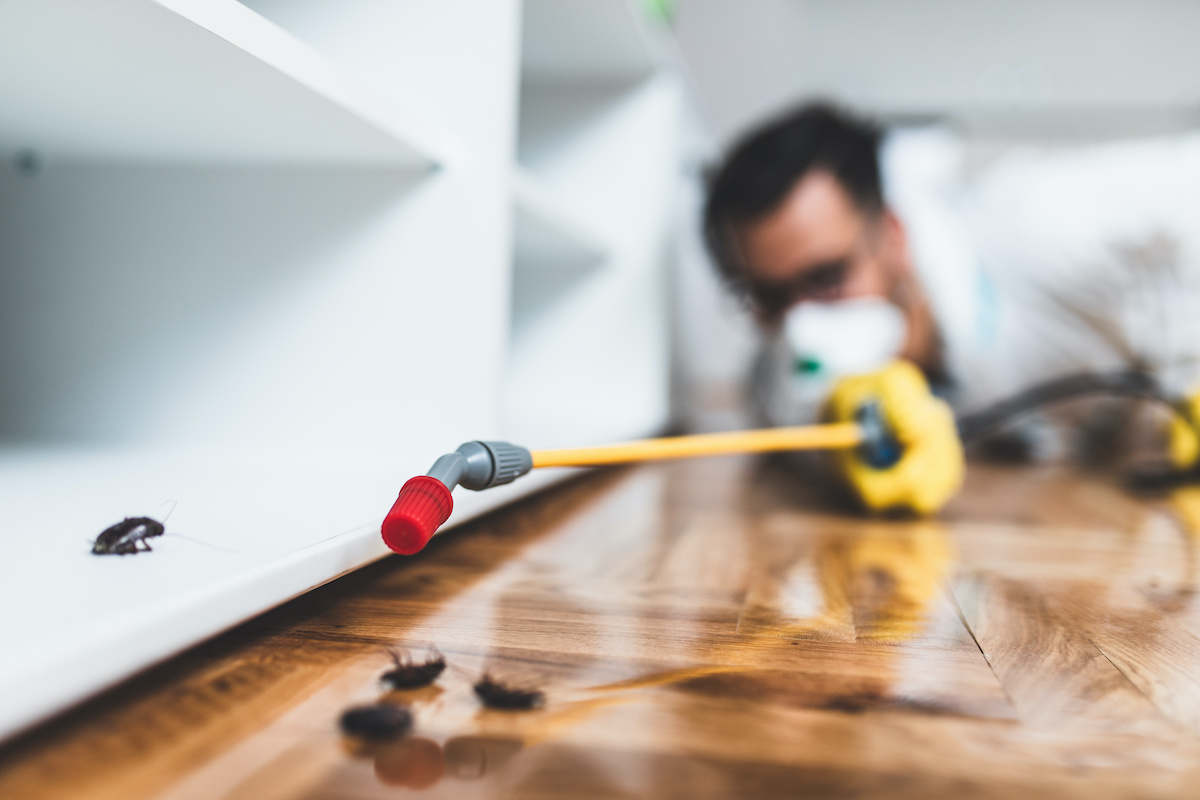 The best line of defense for keeping roaches out of your home is keeping a clean home and protecting that home with a reliable pest control service. Other things you can do to prevent a roach infestation from establishing itself behind your cabinet doors include:
Immediately cleaning-up crumbs and spills
Keeping food stored in seal-tight bags and containers
Don't leave food out after meals; this includes pet food.
Seal cracks and gaps in walls, floors and openings around or inside cabinets.
Seal gaps around plumbing, wall outlets, and switch plates.
Run the faucets in all rooms in the house, especially less used rooms like a guest bath. This will flush any pests residing in drains.
If you have any concerns about the presence of cockroaches in your home, and want to be sure to protect your family from the illnesses roaches can transmit, partner with Drive-Bye Exterminators to assess the problem and develop a thorough eradication and prevention plan.
Tampa Bay's Trusted Pest Control Service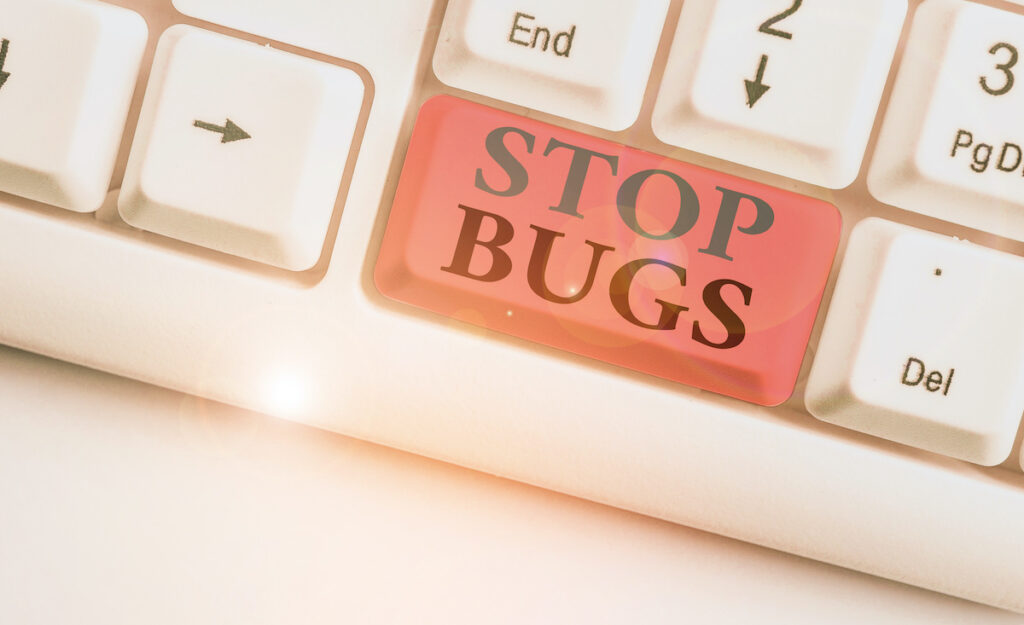 Chances are the bugs you see are not the only bugs you have. You want your pest control service to be done the right way from the start. This means hiring an experienced exterminator who understands the behavior of pests that are common to Clearwater, St. Pete, and Tampa. Contact Drive-Bye Exterminatorstoday for a free and a thorough inspection of your property.
At Drive-Bye Exterminators, we've built our Tampa Bay pest control company by serving our customers with honesty, excellence, and dependability. Our award-winning company is proud to have been serving Tampa Bay for over 25 years.
Did you know that Drive-Bye offers same day, one-time, monthly, quarterly, and yearly extermination service programs, all of which are very effective pest control programs? Call us at 727-787-2127 to learn more–and don't forget to ask about special rates for Active Duty and Retired Military.
Resources
BetterHealthChannel.com: Cockroaches
NYTimes: Do Cockroaches Carry Disease?