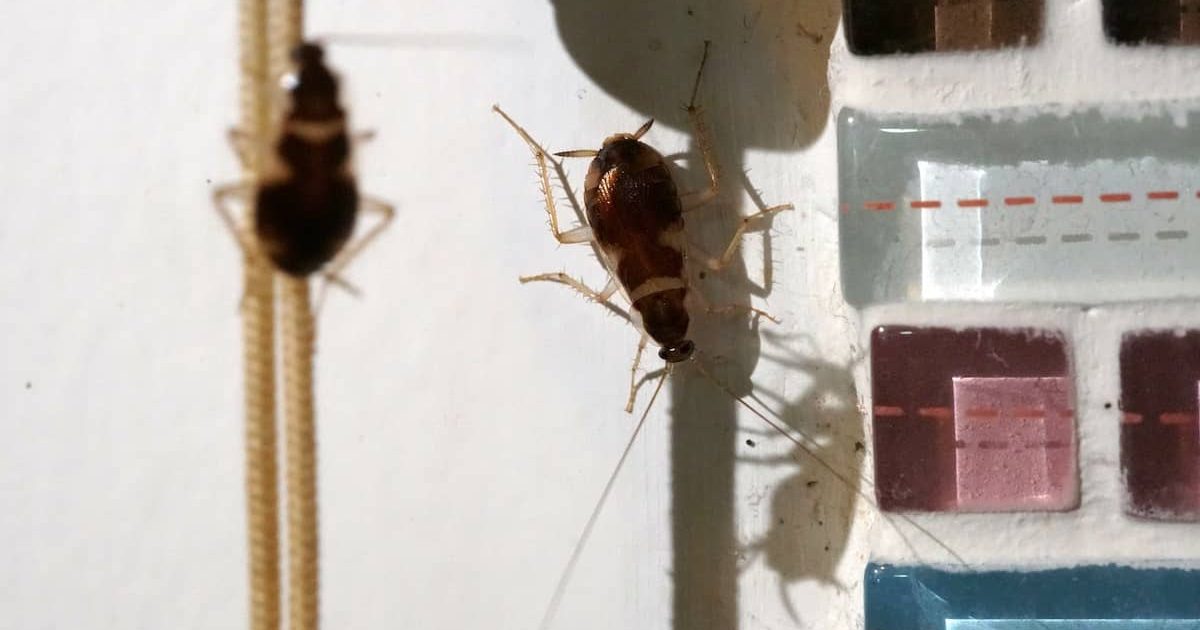 Most of us shudder at the sight of roaches in our homes. These unwanted pests are particularly distressing, especially when you take pride in maintaining a neat and tidy home. One of the most common invaders, the German cockroach, may have you wondering, "Why do I have German cockroaches in my home?"
The truth is that there are several reasons why you may have German cockroaches in your home. If you can't figure out the source of your infestation, please give us a call for help at Drive-Bye Exterminators.
A German cockroach is a small, light brown cockroach that is about 1/2 inch long. It has two dark stripes running down its back and two pairs of wings, although it rarely flies. German cockroaches are very common pests and can be found in homes and businesses all over the world.
They are attracted to food and water, and they can quickly spread diseases. German cockroaches are difficult to control and they are very frustrating to exterminate. Some people find themselves spending a lot of time and money trying to get rid of cockroaches, all while their efforts fail.
Here are some additional facts about German cockroaches:
They are social insects and live in colonies.
These pests reproduce very quickly, with a female cockroach laying up to 50 eggs at a time.
They are nocturnal and are most active at night.
They can survive for long periods of time without food or water.
They are a major health hazard because they can carry diseases such as salmonella, E. coli, and dysentery.
If you have a German cockroach infestation, it is important to call a professional pest control company to get rid of them.
Size Can Be Deceptive
German cockroaches might be relatively small compared to other roach species, but their size doesn't reduce their potential to be a nuisance. Their smaller stature makes it easier for them to hide. These pests can also be harder to detect until an infestation grows.
Why do I Have German Cockroaches in My Home? Sanitation Matters
The presence of German cockroaches often indicates sanitation concerns. This doesn't necessarily mean that your home is dirty. However, there might be overlooked spots that are enticing for these pests.
These insects thrive in areas where they can easily find food. Sometimes that food source can be found in the most unexpected places. This is where the trouble begins with a cockroach infestation.
Hidden Food Sources are a Common Culprit
Ever pull your appliances away from the wall? If you take a flashlight and inspect behind them, you might be surprised to find a collection of cooking oil, crumbs, and grease. Many homeowners overlook these hard-to-reach spots during regular cleaning.
For German cockroaches, these remnants are a real feast. This is why they may be uninterested in baits, sprays, and traps. You're already offering them food that they love!
Some other hidden food sources for cockroaches include:
Grease and oil
Pet food
Fruit
Vegetable peelings
Bread
Cereal
Paper
Cardboard
Dead insects
Hair
Skin flakes
Dust
What are the Signs of a German Cockroach Infestation?
German cockroaches are one of the most common types of cockroaches in the world. They are small, light brown or tan in color, and have two dark parallel stripes down their backs. German cockroaches are very good at hiding, so it can be difficult to spot them. However, there are a few signs that you may have a German cockroach infestation:
Seeing live or dead cockroaches
Cockroach droppings, which are small, dark, and oval-shaped
Seeing cockroach egg cases, which are about the size of a grain of rice
Finding a strong, musty odor
Hearing cockroaches scurrying around at night
How to Get Rid of German Cockroaches (the Right Way)
Tackling a German cockroach infestation requires a multi-faceted approach. You'll first need to understand why they invaded your home in the first place. Once you determine the reason or source behind the infestation, you can start working your way toward a cockroach-free home.
Make Regular Cleaning a Daily Habit
Consistent cleaning is your first line of defense. By keeping surfaces free from crumbs, spills, and grease, you remove the primary attraction for these pests. Make it a point to clean:
Countertops daily. All crumbs and food sources must be unavailable to the cockroaches.
Floors at least weekly. Don't forget to sweet in the cracks and crevices of your home.
Behind and beneath appliances at least once a month.
Sweep out food crumbs from under couches and beneath the cushions as well.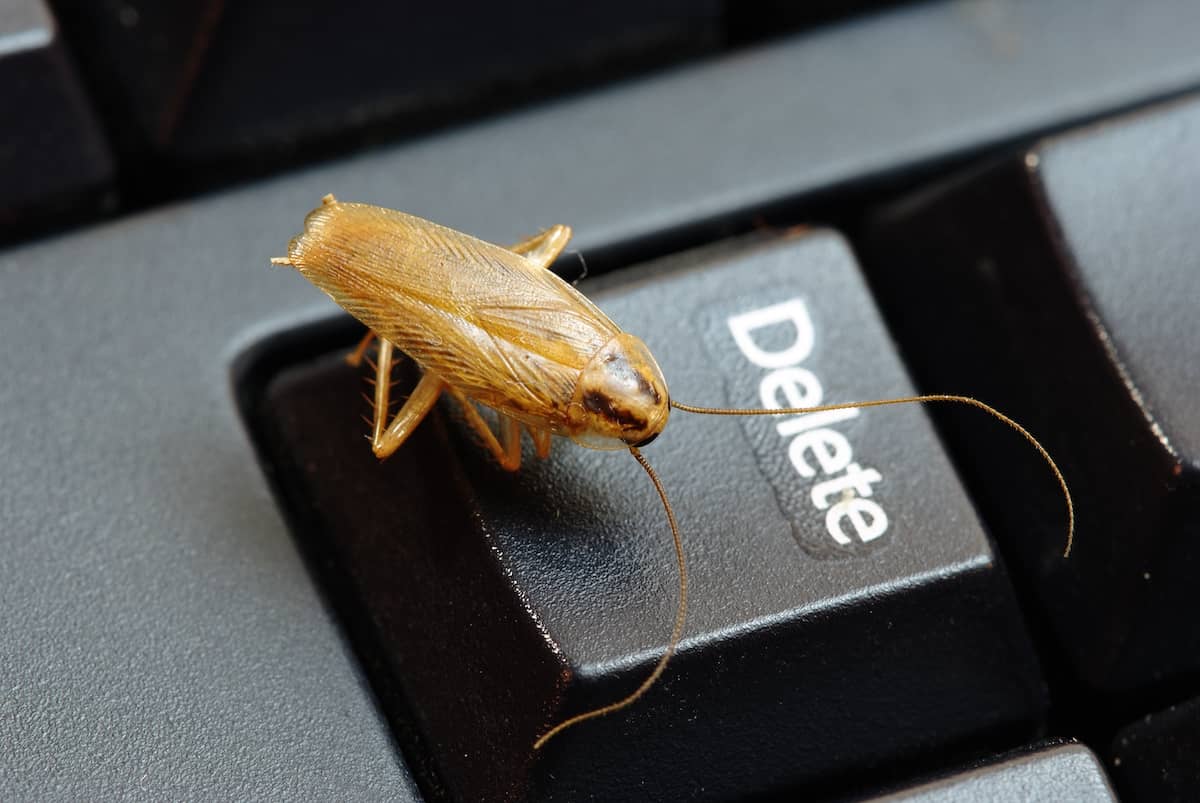 Prevention Entry by Sealing up Cracks and Crevices
The last thing you want to do is make it easy for cockroaches to invade your home.
This step will help you prevent infestations before they start. Check for gaps in:
Door and window frames.
Plumbing and electrical conduits.
Cracks in the walls or floors.
Use caulking or sealants to block these potential entryways.
Try Bait Stations and Gel Baits
These are particularly effective against German cockroaches. Placed in strategic locations around your home, they attract cockroaches with a food source. Once consumed, the bait acts as a slow-acting poison. From here, the cockroach returns to its nest and spreads the poison to others.
Insect Growth Regulators (IGRs)
IGRs are chemicals that disrupt the life cycle of cockroaches, preventing them from maturing into breeding adults. When used in combination with baits and other treatments, they can significantly reduce the number of roaches in a short time.
Professional Extermination
While some of these efforts might work for a while, oftentimes they are a band-aid approach. Sometimes, the infestation can be too vast or persistent for DIY methods.
In these cases, it's best to call in professional exterminators. They have access to powerful treatments not available to the general public and possess the expertise to apply them safely and effectively.
Get Routine Inspections
Even after you've managed to rid your home of German cockroaches, regular inspections can ensure they don't make a comeback. At least once a quarter, hire an expert to come inspect your home for cockroaches. This is the best way to be sure that an infestation isn't lurking right underneath your nose.
Why Do I Have German Cockroaches in my Home? Partner with Drive-Bye Exterminators for Help
Combating German cockroaches is more than just a one-time extermination job. It's about educating homeowners on the importance of sanitation and preventing infestations. When you partner with us, we can help detect how cockroaches are getting inside your home and how to stop them.
When you discover how these pests thrive and what attracts them, homeowners can play a proactive role in ensuring their homes remain roach-free. Meanwhile, you can count on Drive-Bye to provide guidance and solutions that tackle the problem at its root.
If you are having problems with a German cockroach infestation, please contact us for help!