Perhaps one of the most disturbing things to crawl across the floor or over the counter is the German Roach. They are one of the most common pests, especially in the tropical climates of the world. And they have been on the planet for more than 300 million years, so they are not going anywhere.
German roaches are highly adaptable and have fully integrated with humans. They are common in urban areas throughout the world, including homes, apartments, restaurants, hotels, and institutions. Luckily, you can count on your local Drive-Bye Exterminators for immediate German roach treatments.
Appearance
The German Roach is a light brown to tan color with two dark stripes on their backs. They are a thin and flat oval shape with two long antennae and six legs. And they are the smaller of the roaches found in the U.S. Now, they do have wings, but they prefer to run instead of fly.
Length: ½ to 5/8 inch long
Lifespan: 20 – 30 weeks
Have you seen a bug that looks just like this? Hurry, and contact Drive-Bye Exterminators before you have a full-blown infestation.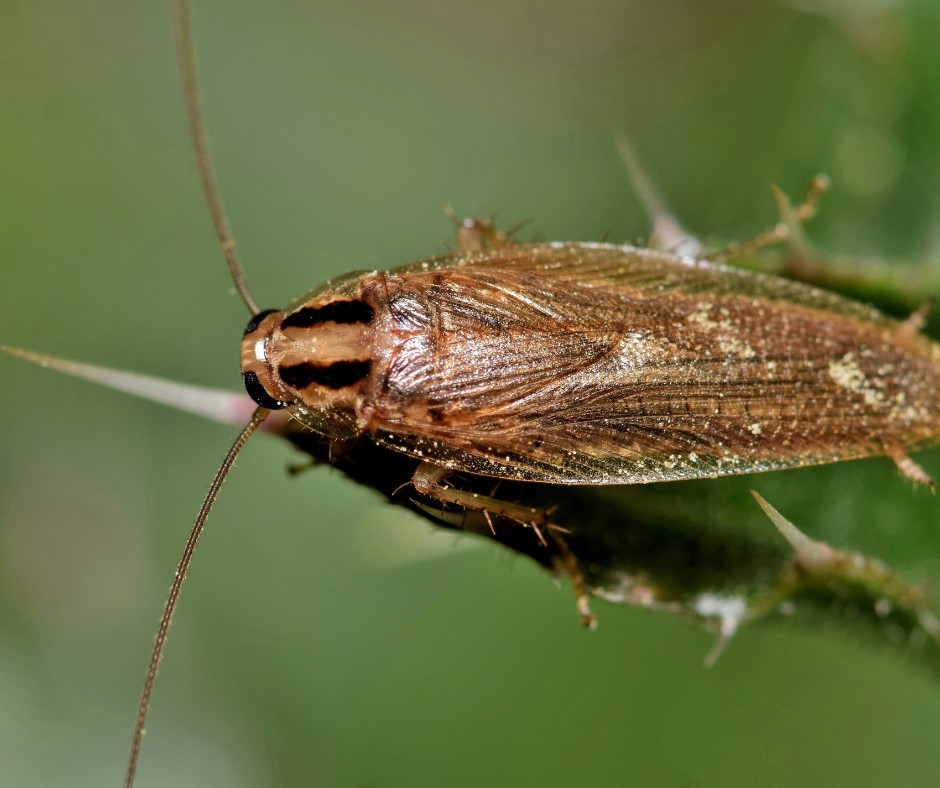 Habitat
These scurrying roaches are found in warm and humid areas like bathrooms, basements, attics, and kitchens. And they are all over the United States but are mainly concentrated in tropical states.
Should you have German roaches in your home, Drive-Bye Exterminators will come right out and begin the process of eradication.
Diet
German roaches are active in the evening and nighttime when they come out of hiding to look for food and water. They will make a feast of starches, sweets, grease, and meat products. Unfortunately, garbage is a principal food source, which is one of the reasons they are so undesirable.
Reproduction
Another unfortunate thing about the German Roach is their rapid and numerous reproductions. They are sexually mature very early in life, and they produce so many eggs in one capsule that a home can be overrun in no time.
These purse-shaped capsules are less than ¼ inch long and carry 30 to 48 eggs in each. Females can produce four to eight capsules in a lifetime. And gestation is a mere 28 days.
Damage
The odor secreted by the German Roach is simply awful, and it will contaminate an entire pantry of food in short order. Not to mention, disease-spreading organisms like bacteria, viruses, and protozoans are found on the bodies of the German roaches.
These organisms are responsible for food poisoning, dysentery, diarrhea, and other intestinal illnesses. The bodies of the roaches leave traces of these organisms on kitchen utensils and counters in the kitchen, and more. Plus, their fecal matter and shed skins can cause allergic reactions such as rash, watery and itchy eyes, asthma, and congestion.
German roaches do not damage the structure of the home but the inhabitants within. So, as soon as you recognize the signs, contact the staff at Drive-Bye Exterminators.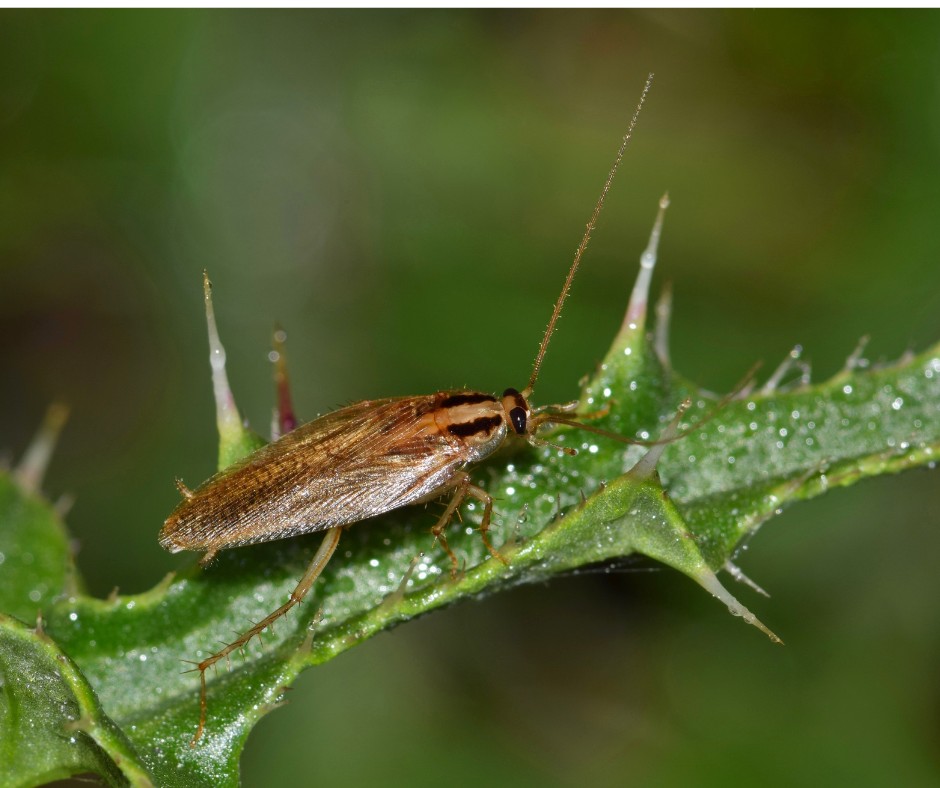 Prevention
German roaches always show up in numbers and continually multiply. So preventing them from ever entering the home is the best idea. Here is what we suggest at Drive-Bye Exterminators.
Keep food stored in the pantry in sealed containers for safety.
Ensure door seals and weather strippings are intact and adequate throughout the home.
Use the screens in windows you want to keep open.
Vacuum the house often to take up any fecal matter left by the stray roach.
Always clean countertops before and after food preparation.
German Roach Elimination
You can eliminate German roaches in your home, but it usually requires a professional service. Our professional pesticide applications combine techniques that pose the lowest risk to your health and the environment. Make sure you hire a pest control company with experience that is both licensed and certified.
Drive-Bye Exterminators offers home and commercial pest control services in Pinellas County, Florida, and the surrounding areas. Family-owned and operated for over 25 years, Drive-Bye Exterminators has state-certified inspectors and exterminators. And we provide roach extermination services to commercial and residential clients. Drive-Bye Exterminators offers each client the same level of attention, professionalism, and excellence.
Request a FREE German roach, Pest Control, or Termite Inspection today with the Professionals of Drive-Bye Exterminators. Contact Us Today