The American Cockroach is a carrier of millions of bacteria that they can carry throughout your home and business. These dangerous pests are the largest of the house-infesting roaches in the US. You will hear people also refer to American Cockroaches as the palmetto bug, water bug, and the Bombay canary. This species was brought to the US from Africa in the early 1600s on ships.
Four Signs of an Infestation
Are you wondering if you have cockroaches in your home now? Here are four signs to recognize an American Cockroach and potential infestation.
Homeowners witnesses fast-moving insects that are fleeing to dark places in your home.
American cockroaches leave behind droppings in the dim areas in which they hide. These small droppings are blunt on the ends and have ridges on the sides. They are often mistaken for mouse droppings, so it's essential to contact a licensed pest control professional for proper identification.
The presence of egg capsules, which are about 8 mm long and dark-colored. Egg capsules are sometimes glued to a surface near food sources and can be found in basements, laundry rooms, and kitchens, as well as behind appliances or underneath cabinets.
The American cockroach will produce a pheromone that some people describe as having a "musty" smell. People with sensitive noses may notice this odor around the house.
Diseases
These pests do not actually cause any diseases, but they carry the bacteria and can lead to a disease. They carry six specifies of parasites and 33 types of bacteria that can cause gastroenteritis, salmonella, and food poisoning. The common systems are belly pain, severe stomach cramps, and tenderness, diarrhea, nausea, and vomiting. People and especially children, can be allergic to cockroaches, which can cause other allergy symptoms.
Reside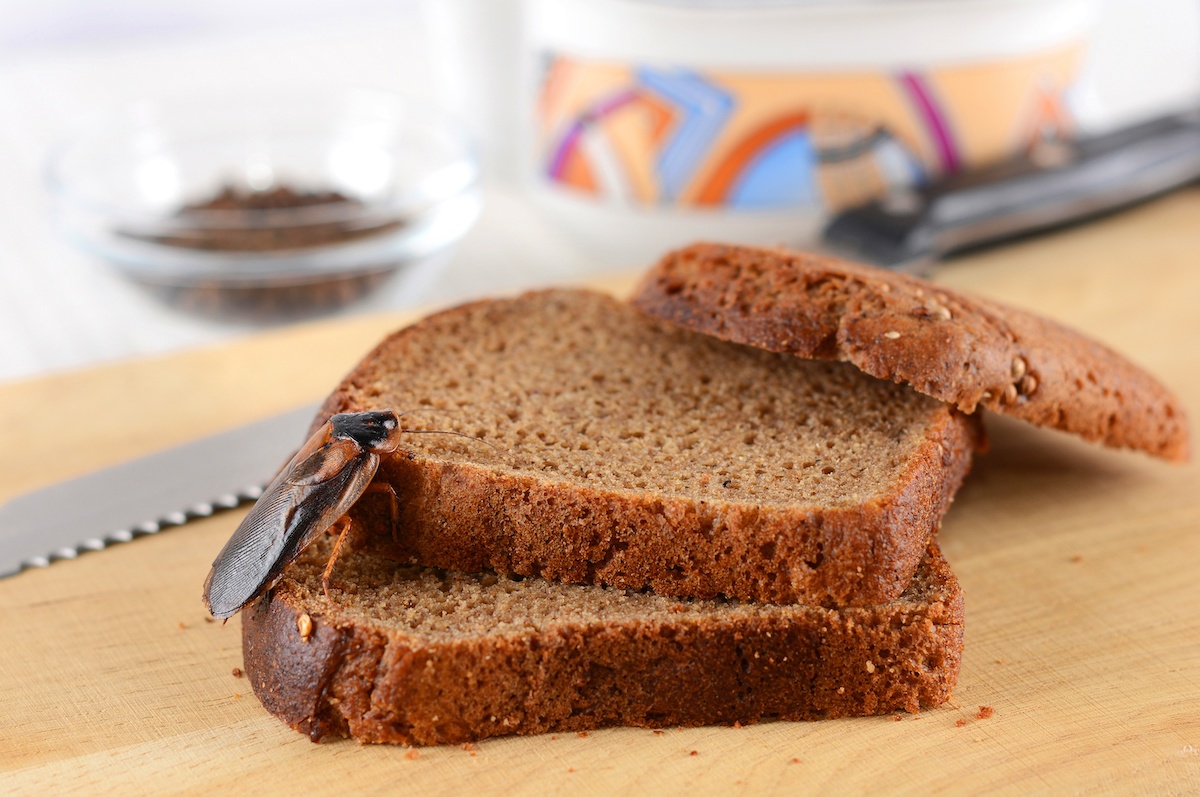 American Cockroaches generally live in moist areas such as pipes, drains, sewers, and bathrooms. They pick up germs on the spines of their legs crawling across garbage, decaying matter, and sewage. They transfer these germs onto foods and food surfaces. If a cockroach crawls out of a sewer drain, and then walks up and runs across your plate or your food, they will spread germs. Once they migrate indoors, they seek out these areas in and around your home:
Kitchens
Bathrooms
Under sinks
Behind dishwashers
Under refrigerators
Septic tanks
Trash bins/dumpsters
Attics, especially in attic corners
Crawlspaces
Mulch
Gardens
Leaf litter
Trees
Characteristics

An American Cockroach has these characteristics:
Body is oval-shaped with six legs and a long antenna
Color is reddish-brown with a yellowish figure 8 pattern on the back of their head
Length of body is between ¼" to 2-1/8"
Nocturnal and tend to "sleep" or lower activity during the day
Become active at night to look for food, usually four hours after lights out
Wings that allow them to fly short distances
If you need any pest control assistance, contact Drive-Bye Exterminators by calling 727-787-2127 or booking an appointment.
Drive-Bye Exterminators offers home and commercial pest control services in Clearwater, Florida, and the surrounding areas. Family owned and operated for over 25 years, Drive-Bye Exterminators have state-certified inspectors, and exterminators provide roach, subterranean termite, dry wood termite, roaches, spider, ant, and flea services to both commercial and residential clients. Whether a business owner needs help getting rid of a termite infestation, or a homeowner wants to rid their kitchen of ants, Drive-Bye Exterminators offers each client the same level of professionalism and excellence.
Request a FREE Pest Control or Termite Inspection today with the Professionals of Drive-Bye Exterminators.Contact Us Todayat 727-423-9040.