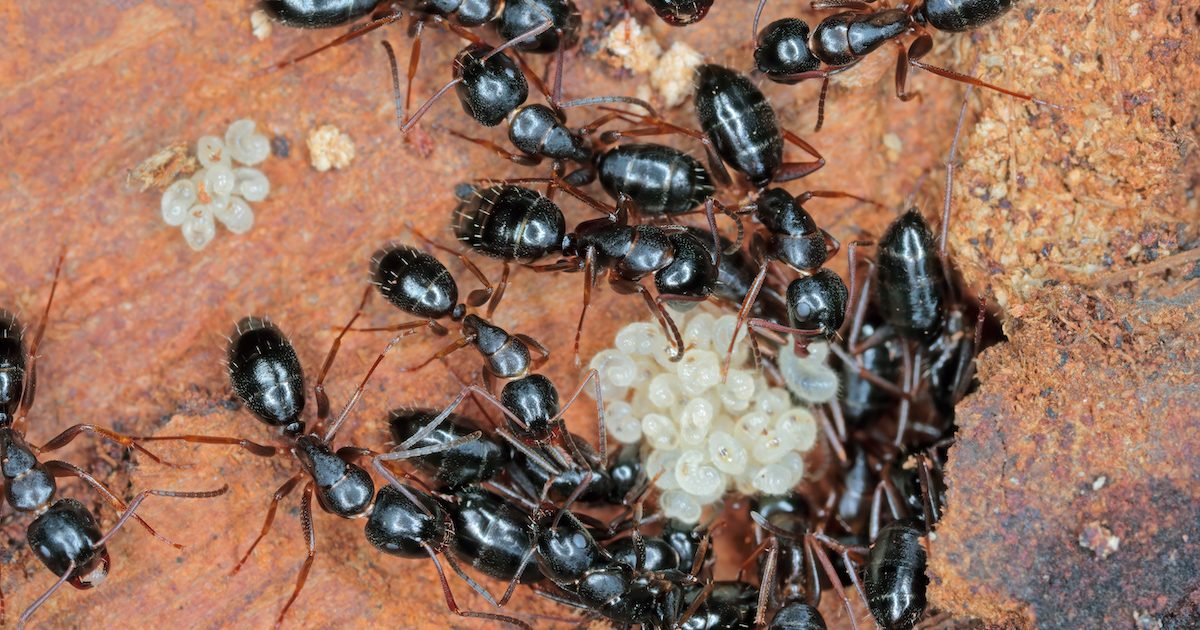 There's no shortage of insects here in Florida, whether they sting, bite, or wreck havoc on wood structures. One such species is the notorious carpenter ant. Every year, especially during the months of August and September, many Floridians deal with swarms and infestation. These swarms signify the rise of new colonies that are ready to live inside door frames, decks, and much more.
If you have a carpenter ant problem or you are trying to prevent an infestation, you're at the right place. Here at Drive-Bye Exterminators, we are happy to show you how to handle carpenter ant swarms effectively.
Understanding Carpenter Ant Swarms
Carpenter ant swarms are a sight no homeowner wants to witness. Unlike their fire ant counterparts, carpenter ants are less concerned with establishing new ground and more interested in burrowing into existing wooden structures.
Meanwhile, the magnitude of these swarms are often immense and alarming. But the real concern lies in their love for wood. Carpenter ants excavate wood to create their nests, I they choose the wooden components of your home, it can lead to structural damages.
Over time, their relentless tunneling weakens the wooden framework, leading to costly repairs.
Why are Carpenter Ant Swarms Worse in August in September?
August and September are the perfect conditions for carpenter ants to breed and start new colonies. At the heart of these swarms are the reproductives–the future kings and queens of new colonies.
By late summer, many carpenter ant colonies have reached a mature size. As colonies grow, they produce winged, reproductive members known as alates. These alates are programmed to swarm, mate, and establish new colonies. Keep in mind that carpenter ant swarms in Florida may contain up to 2,000 ants. Yikes!
It's also important to note that swarming isn't a random occurrence. When the colony reaches a specific size and environmental conditions are deemed suitable, the queen gives the order to swarm. In Florida, these conditions are often linked to the rainy season, providing a moist and suitable environment for new colonies to thrive.
The Surefire Signs of a Carpenter Ant Swarm
Not sure if you're dealing with a carpenter ant infestation or swarm? There are several considerations to make, including where you find the infestation as well as the size and color of the ant. Take a look at the typical signs below of a potential carpenter ant swarm:
Size: Carpenter ants are about 1/2 inch long, while swarmers are about 1 inch long.
Color: Carpenter ants are typically black or brown, while swarmers are often black with red markings.
Activity: Carpenter ants are active year-round, while swarmers only appear for a short period of time, usually in the spring or fall.
Infestation: Carpenter ants are typically found in moist, decaying wood. They build their nests in trees, stumps, and other wooden structures. Swarms, on the other hand, are usually found outside, near trees or other sources of food.
If you're not sure whether you're dealing with an infestation or a swarm, it's best to call a professional pest control company. They will be able to identify the type of ant and recommend the best course of treatment.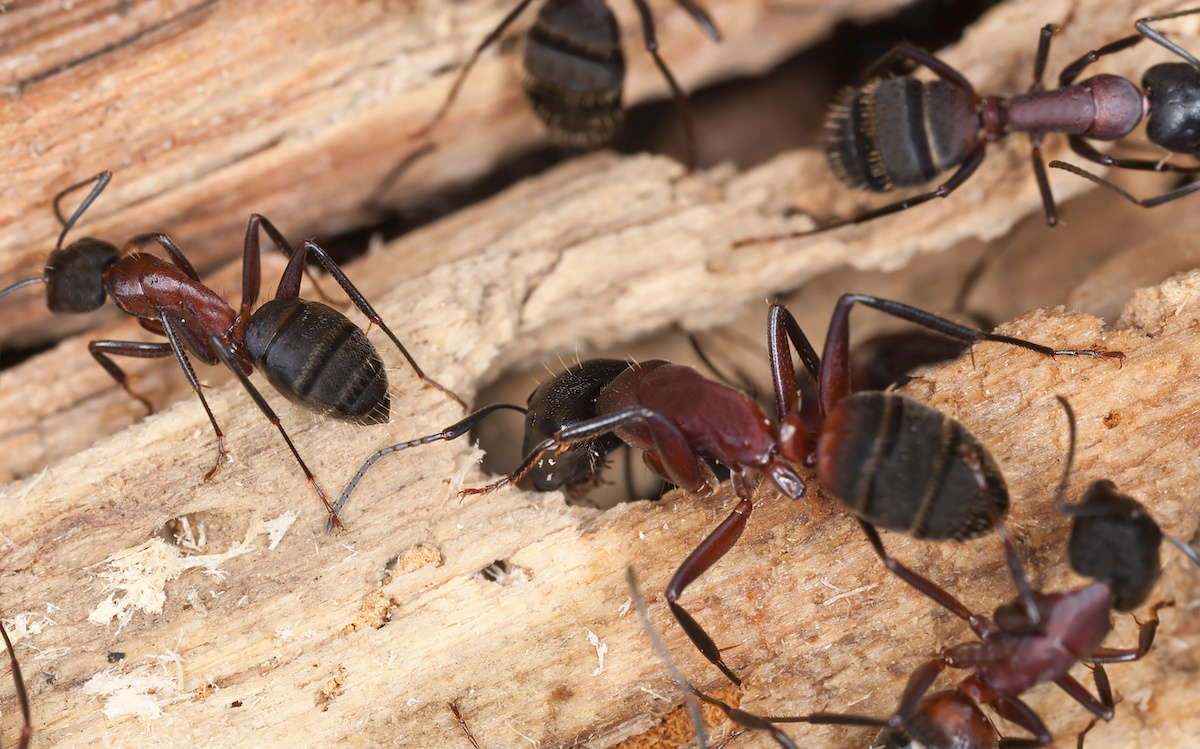 How to Manage Carpenter Ant Swarms in Florida
Now that we understand the science behind these swarms, how do you get rid of them? Let's discuss the proactive measures you can take to manage them effectively.
Early Detection of Carpenter Ant Swarms
Recognizing the early signs of carpenter ant swarms can be the key to preventing extensive damage to your home. Staying proactive and observant can save you both time and money in the long run. Here are some indicators and methods for early detection:
Winged Ants Indoors
One of the most obvious signs of a nearby colony is the presence of winged ants inside your home. These winged ants, or alates, are reproductive members preparing to start new colonies. If you spot them indoors, it might indicate that there's a nest within your home's structure.
Frass
Carpenter ants don't consume wood; instead, they excavate it to create their nests. In the process, they produce a sawdust-like material called frass. If you notice small piles of wood shavings, especially near wooden structures, it's a significant indication of carpenter ant activity.
Noises in the Walls
A large carpenter ant colony can sometimes be heard as they move and work within wall voids. If you listen closely, especially during the quiet nighttime hours, you might hear a faint rustling or clicking sound emanating from your walls.
Trails
Carpenter ants, like other ant species, often follow set trails or paths when foraging for food. Observing ants regularly moving in a line, especially if they're entering and exiting a particular area of your home, can suggest a nearby nest.
Inspect Damp Areas
Carpenter ants prefer moist wood. Regularly inspect areas in your home prone to dampness or water damage, such as around leaks, pipes, or improperly sealed windows. These areas are potential hotspots for carpenter ant infestations.
Physical Damage
Over time, as the ants continue to burrow through wood, they can cause visible damage. Inspect wooden structures, both indoors and out, for any signs of hollowed-out wood or structural weaknesses.
How Do You Get Rid of Carpenter Ant Swarms?
Now comes the big question–how do you get rid of carpenter ant swarms in Florida?
Several natural deterrents can make your property less appealing to fire ants. Plants like mint and tansy can act as repellents. Meanwhile, sprinkling diatomaceous earth around high-risk areas can deter ants from setting up shop.
But if the swarm is substantial, you might need to bring out the big guns. Several over-the-counter insecticides are explicitly designed to tackle carpenter ants. Baits, in particular, are effective as they target the queen – eliminating the heart of the colony. The worker ants can carry poison from the traps and baits back to the colony, which will wipe it out.
Get Help with Carpenter Ant Swarm Infestations in Florida
Sometimes, the infestation can be too much for a homeowner to handle alone. In these cases, don't hesitate to call us. Pest control services have the expertise and tools to handle significant infestations, ensuring that your property is ant-free.
When you are having problems with carpenter ants at your house, Drive-bye Exterminators is here to help. Trust us as the go-to ant exterminator in Tampa Bay!