If you're a proud plant parent living in the Sunshine State, you'll be familiar with the unique challenges of maintaining your garden. One of the most significant is controlling pesky garden pests. Below, we present a comprehensive guide on garden pest control tips tailored for Florida's unique ecosystem.
Understanding Florida's Garden Pests
To execute effective pest control, you must first understand the enemy. Here are the most common garden pests in Florida:
Aphids: These small, pear-shaped insects can cause leaves to curl, yellow, or distort. They also produce honeydew, attracting sooty mold fungus.
Whiteflies: These tiny winged insects are found on the undersides of leaves, causing them to yellow and drop prematurely.
Spider Mites: These minuscule pests can be hard to spot. They create tiny webs and cause plants' leaves to develop a dusty, dull appearance.
Caterpillars: Certain species can be detrimental to plants, stripping them of their leaves.
Garden Pest Control Tips: Recognizing the Early Signs of Infestation
For effective garden pest control, awareness is a gardener's first line of defense. Recognizing the early signs of infestation means you can take action promptly, stopping pests in their tracks and minimizing potential damage. Let's delve a bit deeper into some signs that should alert you to possible pest activity in your Florida garden.
Leaf Damage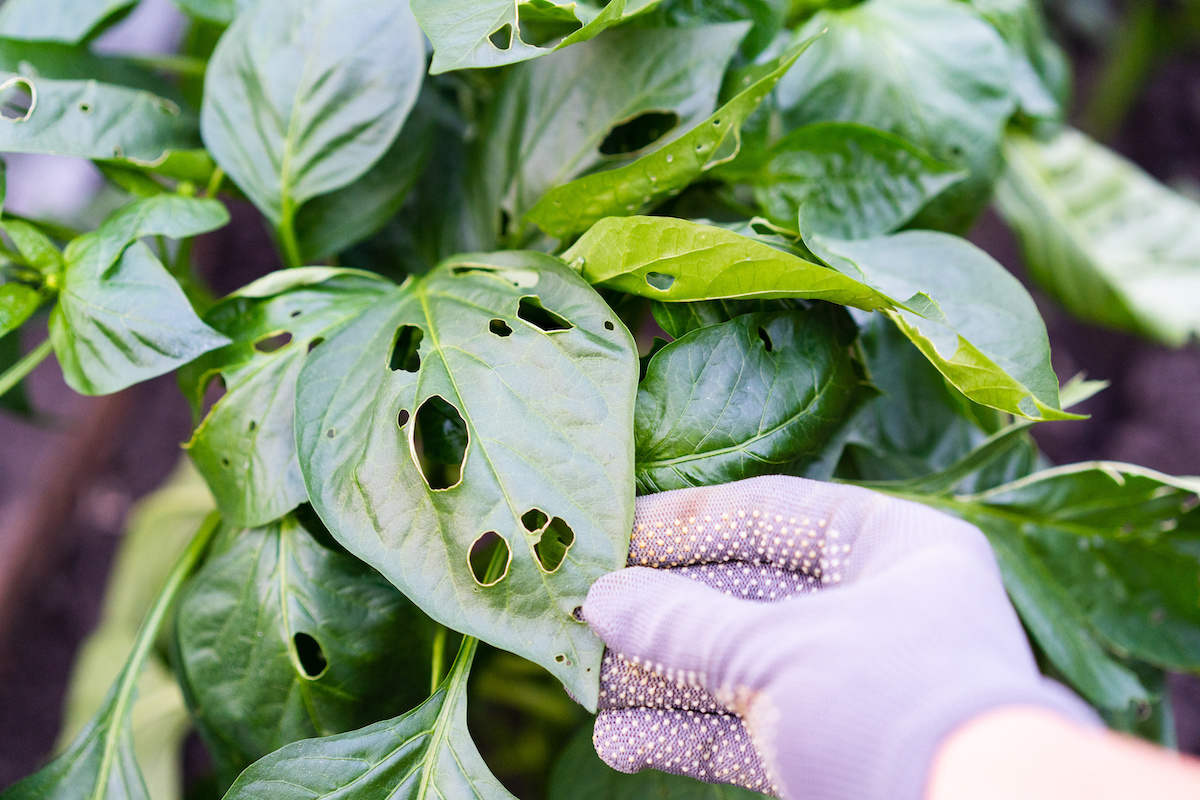 Leaf damage is a telltale sign that pests may have invaded your plant sanctuary. Different pests can leave different marks, so understanding these signs is crucial:
Holes: Many types of insects, such as beetles and caterpillars, will leave small to large holes in leaves.
Discoloration: Pests such as aphids and mites suck sap from leaves, causing them to turn yellow or pale.
Curling or Wilting: This is another symptom of sap-sucking pests. Affected leaves may curl, wilt, or appear misshapen.
Spots: Fungal diseases often spread by pests can cause black, brown, or yellow spots on leaves.
Visible Pests
Sometimes, you'll be able to spot the bugs themselves. They often congregate on the underside of leaves, which provides a sheltered space to feed and reproduce. Check your plants regularly for these unwelcome guests. Use a magnifying glass if necessary, as some pests, like spider mites, are tiny and can easily be overlooked.
Mold or Mildew
The presence of sooty mold or mildew can often be a red flag for an aphid infestation. Aphids excrete a sugary substance called honeydew, which is a hotbed for sooty mold fungi. This black, powdery mold doesn't just look unsightly—it can also block sunlight and interfere with photosynthesis, thereby harming your plants.
If you notice an unusual amount of ants around your plants, this can also indicate an aphid problem. Ants are attracted to the sweet honeydew, and some species will even protect aphids from predators to keep their food source safe.
Plant Vigor
Pay close attention to the overall health and vigor of your plants. Stunted growth, fewer blooms, or reduced yield can be indirect signs of pest infestations. Healthy plants are generally more resistant to pests, so any unexpected decline in health should prompt a thorough pest check.
Pest Droppings or Shed Skins
Many pests, such as caterpillars and beetles, leave behind visible droppings. You may also find shed skins from pests that molt, like aphids and whiteflies. Both of these are solid indications of a pest problem.
Natural Pest Control Tips
Natural methods are often the first line of defense in pest control. Here are some garden pest control tips that rely on natural remedies:
Introduce Beneficial Insects: Not all insects are harmful. Certain bugs, like ladybugs, lacewings, and certain types of wasps, are natural predators of pests. Introducing these insects can keep the pest population in check.
Use Natural Pesticides: Neem oil, horticultural soaps, and diatomaceous earth are safe for most plants and effective against a wide range of pests.
Interplanting: Planting pest-repelling plants, such as marigolds and garlic, can deter pests naturally.
Regular Pruning: Remove and discard infested leaves and stems to prevent the spread of pests.
Creating a Pest-Resistant Garden
A proactive approach to pest control involves making your garden less appealing to pests. This can help keep infestations to a minimum and your plants thriving. Here are some crucial steps to create a garden environment that deters pests:
Crop Rotation
Crop rotation is an age-old practice in agriculture, but it can be just as useful in your backyard garden. By changing where different plants are situated each season, you disrupt the life cycle of pests and prevent them from establishing a stronghold in specific areas. Here's how to do it:
Divide your garden into sections and record what you plant in each.
Each planting season, switch the plant families in each section. For instance, if you planted tomatoes (a nightshade) in one section this season, you might plant beans (a legume) there next season.
This technique is particularly effective against pests that target specific plant families, as they'll
find it harder to locate their preferred hosts.
Cultivating Healthy Soil
Healthy soil is the foundation of a strong, pest-resistant garden. Plants growing in rich, balanced soil are more vigorous and more resistant to pests and diseases. Here's how you can enrich your soil:
Compost: Regularly adding compost to your soil provides essential nutrients for plant growth. You can make your compost from kitchen scraps, yard waste, and other organic matter. It not only nourishes your plants but also improves soil structure and encourages beneficial soil organisms.
Mulch: Mulching with organic matter like straw, wood chips, or grass clippings helps retain soil moisture, suppress weeds, and gradually add nutrients to the soil as they decompose.
Cover Crops: Planting cover crops like clover or rye in the off-season can prevent soil erosion, suppress weeds, and enhance soil fertility when tilled into the ground at the end of the season.
Water Management
Proper watering is critical in creating a pest-resistant garden. Pests are often attracted to stressed plants, and both overwatering and underwatering can stress plants. Overwatering, in particular, can make your garden a breeding ground for many pests like mosquitoes and slugs. Here's how to water effectively:
Water plants in the early morning. This allows excess water on the plant surfaces to evaporate as the day warms up, reducing the risk of fungal diseases.
Water at the base of the plants, avoiding the leaves as much as possible. Wet leaves can attract pests and promote disease.
Allow the soil to dry between watering. This is particularly important in Florida's humid climate. Overly moist soil can attract pests like root-knot nematodes and fungus gnats.
Making Use of Commercial Pest Control Products
When natural methods aren't enough, there are numerous commercial pest control products to consider:
Insecticidal Soaps: These are safe for most plants and can control a variety of soft-bodied insects like aphids and whiteflies.
Bacillus thuringiensis (Bt): A bacterium that's lethal to many types of caterpillars.
Systemic Insecticides: These are absorbed by plants and can control pests for several weeks. Use them as a last resort and follow the package instructions to the letter.
When to Call an Exterminator for Garden Pest Control Tips & Elimination
While a multitude of garden pest control tips can help you manage minor infestations, there may be times when the situation calls for professional intervention. Determining when to call an exterminator is crucial to saving your garden from extensive damage. Here are some indicators that it's time to enlist the services of a professional pest control service:
Persistent Infestations
Despite your best efforts, some pest infestations may persist. If you've tried various control methods and you're still seeing considerable damage to your plants, it might be time to call a professional. Our specialized knowledge and tools can help address stubborn infestations more effectively.
Rapid Pest Population Growth
If you notice a sudden or rapid increase in the pest population in your garden, it might signal a more serious issue. Professionals can quickly assess the situation, identify the cause of the sudden increase, and implement a comprehensive pest control plan.
Invasive or Harmful Species
Certain invasive pests or harmful species can wreak havoc on your garden and local ecosystem if not appropriately managed. In Florida, examples include the Asian citrus psyllid and the Formosan termite. These pests can cause extensive damage and are often resistant to conventional control methods, making professional help necessary.
Difficulty in Pest Identification
Correctly identifying the pest is the first step in successful pest control. If you're struggling to identify the pest causing damage to your plants or you're uncertain about the best treatment method, a professional exterminator can provide valuable insight. They are trained to identify a wide range of pests and recommend the most effective treatment strategies.
If you're in over your head with garden pest control problems, Drive-Bye is here to help. We have plenty of garden pest control tips for Florida plant lovers! Please get in touch with us today to schedule an appointment.