As a landlord, you're no stranger to the myriad of challenges that come with property management. Among them is the constant battle with pests, including ants. These tiny insects may seem harmless, but their sheer numbers can quickly become overwhelming and negatively affect your tenants' living conditions. If you're struggling with an ant infestation, you're not alone. In this blog post, we'll explore how to get rid of ants in your apartment, offering proven solutions that will help you regain control over your property and ensure a comfortable living space for your residents.
Prevention is key
For all pests, prevention is always the best course of action. This is also true for ants, whether it's carpenter ants or fire ants. The good news is that ant prevention is easy to do and almost entirely free. Be sure to encourage your tenants to develop good prevention habits, all while doing your part as a property manager.
Encourage Tenants to Keep their Units Clean
Ants are attracted to food, so it is important to keep your kitchen and dining areas clean. Encourage your tenants to wipe down counters, store food in airtight containers, and take out the trash regularly. You can also place ant baits around the house to help control the ant population. If you have a severe ant problem, you may need to call a professional exterminator.
Here are some additional tips to keep ants out of your apartments:
Seal up any cracks or holes in your foundation or walls.
Caulk around windows and doors.
Keep food in airtight containers.
Clean up spills immediately.
Don't leave pet food out.
Keep your trash cans covered.
Seal All Entry Points
Sealing entry points is one of the most important things you can do to prevent ants from entering your apartment. Inspect your apartment for any cracks or gaps in walls, windows, or doors. Seal these with caulk or weather stripping to prevent ants from accessing the interior. You should also check around pipes and electrical wires, as ants can often find their way in through these openings. If you find any cracks or gaps, seal them immediately. You can also use ant baits or traps to kill ants that have already entered your apartment. However, sealing entry points is the best way to prevent ants from coming in in the first place.
Get Regular Inspections
Schedule regular inspections of your property to identify potential ant colonies or nests early on. This will allow you to take action before the infestation becomes severe. Ants are attracted to food, water, and shelter, so it is important to look for these things in your home or business. Common places where ants nest include:
Cracks and crevices in walls and foundations
Under sinks and appliances
In cabinets and drawers
In pet food bowls
In trash cans
If you find an ant colony or nest, you can try to eliminate it yourself using commercial ant baits or traps. However, if the infestation is severe, it is best to call a professional pest control company. Drive-bye Exterminators can help!
How to Get Rid of Ants in Your Apartment: Take immediate action
Are you wondering about how to get rid of ants in your apartment? Time is of the essence! If your tenant reports problems with ants, be sure to act immediately. These are some ideas for taking immediate action.
Natural repellents
Encourage your tenants to use natural remedies like vinegar, lemon juice, or peppermint oil to repel ants. These substances disrupt their pheromone trails, making it harder for them to navigate.
Bait stations
Place ant bait stations near entry points or where you've spotted ant activity. The ants will carry the bait back to their colony, eliminating the entire group over time.
Professional pest control:
If the infestation is too severe, consider hiring a professional pest control company. They can apply stronger treatments and offer expert advice on how to prevent future infestations.
Educate your tenants
Communicating to your tenants about ant control is an important part of property management. This is a good time to share resources with your tenants about ant behavior, what attracts them, and how to prevent them from invading their apartments. Reading our blog here at Drive-bye Exterminators is a great way to start! You can also rely on resources such as the University of Florida.
Work Together to Prevent Ant Infestations
Work together with your tenants to create an ant-free environment. Encourage open communication and prompt reporting of any signs of ant infestations.
Meanwhile, discuss the importance of maintaining a clean living space and sealing potential entry points to keep ants at bay.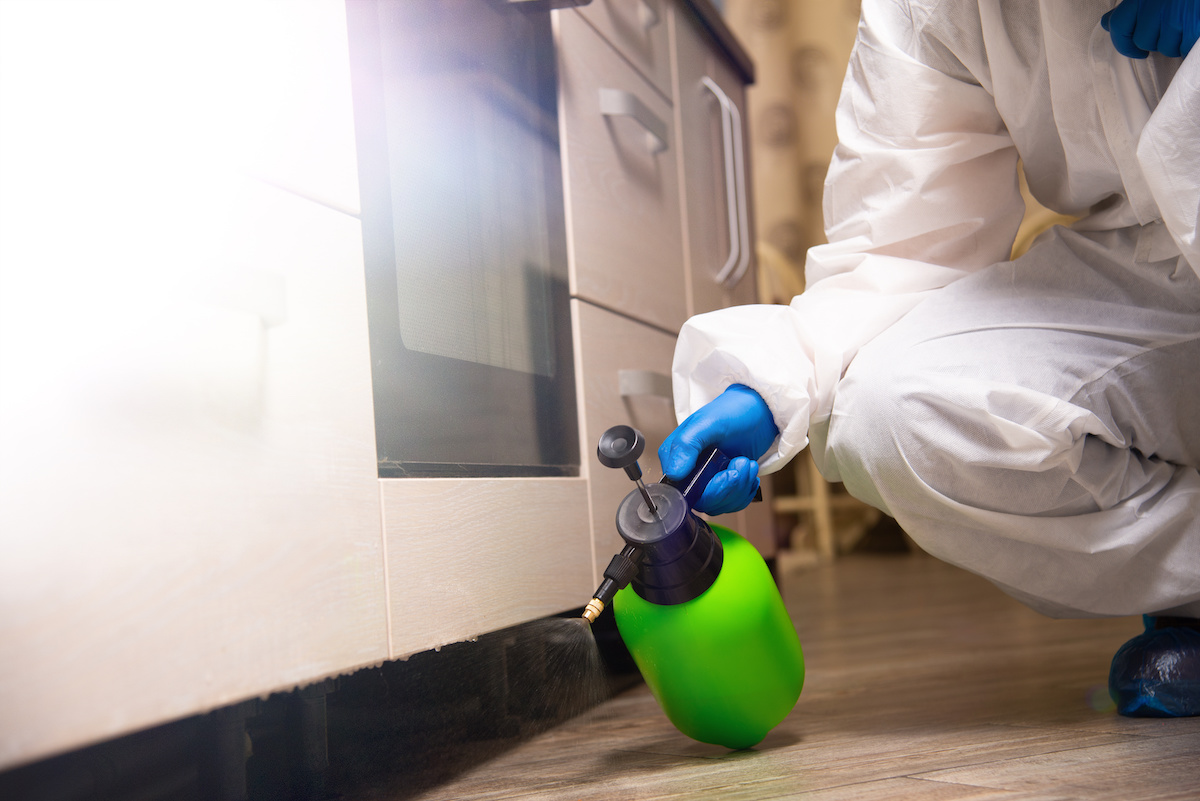 Long-term Strategies for Ant Control
The truth is that ants are a problem year-round in Florida. Thinking long-term about pest prevention can save you a lot of time and money. Here are several considerations to keep in mind:
Take Care of the Landscaping
Ants often build nests in the ground or in rotting wood. Remove any piles of leaves, wood, or other debris near the building, and trim bushes and trees away from the structure.
Regular Property Maintenance
Keep up with your property's maintenance needs, such as sealing cracks, fixing leaks, and addressing any other issues that could attract ants.
Monitor and adapt:
Stay vigilant and monitor your property for signs of ant activity. Adapt your prevention and control strategies as needed to stay ahead of any potential infestations.
Do You Have an Ant Problem at Your Rental Property?
If you have trouble with ants at your apartment or rental property, Drive-bye Exterminators is here to help. We can help you effectively remove ants from your rental property, ensuring a safe and healthy place for your tenants to call home. Please contact us today for help with ant control in Clearwater and surrounding areas.