Concerned about carpenter ants? Carpenter ant swarms can potentially damage your property, primarily if they colonize your home. You can find up to 10,000 carpenter ants in a colony! When you want to avoid carpenter ant swarms, Recognizing their patterns and understanding their life cycle will help implement effective strategies to keep them at bay.
If you want to prevent carpenter ant swarms in your Florida home, you're at the right place. This blog will guide you through the measures you can take to prevent carpenter ants and the potentially costly damage that they create.
Understanding the Life Cycle of Carpenter Ant Swarms
Here in Florida, the swarming period usually falls in late summer or early fall, typically around August and September. Swarming happens when the colony reaches a certain size and the weather conditions become favorable, often related to rainy spells.
During this time, young reproductive ants, which are the future kings and queens of new colonies, are ordered to swarm by the queen. These winged males and females leave the nest to mate and create new colonies. This expands their territory. Unfortunately, spotting a swarm often indicates a well-established colony in the vicinity.
What are the Signs of Carpenter Ant Swarms?
Identifying a carpenter ant swarm early can be the difference between a simple pest control job and significant property damage. Understanding the signs of a swarm can help you take swift action to prevent an infestation. Here are key indicators that carpenter ants are nearby and potentially ready to swarm:
Sawdust Piles: Also known as frass, these small piles of wood shavings are a tell-tale sign of carpenter ant activity. They often indicate the presence of a nearby nest.
Noise: Strange rustling noises within your walls or wooden structures can be an indication of ant activity. These sounds come from the ants moving and working within their nests.
Ant Sightings: Regularly spotting large, winged ants in or around your home is a significant sign of a possible swarm. Remember, these are the reproductives preparing to start new colonies.
Trail of Ants: Carpenter ants often follow set paths when foraging for food. If you notice a consistent line of ants, especially near wooded areas, it could be a sign of an infestation.
Damaged Wood: Check for hollowed-out wood or smooth galleries in wooden structures. These are signs of a well-established carpenter ant colony.
Being aware of these signs will enable you to take timely action against potential carpenter ant swarms.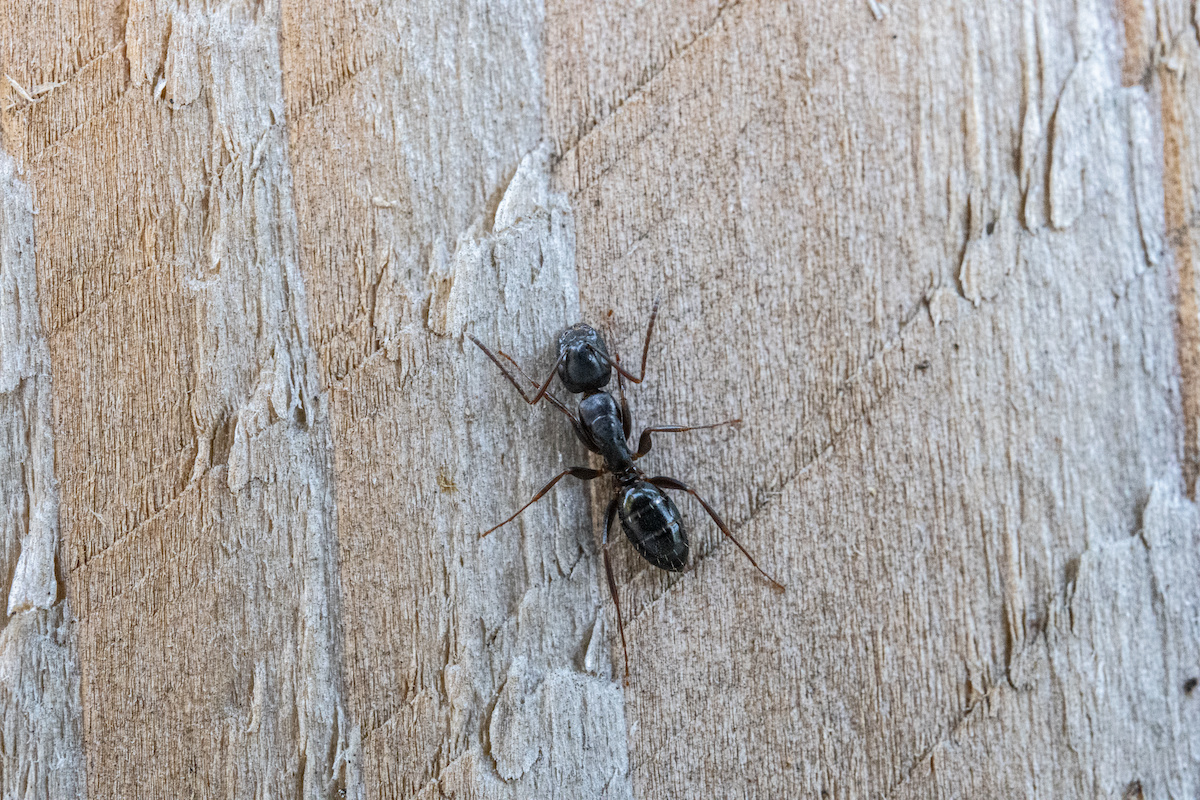 Regular Home Inspections
The cornerstone of preventing carpenter ant swarms is conducting regular home inspections. Areas prone to dampness and wooden structures should be your primary focus. That's because these make ideal nesting grounds for carpenter ants.
What Happens During Home Inspections for Carpenter Ant Swarms?
Conducting regular home inspections is a vital step in identifying and preventing potential carpenter ant swarms. Here's what a regular inspection might entail:
Identifying Vulnerable Areas
Inspections start by focusing on potential hotspots. Carpenter ants are attracted to damp areas and wooden structures, especially those that are decaying or have been damaged by water.
Visual Checks
This involves a careful examination of your property for signs of carpenter ants. You're looking for small piles of sawdust-like material, known as frass, which indicates the presence of a nearby nest. You might also look for any actual ants, especially larger, winged ones, which might suggest a swarm is imminent.
Listening for Noise
The inspector might also listen for faint rustling noises within walls or wooden structures. These sounds can be a sign of ants moving and working within their nests.
Checking for Moisture
Given the ants' preference for damp environments, the inspector might use a moisture meter to find areas of excessive moisture around your property. This includes checking for leaks in your plumbing, roof, and windows that might make your home more appealing to carpenter ants.
Examining Outdoor Areas
An inspection isn't limited to your home's interior. It also includes a thorough check of your yard. The inspector will be looking for things like tree stumps or other wooden debris that could serve as a potential nest for carpenter ants.
Creating an Inspection Report
At the end of the inspection, you should receive a detailed report outlining any findings and suggesting next steps. This could range from DIY preventative measures to hiring a professional extermination service, depending on the extent of the potential infestation.
Create a Dry Habitat
Carpenter ants have an affinity for moisture, preferring damp wood for excavating and setting up their colonies. Therefore, it's crucial to ensure your home environment stays dry.
How do you create a dry habitat to ward away carpenter ant swarms? Some ideas include:
Regularly inspect for and fix any leaks in your plumbing system, roofs, and windows
Ensure that you have properly functioning gutters and downspouts will also help keep water away from your foundation
Immediately clean up any spills around your home
Check that your garden hose is not leaking
Manage Your Outdoor Space
Maintaining a tidy outdoor space can deter carpenter ants from creating a home on your property. Ensure tree branches and vegetation are trimmed back and away from your home, as ants can use these as pathways to reach your house. Meanwhile, remove decaying or damaged wood like old tree stumps from your property; they are highly attractive to carpenter ants.
Proper Firewood Storage
Firewood, a possible attraction for carpenter ants, can provide an entry point to your home. Store firewood at a distance of at least 5 feet from your house and elevate it from the ground, if possible.
Secure Your Home's Entry Points
Block any gaps, crevices, or cracks that can serve as entry points for ants. BTo ensure your home is protected against carpenter ant swarms, you need to identify and seal potential entry points. Here are the steps to make sure your home is secure:
Inspect Around Doors and Windows: These areas are common entry points for ants. Ensure all doors and windows are properly sealed and caulk any visible cracks or gaps.
Check Utility Lines and Vents: Look for openings where utility lines (like gas, electricity, and cable) enter your home. Use silicone-based caulk to seal any gaps around these areas.
Secure the Foundation: Check for cracks in the foundation that could allow ants to enter. Seal any openings with a suitable material like a concrete patch or masonry sealer.
Seal Gaps in Sidings and Walls: Check your home's exterior for gaps or cracks in siding or brickwork. Use a weatherproof sealant to close these potential entry points.
Maintain Window and Door Screens: Ensure all screens are in good condition, without any tears or holes that could allow ants to enter.
Contact Drive-Bye Exterminators for Help
You don't have to go to battle against carpenter ant swarms on your own. Voted Best of the Best from Tampa Bay Times 2023, 2021 and 2022, we invite you to schedule a free estimate when you're concerned about carpenter ant swarms.