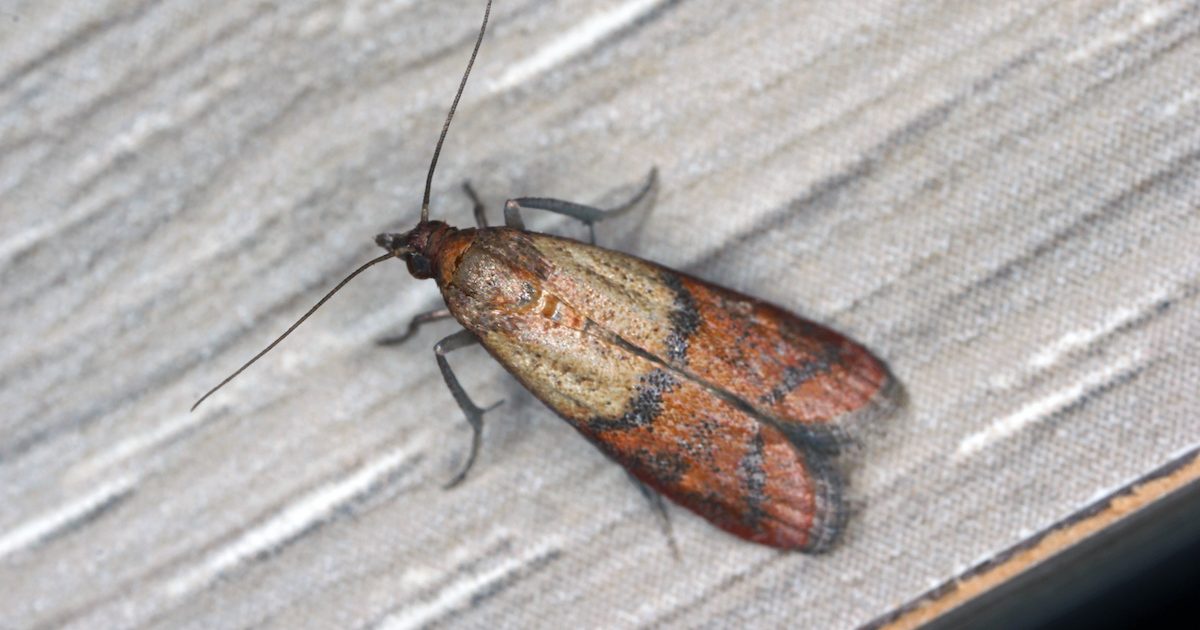 At first glance you may think, "oh what is that butterfly doing inside?" but then quickly come to the realization that it is not a butterfly. No, it is a moth. In Florida, moths are no stranger to our homes and are often found inside the attic, closets, pantries, and swarming around any source of light they come across at night. There are multiple different types of moths you may come across at home. The two main ones in Florida are the Indian Meal Moth and Mediterranean meal moth.
More about Indian Meal Moths
Most likely to be found in your pantry, Indian Meal Moths are the most destructive and most common pantry pests. These moths are dark and small, about the size of a fingernail. Like most moths, Indian Meal Moths are attracted to lights and can be found flying near them at night when looking for a place to lay their eggs. You are most likely to find Indian Meal Moths near dry foods and grain in your pantry. However, they will infest and eat the following:
Dog food
Dried pasta
Seeds
Dried Fruit
Spices
Indian Meal Moths are particularly destructive to food products because once they have laid their eggs in the food, it is deemed inedible. If the larvae get into the food, they will feast on it and contaminate it. Indian Meal Moths aren't dangerous, but the food they contaminate is not safe it eat and they can be very destructive of property.
More About Mediterranean Meal Moths
Mediterranean Meal Moths are known for a specific pose they make when the adult moth is resting. The moth will extend its front legs and raise its head, giving the appearance that it is sloped. Contrary to the Indian Meal Moths dark color, Mediterranean Meal Moths are pale gray with black wavy lines and bigger in size. They are also active at night and can also be found in your pantry. The kind of food that attracts the Mediterranean Meal Moths include:
Flour
Pet food
Cereal
Dried whole grains
Chocolate!
Dried Beans
Mediterranean Meal Moths can contaminate food and render it inedible. They can easily infest dry storage food and make it unsanitary for both consumption and sale.
How Do They Get In?
Moths can get inside a home or business via a number of ways including open windows, doors, infested plants, and infested items like rugs, clothing, or linens. Outdoor lighting at night and in the evening can also attract moths. Clothing moths are also another serious pest that feeds off of the natural fibers in clothing and fabric.
Get Help From The Experts
The first step to tackling a pest control problem is identifying it. DriveBye Exterminators will carefully inspect the carpet, closets, food storage areas, and all other areas where a moth infestation might occur. They check for any damage and any eggs or larvae. They then work to remove any moth infestations and prevent future ones as well. DriveBye Exterminators only use methods that are safe around you, your family, your pets, and the environment.
In the case of a persistent moth infestation, DriveBye Exterminators include the application of specially formulated insecticides and pheromone treatment techniques for guaranteed results.
Call us today to learn more about how to handle a moth infestation at your home or business.