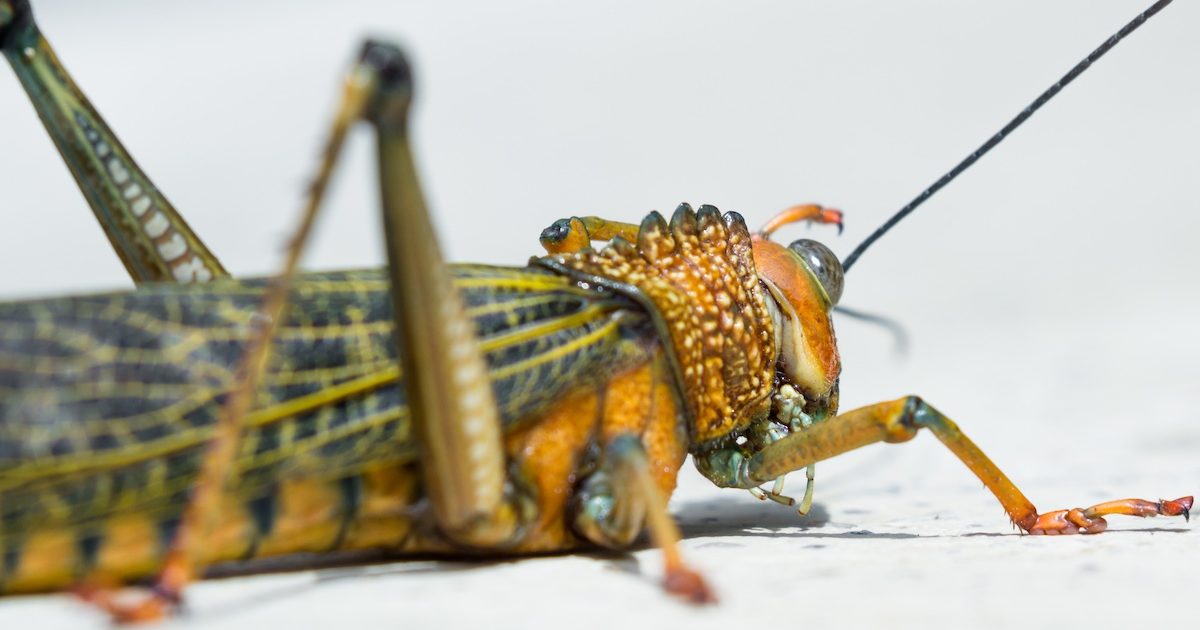 Ever heard of Florida's Giant Orange Grasshopper? It is also called the Eastern Lubber Grasshopper. It has beautiful bright red, orange, and yellow colors, which is easy to spot. You need a warning because this grasshopper contains toxins and can make a potential predator sick.
Dangerous
They are aposematic grasshoppers, which means their colorful markings serve to warn and repel predators because they are quite poisonous. They won't harm or kill a human, but they can kill or make a small bird or mammal sick.
Traits
The Giant Orange Grasshopper is the largest grasshopper at up to 4 inches, which can make them a little slower due to their size. The four-inch-long grasshopper cannot fly. Instead, it moves in short, clumsy hops. It can also walk or crawl. If you pick one up, the grasshopper makes a loud hissing noise and secretes an irritating foul-smelling foamy spray.
Diet
The Eastern lubber grasshopper or Romalea guttata eats broadleaf plants and will feast in your garden as well. They can become a nuisance when swarms invade residential areas. Lubbers are not a danger to humans or pets, but they are voracious eaters. They climb into flower beds, munch away at herb gardens, and hop from bush to bush by the side of the road, eating every species of plant they can get their jaws on. These grasshoppers aren't picky when it comes to food, but they do have a preference for crinum lilies and other toxic flowering plants.
The lubbers are not a serious threat to agriculture because growers usually get rid of them early on, but they can do quite a bit of damage to landscaping.
Reside
The Eastern Lubber Grasshopper is in North America, and they are native to the Southeastern United States. They reside throughout Florida and from Tennessee to North Carolina, in Alabama, Georgia, Mississippi, Louisiana, Arkansas, Arizona, and Texas. These colorful insects reside in pinewoods, weedy vegetation, and weedy fields.
Eggs
Females, which need space to carry more than 100 eggs each, can grow to about four inches long and fill a child's hand. It's also common to see them mating.
As a nymph, they are mostly black with a narrow median yellow stripe, and red on the head and front legs.
As an adult grasshopper, they can look different depending on where they live. This insect is mostly black with yellow markings in northern Florida. In southern Florida, they are primarily yellow with black and red markings and red on the forewings.
If you need any pest control assistance, contact Drive-Bye Exterminators by calling 727-787-2127 or booking an appointment.
Drive-Bye Exterminators offers home and commercial pest control services in Clearwater, Florida, and the surrounding areas. Family owned and operated for over 25 years, Drive-Bye Exterminators have state-certified inspectors, and exterminators provide roach, subterranean termite, dry wood termite, roaches, spider, ant, and flea services to both commercial and residential clients. Whether a business owner needs help getting rid of a termite infestation, or a homeowner wants to rid their kitchen of ants, Drive-Bye Exterminators offers each client the same level of professionalism and excellence.
Request a FREE Pest Control or Termite Inspection today with the Professionals of Drive-Bye Exterminators. Contact Us Today at 727-787-2127.