The first week of spring is here in Clearwater, and so is Termite Awareness Week. As our weather warms up, termites, become more active and damaging. Drive-Bye Exterminators is proud to celebrate Termite Awareness Week, an annual observance by the National Pest Management Association. This year the week of March 8th through March 15th is National Termite Awareness Week, and termite swarm season is just around the corner. Some people do not realize how much damage termites can cause to your home, property, or business. One of the most significant ways to stop termites is a thorough inspection of your home each year by a reputable pest control company.
National Pest Management Association Survey
The National Pest Management Association recent survey found that:
33 percent have or know someone who has experienced termite damage,
38 percent of U.S. adults worry about discovering termites in their home and that despite these concerns,
More than half (52 percent) of Americans have never had their homes inspected.
The answer is simple – get your home inspected. Did you know that most homeowner's insurance does not cover any termite damage? It is estimated that termites cost property owners in the United States billions of dollars in damage every year. Termites never stop. They feed on wood, which makes it weak and brittle. If you do not find and stop termites, they can total your home.
Termite Swarmers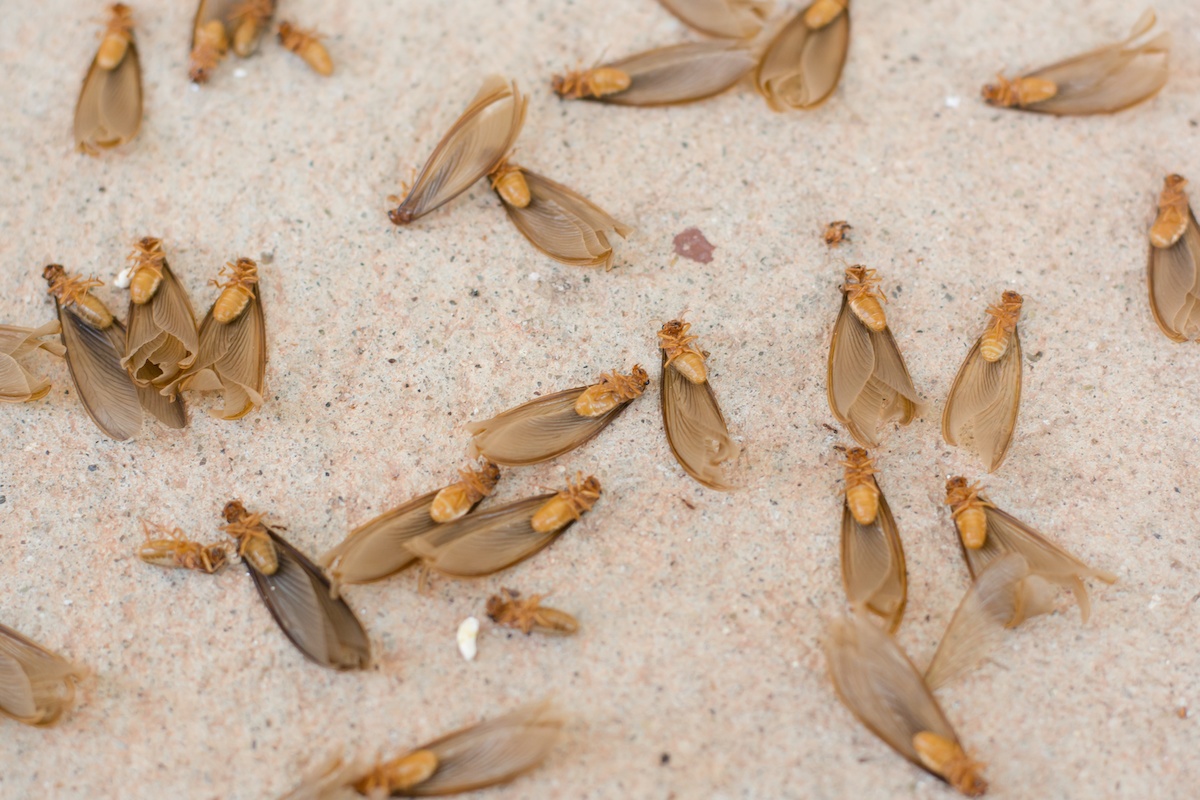 Termite swarmers are part of the termite life cycle. It is nature's way of telling us that there is termite activity around a home. Although swarmers have no biting or chewing mouthparts and do not themselves cause damage, their goal is to start new colonies in and around a house, which can then cause significant damage. Some have estimated that Formosan Termites are causing as much as 75 to 100 million dollars in damage to structures each year!
As a homeowner, do not panic if you find swarmers in your home. Immediately call a licensed and trained expert to perform an inspection and verify the source of the swarmers. Hiring a licensed, reputable company that specifically provides coverage for damage caused by subterranean termites, including the aggressive Formosan Termite, makes economic sense.
Termites love wet and warm areas, especially near water. In Tampa Bay, there are specific neighborhoods close to or on water, where there is a higher percentage of termite infestations.
A report by pest control professionals ranked the 15 most termite-infested cities in the United States. Tampa is near the top.
Mobile, Alabama
San Antonio, Texas
Memphis, Tennessee
Tampa, Florida
Miami, Florida
Los Angeles, California
Orlando, Florida
Jacksonville, Florida
Dallas, Texas
Baton Rouge, Louisiana
Houston, Texas
Oklahoma City, Oklahoma
San Diego, California
Philadelphia, Pennsylvania
Little Rock, Arkansas
How to Observe
Check your home and property regularly, and take steps to prevent infestations.
Look for signs of:
Wood damage
Moisture, drainage problems, damaged wood, and termite tunnels
mud tubing
How to prevent:
Get rid of woodpiles and other debris under and around the house
Avoid plants and flowerpots right next to the house
Porch steps should not rest on the ground
Avoid trellises that touch the soil and the house
Schedule annual plumbing and HVAC maintenance inspections
On social media, use the #TermiteWeek to share your experiences and how you manage and protect your home and property.
History
The National Pest Management Association declared Termite Awareness Week in 2011 to encourage homeowners and others to inspect their property for termites before they become destructive.
Why Choose Drive-Bye Exterminators For Your Termite Protection
Who can you trust with the protection of your home? Drive-Bye Exterminators. The pros at Drive-Bye are happy to lend a helping hand. We have the tools and knowledge to protect your home against dangerous termites. Consider it another form of homeowner's insurance. If you need any pest control assistance, contact Drive-Bye Exterminators by calling 727-787-2127 or booking an appointment.
Drive-Bye Exterminators offers home and commercial pest control services in Clearwater, Florida, and the surrounding areas. Family owned and operated for over 25 years, Drive-Bye Exterminators have state-certified inspectors, and exterminators provide roach, subterranean termite, dry wood termite, roaches, spider, ant, and flea services to both commercial and residential clients. Whether a business owner needs help getting rid of a termite infestation, or a homeowner wants to rid their kitchen of ants, Drive-Bye Exterminators offers each client the same level of professionalism and excellence.
Request a FREE Pest Control or Termite Inspection today with the Professionals of Drive-Bye Exterminators. Contact Us Today at 727-423-9040.