Living in Clearwater and Pinellas County, we see the influx of snowbirds each year coming down from the north to enjoy our warmer sunny weather. Subterranean Termites also love this season. Termite swarms arrive from January and will continue on an off until April.
TERMITE INFESTATION DAMAGE IS REAL
Subterranean termite infestations can cause significant damage to homes, buildings, and furniture. The National Pest Management Association has recently reported that termites actually cause more than $5 billion worth in damages annually in the United States. That's more money in damages than storms, fire, and earthquakes combined!
In the United States, there are two main species of termites that affect homes. They are termites that live underground (subterranean termites) and those that live entirely in wood (drywood termites). Drywood termites can be found in the furniture, framing, and hardwood flooring of homes, whereas subterranean termites build colonies in the soil.
In Florida, when the weather starts to get warmer, termites start new colonies. These reproductive termites leave the nest at the same time looking for a mate. This is called a "swarm" when a large colony of termites are searching for mates. The rain and warm temperature facilitate this process. The winged termites emerge from soil, cracks, or holes looking for a mate, new nest sites, and food sources.
DOES INSURANCE COVER TERMITE INFESTATION?
Insurance policies refer to termites as "wood damaging insects". But unfortunately, most homeowner insurance policies do not cover termite infestation damage because a termite infestation can be preventable. In addition, most insurance policies do not cover damages that are considered to be maintenance issues.
Also, most termite infestations are well-established before outward signs become visible. It is essential to understand the signs of termite infestations, so you will be able to identify a termite infestation and get prompt treatment from a quality pest control company.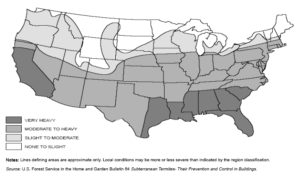 According to the U.S. Department of Housing and Urban Development, Florida is in Zone #1, very heavy zone. The termite Infestation Probability Map shows a very heavy zone, which also includes the states of Alabama, Florida, Mississippi, South Carolina, and Puerto Rico.
Since termites are soft-bodied insects, they tend to stay hidden, which is why it is usually challenging to know if you have termites. Termites will dry out and die if they are exposed to sunshine and fresh air. Even though the termites are often out-of-sight, they can leave signs to show that they have been busy.
8 SIGNS OF A TERMITE INFESTATION
Termite mounds
Hollow-sounding wood
Red clay or mud trails
Sagging of floors or ceilings
Mud tubes on exterior walls
Crumbling wood of any structure type
Cracked or distorted paint on wood surfaces
Groups of winged insects ("swarmers") or discarded wings
Damaged wood can indicate a sign of termites or carpenter ants. If you have a termite problem, you will see wood that has cracks, caving in, sagging, or hollow. Termites could be silently feasting on your home's structure.
Termite Prevention
It is always a good idea to use pest control services to eliminate any bugs from your home. In addition to pest control services, there are also some actions you can take to prevent termites from entering your home. It is recommended to control the moisture in your home with a dehumidifier, which will reduce the risk of termites. Remove standing water on your roof and gutters. Also, repair any leaking faucets and water pipes.
Termite Inspection
A professional termite inspection can help you to get rid of these silent destroyers in your home or business. If you need any pest control assistance, contact Drive-Bye Exterminators by calling 727-787-2127 or booking an appointment.
Drive-Bye Exterminators offers home and commercial pest control services in Clearwater, Florida, and the surrounding areas. Family owned and operated for over 25 years, Drive-Bye Exterminators have state-certified inspectors, and exterminators provide roach, subterranean termite, drywood termite, roaches, spider, ant, and flea services to both commercial and residential clients. Whether a business owner needs help getting rid of a termite infestation, or a homeowner wants to rid their kitchen of ants, Drive-Bye Exterminators offers each client the same level of professionalism and excellence.
Request a FREE Pest Control or Termite Inspection today with the Professionals of Drive-Bye Exterminators. Contact Us Today at 727-423-9040.