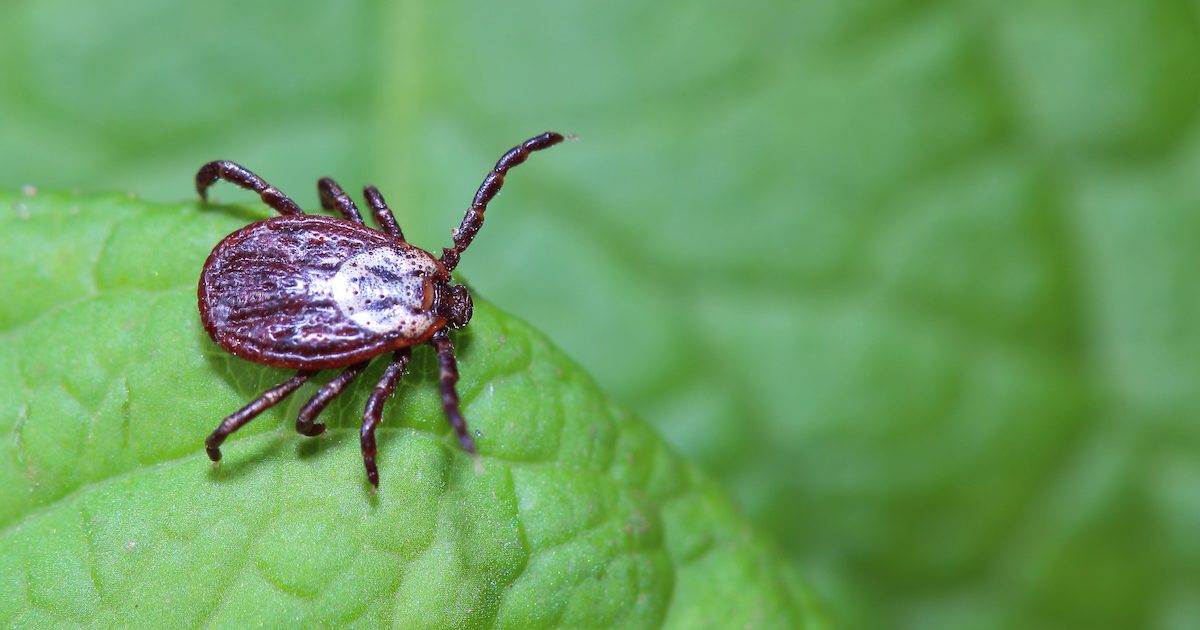 ‍
It's Tick Awareness Week and we know that you're itching to learn about ticks. There's so much more to ticks than their ick factor, so we're bringing you this tick 101 to make sure you're up to speed with all the tick-related info you need to stay clear of ticks and the diseases that they can carry.
What is Tick Awareness Week?
Tick Awareness Week is a global campaign to raise awareness about ticks and tick-borne illnesses. Its goal is to target the general public, health care professionals, and students.
The primary goal of the campaign is to let people know the signs and symptoms of tick bites and diseases so they can take precautions. Ticks are hard to detect, so it's common for people to not realize that they are carrying a tick or that they have been in contact with one. Tick Awareness Week is coordinated by The American Lyme Disease Foundation (ALDF) and the International Lyme & Associated Diseases Society (ILADS).
What are the Most Common Types of Ticks?
There are five different types of ticks that you're likely to encounter. They include;
American dog ticks- flat and oval with a dark brown body and whitish-gray markings
Rocky Mountain wood ticks- a bright reddish, teardrop-shaped body that turns gray when engorged
Lone star ticks- a hard-bodied tick, dark brown with a white star-shaped spot on its back
Brown dog ticks- reddish-brown with no other discernable markings
Deer ticks- black legs with a red U-shaped lower back
The most common and abundant type of tick in the United States is the American dog tick. Despite its name, it's not only found on dogs, it feeds on a variety of animals such as rabbits and mice. Its larvae are even known to feed on leeches and other invertebrates beneath rocks and logs.
Ticks can be found anywhere in the U.S. However, the southeastern, southern, and mid-western regions of the U.S. are where they tend to be most prevalent, as well as in some parts of Canada.
Where Do Ticks Like To Hide?
Ticks are notorious for hiding in dark, moist, sheltered spots, such as between cracks in the pavement, under tree bark or yard debris, or in soil. They are commonly found in wooded areas, shrubbery, and around pools, lakes, and other bodies of water. Though they are often found outdoors don't be surprised to find one in your home, especially if you have pets that they can hitch a ride on.
Tick Bites and Your Pets
Pets that spend time outside are vulnerable to ticks, especially if you have wooded areas on your property. Examine your pet frequently and treat them with a monthly flea & tick preventative to help keep them safe from tick-borne illnesses.
How do you know if your pet has been exposed to ticks?
Look for scratching or biting at the skin, especially near the head, neck, or base of the tail. Other possible signs include lethargy, decreased grooming, and trouble walking or jumping.
If you suspect your pet has been exposed to ticks, seek veterinary attention right away.
What are Tick-Borne Illnesses?
Tick-borne illnesses are serious diseases spread by ticks that feed off of the blood of their hosts. They can be transmitted from tick-to-host and, in some cases, from host-to-host. They are caused by a variety of different species of ticks.
What are the different types of tick-borne illnesses? Tick-borne diseases include
Rocky Mountain spotted fever
Lyme disease
Anaplasmosis
Tularemia
Babesiosis
Powassan virus encephalitis
These parasites can also cause illness in their animal hosts; dogs and cats can contract tick-borne illnesses with an infection rate as high as 40 percent.
The most common tick-borne illness is Lyme disease which affects 300,000 Americans each year.
What are the Symptoms of Lyme Disease?
If you have other symptoms of Lyme disease, such as a fever, lethargy, headache, or neck stiffness, it's important to see your doctor as soon as possible. Other symptoms of Lyme disease may include:
Erythema – redness at the site of a tick bite is usually the first symptom of Lyme disease
Joint pain or stiffness – most commonly reported in the knees and wrists
Numbness, tingling, and weakness in the legs, eyes, face, or arms
Cognitive issues- Depression, anxiety, poor concentration, and memory issues
Rashes – most commonly in the groin, behind knees, and palms of hands
Dizziness
Fatigue
Nausea, vomiting, or abdominal pain
Seeking help early is important to help avoid worsening the symptoms of Lyme disease.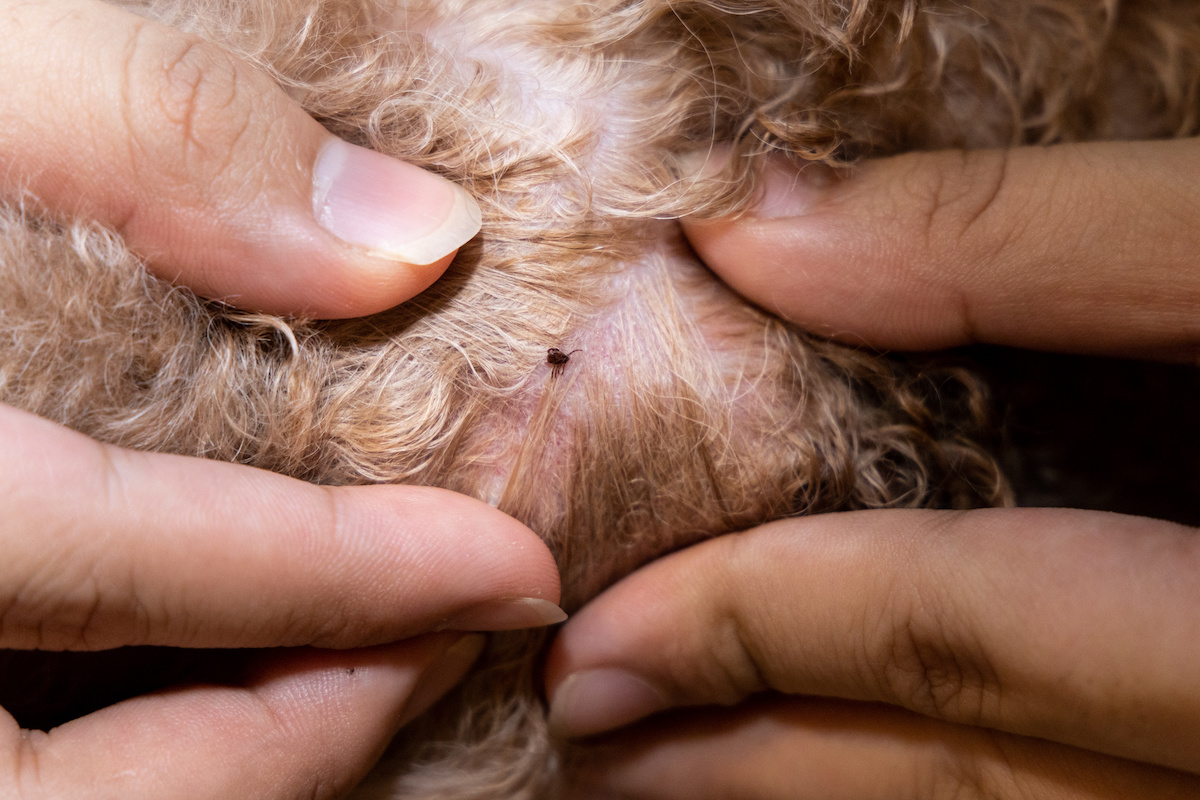 Always Remove Ticks Quickly to Prevent Disease
Where do you find most tick bites? Ticks can bite anywhere but they most often tend to bite people on the neck, scalp, groin, or legs, so pay attention to those areas of your body after spending time outdoors. Also remember to check hard-to-see areas such as in and around ears, inside belly buttons, and in armpits.
If you discover a tick on yourself or your pet, don't panic, but you should remove it right away to help lower the risk of disease. Don't ever squeeze a tick while it's attached to the skin. To safely remove a tick;
Use fine-tipped tweezers to grasp the tick close to the skin's surface.
Pull straight upward to pull the tick from the skin. Never twist or crush the tick.
If fragments of the tick remain in the skin, use the tweezers to extract as much as possible.
Clean the area with soap and water.
Dispose of a live tick by immersing it in alcohol, flushing it down the toilet, or sealing it in an airtight container.
If you develop a rash or fever in the weeks following a tick bite, see your family doctor right away.
How to Prevent Tick Bites
If you are in an area where ticks are common, it is best to take preventative measures to avoid getting bitten. To avoid tick bites;
Wear long sleeves and pants when you know you will be walking through tall grass or wooded areas. Consider tucking your pant legs into high socks for an extra layer of protection.
Wear light-colored clothing so it's easier to spot a tick if it's on you.
Treat your clothing, boots, and camping gear with 0.5% Permethrin, which will help repel ticks.
Use EPA registered insect repellants that contain DEET.
Avoid high grass and brush whenever possible, instead, try to stay in the center of walking paths.
After spending time in wooded areas, wash clothing and gear in hot water or tumble dry items on high heat for at least 10 minutes to kill ticks that could be attached.
Showering within 2 hours of being outdoors can reduce your risk of becoming infected with a tick-borne illness.
Check yourself and your pet frequently for ticks, especially after spending time outdoors.
Keep your home and yard clean, and remove anything that could provide a place for ticks to nest.
Tick Myths and Facts
Do you think you have all your tick facts straight during Tick Week? These myths and facts will give you insight that can help you prevent tick bites and diseases.
Myth: Tick bites can only happen in the summer.
Fact: It's true that when ticks are most active they tend to bite more often, but tick bites happen year-round and can happen indoors or outside.
Myth: If a tick dies on me, I'll be fine.
Fact: While it's true that a tick could die on you before you notice it, there is no way to know whether you've been bitten while it was alive.
Myth: You're not at risk for getting Lyme disease if you live in an area where Lyme is rare.
Fact: The Centers for Disease Control and Prevention (CDC) says that no region of the U.S. is exempt from being home to ticks carrying the bacteria responsible for Lyme disease, even if cases are rare.
Get Help with Tick Infestations
Do you worried about ticks in your yard? What to protect your family and pets from ticks and the diseases they carry? Drive-Bye Exterminators can help. Please contact us now for questions on how to get rid of ticks.