So, you have been given good news and bad news, and now you must figure out what to do with it all. Your pest control professional has informed you that there are termites in your home. Besides making you feel totally disgusted, you are worried about the next few days and how that looks. You need to know what to expect when termite tenting.
The Good News is that your professional found the termites before the home caved in. And that there is something that you can do about it.
The Bad News is… you have termites, and you will need to tent.
This article is to help clients who have been informed of a termite infestation what the steps are that will soon follow. Here is what the termite tenting process looks like.
First, What to Expect with a Termite Inspection?
Of course, the goal of a termite inspection is to find signs of infestation or damage in and around your home. If they see signs, they can eliminate the termites and pests before they do any more damage. Here is what the inspection process looks like.
The Inspection Process
Once you get to know the termite inspector, they can begin their work. You see, they will be going just about everywhere in your home. You should feel comfortable with them as they move around both inside and outside.
An Entry Point Inspection
Entry points are areas where pests can enter the home. Common entry points are bathrooms, kitchens, garages, attics, walls, pipes, windows, doors, decks, and crawl spaces. Inspecting these areas takes some time, as the professional will need to look for cracks and find hidden places that could allow pests to enter. And a thorough pest control inspection should include both inside and outside assessment of the structure.
The Moisture Inspection
Now, the pest control expert will check for moisture in and around your home. A moist area is more likely to attract and harbor pests than one that is dry. They will use a flashlight and tools, including a moisture meter, to find the vulnerable areas.
Review & Report
Your technician will need to take a few minutes to put together their findings. Then the inspector will discuss the results. If they find anything, the pest control professional may be available to begin the treatment right then. However, termite tenting will take some scheduling.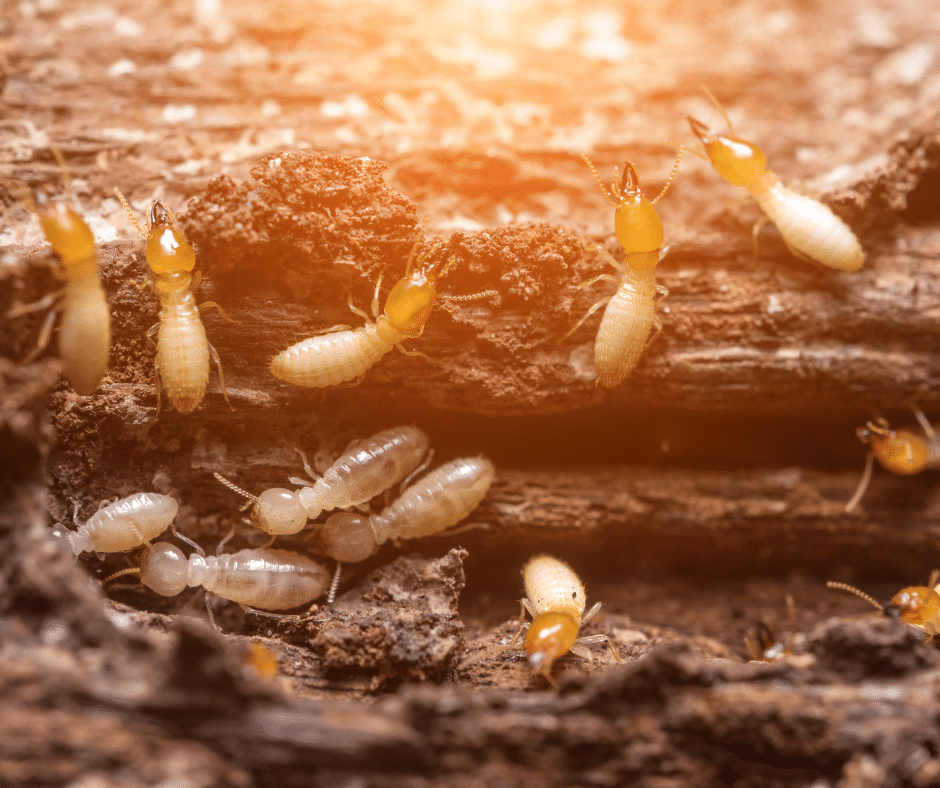 Scheduling Annual Inspections
As always, prevention is less expensive than elimination. We recommended that you have an annual inspection since pests can arrive unexpectedly and do significant damage to your home's foundation. Termites and pests are sneaky and take up residence in unlikely places that you, unfortunately, cannot see or find. And that is why it takes a professional to know just where to find them.
Treatments
When you hire a full-service pest control company like Drive Bye Exterminators to perform the inspection, they can take care of eliminating any termites or pests quickly.
A company specializing in both termite and pest control services provides extermination of unwanted household pests such as roaches, ants, silverfish, fleas, bees and wasps, mice and rats, and spiders. They also offer termite control for both subterranean and dry wood termites.
The treatments may include liquid treatments, termite baiting systems, termite tenting and fumigation services, as well as non-tenting methods.
Clearing Your Home with Termite Tenting
When you have a widespread termite infestation, structural fumigation is highly recommended. Milder infestations often are treated with termiticides injected directly into the wood or localized heat treatment.
So, What is Termite Tenting?
Tenting, also known as termite fumigation, is one of the best treatment options for dealing with active termites. Localized "spot" treatment controls only treat the termite activity in the specific area. So, this process often involves drilling into infested areas. It is usually a last resort for termite infestations.
Tent Fumigation
Tent fumigation is the only option when an infestation is so severe, especially in a hard-to-reach area. Termites can live in the regions that we don't necessarily see, such as walls, beams, and underneath floorboards.
During tent fumigation, the gas reaches every area and deeply penetrates its wood structures where termites live and feed. Once the home is wholly aerated and appropriately cleared, it leaves behind no residue on household items. So, don't worry about that.
Homeowners should be aware of the details involved in the process:
It is not a prevention method. It does not offer protection against future colonies of termites. Furthermore, we know it is inconvenient since the family must vacate the property. There is lots of prep work. Homeowners must remove occupants, pets, medicine, food, plants, open containers, and cosmetics.
All flames must be extinguished, including pilot lights of water heaters, gas refrigerators, ranges, ovens, broilers, etc. And gas service must be disconnected.
Additionally, your pest control expert needs to test each room to ensure the house has been appropriately aerated before re-entry.
Heat Treatment
Heat treatment uses heat instead of chemical gas to kill the termites in your home. Again, the house is sealed off completely with a "tent," but instead of being filled with insecticide, it is filled with heat that the termites cannot withstand.
Here are some of the questions we get asked about heat treatment.
1. How long does it take?
Honestly, it varies for the length of time required for fumigation. The fumigation process can take anywhere from six hours to one week. It depends on the level and type of infestation, dosage, temperature, size of the house, and other varying factors.
2. Are There Non-Fumigation Solutions?
The two most predominant methods outside of fumigation are liquid pesticides and heat treatments. Both are like fumigation.
Liquid Pesticide Treatments are spot treatments that involve drilling multiple holes into the infested areas of flooring and walls to inject the termiticide. The treatment provides lasting effects for protection against future swarms. No tent is necessary for this treatment.
Heating has proven to be effective against termite swarms. Heating raises the temperature of the wood throughout a home from a minimum of 35-60 minutes to 120-130 degrees. However, it can cause damage to heat-sensitive belongings (wiring, vinyl, furniture, electronics, beauty supplies, etc.), so they need to be removed before the process.
If you see any signs of termites, call a professional pest control company sooner than later to handle it for you. If you wait, an entire colony can take over, and you won't have options at that point.
Steps to Termite Tenting Your Home 
Prepare the House for Termite Tenting
The second stage, after identification, is to prepare your home for tenting.
Trim any plants, shrubbery, and tree branches that are closer than twelve inches to the structure
Seal food items or anything consumable in airtight glass or metal containers or remove them from the house before fumigation.
Open all crawl spaces, attics, and subfloors.
Unplug all heating elements.
Extinguish all pilot lights.
Remove or open all sealed storage boxes.
This list is for your safety and to ensure that we eradicate all the termite adults, larvae, offspring, and queens in items throughout the home.
Put Up the Tent
The professionals at Drive-Bye Exterminators carefully use large tarps to put over and around your home. These tarps are unrolled and strategically placed all around your home. Then we close the tent material using high tension clamps. Water and sand-filled bags anchor the tent to the ground to create a tight seal. This is the key to a successful termite tent fumigation.
Introduction of Fumigant
The next stage of termite tenting is the introduction of a fumigant to eradicate the termites. Most residential properties have an exposure time between 16 to 24 hours to remove termites effectively.
Remove Tarp and Aerate
Then we will remove the tarp and allow for aeration of the gas. Our staff removes the tarps and tension clamps around the entire house and roof areas. We drain the water from the anchor bags and roll up the tarp materials. Then we use high-speed fans for cross ventilation of the home for one hour as required by law to remove any remaining gas.
Close Up The House For the Night
Next, we close up the house. Lock all the doors. Then, we allow for a "sit period" overnight. The next day we return to check for any remaining gas. Once we determine there is no gas remaining, we certify the home safe for re-entry.
The Family Can Return, Termite-Free
Now the best and final stage. The family gets to return to their home termite-free. The gas leaves no residue on your floors, pots, pans, silver, clothing, or linens. You can return all the items that you removed before the tenting and feel relieved that your home is safe, and so are you and your family.
Drive-Bye Exterminators takes termites seriously in your home or place of business. Please give us a call to get on the schedule for termite inspection and prevention. And if you already know you have termites, let us handle it, so you don't have too.