Keeping your lawn green and lush all year long is no easy feat, you'll likely need to dedicate a lot of time and energy to keeping your lawn healthy and strong. Luckily, you won't need to invest that much time and energy in keeping a bug-free lawn this summer if you follow these six simple steps.
You may cringe at the thought of creepy-crawly bugs munching on your perfect lawn all summer long. You may also cringe at the thought of spending hours every week trying to keep them out of it. No worries! Follow these simple steps to keep your lawn bug-free this summer…and beyond!
What are the Worst Bugs for Your Lawn?
Before you can get started on keeping your lawn bug-free, you'll first need to know what bugs you'll be dealing with. Some of the worst bugs that you may spot in your lawn are ticks, chiggers, mosquitoes, and fleas.
There are two types of ticks that can harm your lawn, but the Lone Star tick is the one you need to worry about the most. This tick can spread several diseases, including tularemia, Rocky Mountain spotted fever, and ehrlichiosis. These ticks rarely feed on humans, but if you have pets such as dogs and cats, Lone Star ticks can become a big problem.
Chiggers are another lawn pest that can cause major damage. These are tiny mites that live in grass, weeds, and other plants. Chiggers love warm, humid weather, so they're especially active during the summer months. If you have kids or pets that spend a lot of time in the grass, you may find chiggers on them. Chiggers can cause itching and swelling wherever they attach themselves to you, so take extra care to keep them off of your skin.
Mosquitoes and fleas are common pests but they can still be dangerous, as they are known to spread numerous diseases, including West Nile virus, Zika virus, and bubonic plague. Mosquitoes can also ruin your garden, eating the leaves and stalks of your flowers and vegetables, as well as laying their eggs and turning your garden into a breeding ground for more mosquitoes.
Now that you know the types of pests you will be battling, let's discuss 6 simple things you can do to keep them out of your lawn and away from your family.
1. Remove Dead Grass
If you have dead grass on your lawn, you're likely to have more pests and more problems in your lawn in general. This is because pests will flock to your lawn to eat the living grass, but they eat dead grass as well.
Removing dead grass is a great way to keep pests away. You'll want to bag up the grass as you go. This makes for an efficient system as you cut grass and immediately remove the remnants. When you cut down and remove the dead grass, you'll be removing a lot of the pests as well.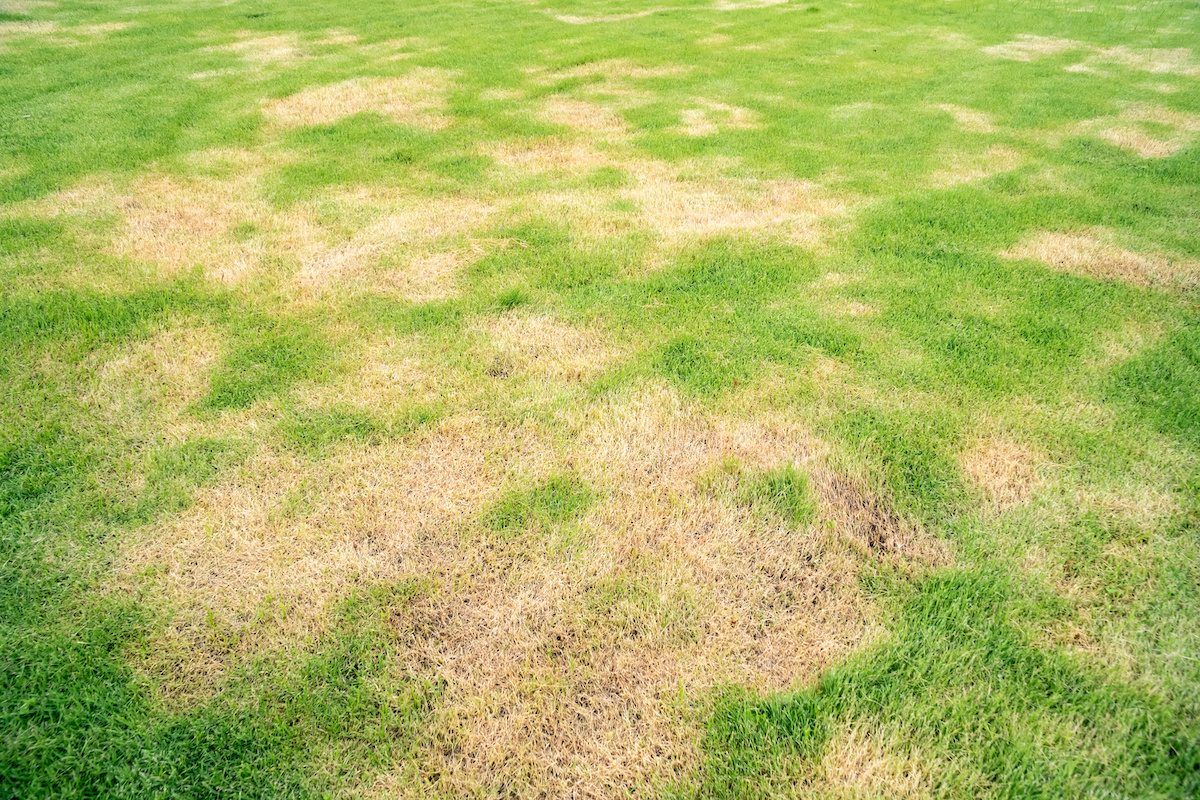 2. Be Mindful of Pooling Water
Bugs are drawn to water, especially during the hot summer months. Your irrigation system may help keep your lawn green and lush, but it can also have the opposite effect if it isn't properly maintained or if it's left in the wrong spot.
Puddles or pools of water are especially attractive to mosquitoes, as they prefer to lay their eggs in still water. Keeping your irrigation system turned off and away from your lawn is a great way to prevent mosquitoes from breeding in your grass. If the problem is already happening, try angling the sprinkler head to divert the water away from your lawn.
You'll also want to make sure your gutters are clear from debris. Clogged gutters cause water to pool, which easily attracts mosquitos.
3. Clear Out Weeds
Weeds love to grow in lawns, especially during the summer months. However, weeds are like parasites. They grow in and take over your lawn, making it unhealthy, unattractive, and difficult to take care of.
The worst part is that excessive weeds can also attract unwanted pests. Garden weeds provide food and shelter to insects and other pests. When we let weeds grow in our lawns or flower beds, they attract aphids, caterpillars, slugs, and snails that damage the plants. They also provide shelter for mice and other animals that can chew through your garden's irrigation system.
One of the best ways to prevent pests, insects, and weeds from taking over your garden is to keep it clean. Remove weeds and dead leaves regularly, and keep the area watered. Maintaining a healthy, well-maintained garden with good soil will discourage pests from coming around.
If you have an infestation of pests and weeds in your home garden, you can use organic pesticides or diatomaceous earth to control them.
The best way to prevent weeds is to keep your lawn healthy and maintain it each week. You can do this by fertilizing your lawn and watering it regularly. You can also keep weeds out of your lawn by removing them as they appear by hand-weeding or by using a special tool that can kill the weeds as well as the roots.
4. Keep Bushes Trimmed
You can further prevent pests from finding their way into your lawn by keeping bushes neat and trimmed with pruning shears. You'll also have an easier time keeping your lawn healthy and strong.
If leaves and branches are left long, they can provide a place for insects to lay their eggs. Once the eggs hatch, the bugs will begin to feast on the leaves, potentially damaging the bush or even eating it completely.
Long branches can also catch debris and leaves that fall from trees, allowing them to build up underneath. This can create an ideal place for pests to take shelter and breed.
By keeping your bushes trimmed, you can prevent these problems from occurring. Shortening the branches will make it more difficult for insects to lay their eggs while removing any debris from underneath the bush will discourage pests from taking up residence.
5. Get Rid of Leaf Litter
Leaf litter is created when leaves fall from trees and cover the ground. You can keep it from getting out of control by raking up leaves regularly. This will prevent weeds from growing in your lawn and also help prevent pests, such as ants and worms, from making their way onto your lawn.
Tired of raking every week? Try a leaf blower to blow the leaves away from your lawn. This will make it much faster and easier to keep the leaves off of your property.
6. Keep a Bug-Free Lawn with Drive-Bye Exterminators
It's great if you have the time and energy to devote to keeping pests out of your yard yourself, but for most of us, there aren't enough hours in the day.
The fastest, easiest way to get rid of the bugs in your yard is to hire a professional exterminator to come to your home and rid your lawn of all pests. This protects your family and pets from disease and keeps your yard healthy and looking great.
Hopefully, these tips have helped you gain some insight on how to keep your lawn bug-free this summer and all through the year, but when you need professional help with pest control for your lawn, contact Drive-Bye Exterminators for assistance. Our experts will help you to be able to enjoy your yard safely all year round.