When your kitchen becomes an all-you-can eat buffet for an ant colony, it's time to act fast. Ant infestations are a common problem in Florida homes, particularly during the warmer months. There are several species of ants that can invade your home, including fire ants, carpenter ants, and ghost ants. If left unchecked, these pests can cause damage to your property and pose a health risk to your family. Effective ant control in Florida involves identifying the type of ant and implementing a targeted treatment plan to eliminate the infestation.
Regular pest inspections for ants are crucial for homeowners to prevent infestations and protect their property. Early detection of ant colonies can help homeowners take action before the infestation becomes difficult to control, saving them time and money on costly repairs and treatments.
What are the Common Ant Species Found in Florida?
Florida is home to several species of ants, some of which are more common than others. One of the most common species is the carpenter ant.
Fire ants are also prevalent in Florida and are known for their painful stings. These ants build large mounds and are typically found in open, sunny areas. Another species that is common in Florida is the carpenter ant, which is larger than most ant species and is known for damaging wood structures.
Meanwhile, Ghost ants are another problematic ant with a pale, nearly translucent appearance. They are small and difficult to detect, but can quickly infest a home if not addressed promptly. Identifying these common ant species is important for effective ant control in Florida.
Learning Ant Behavior for Effective Ant Control
Learning ant behavior is crucial for effective ant control because it helps in identifying the ant species invading the property and the reasons behind their presence. By understanding their behavior, one can adopt appropriate control measures to eliminate them and prevent their re-infestation.
Some typical ant behavior includes:
Ants are social insects that live in colonies with a queen ant as the leader.
They communicate with each other through pheromones, which are chemical signals that they leave behind to mark their path or food source.
Ants have a diverse diet that may include other insects, nectar, honeydew, or even human food.
Some ant species are known to farm aphids or other insects for their sweet secretions, while others may protect plants from other insects.
They have a strong instinct to protect their colony and will aggressively defend it against other ant colonies or predators.
Some ant species, such as carpenter ants, can cause significant damage to wooden structures by excavating galleries for their nest.
Ants are active year-round in warm climates, but may hibernate or become less active during colder months.
The behavior and habits of ants can vary greatly depending on the species, making it important to identify the specific type of ant in order to effectively control or manage them.
Ant Control in Florida: Signs of Ant Infestations in Your Home
Untreated ant infestations can pose several dangers to both humans and pets. Ants can contaminate food, spread diseases, and cause structural damage to homes or buildings.
Here are some common signs of ant infestations in Florida:
Presence of live ants: One of the most obvious signs of an ant infestation is the presence of live ants in or around your home. Ants can be seen crawling on floors, walls, countertops, or other surfaces.
Ant trails: Ants tend to follow the same trail to and from their food source or nest. If you notice a trail of ants moving in a line, it could be a sign of an infestation.
Piles of ant debris: Ants create piles of debris such as soil, wood shavings, or dead insects as they excavate galleries for their nest. These piles can be found near the nest or along ant trails.
Presence of ant nests: Some ant species create visible nests. You can find these in soil, mulch, or in cracks in walls or pavement.
Damage to plants: Some ant species, such as aphid-farming ants, can cause damage to plants by feeding on their sap or protecting other insects that feed on the plant.
Contaminated food: Ants can contaminate food by crawling on it or leaving behind pheromones that attract other ants. If you notice ants in your pantry or kitchen, it's important to take action to eliminate the infestation.
Rustling or scratching sounds: Large ant infestations can cause rustling or scratching sounds as they move around in walls or other hidden areas.
It's important to identify the type of ant infestation in order to effectively control or manage it.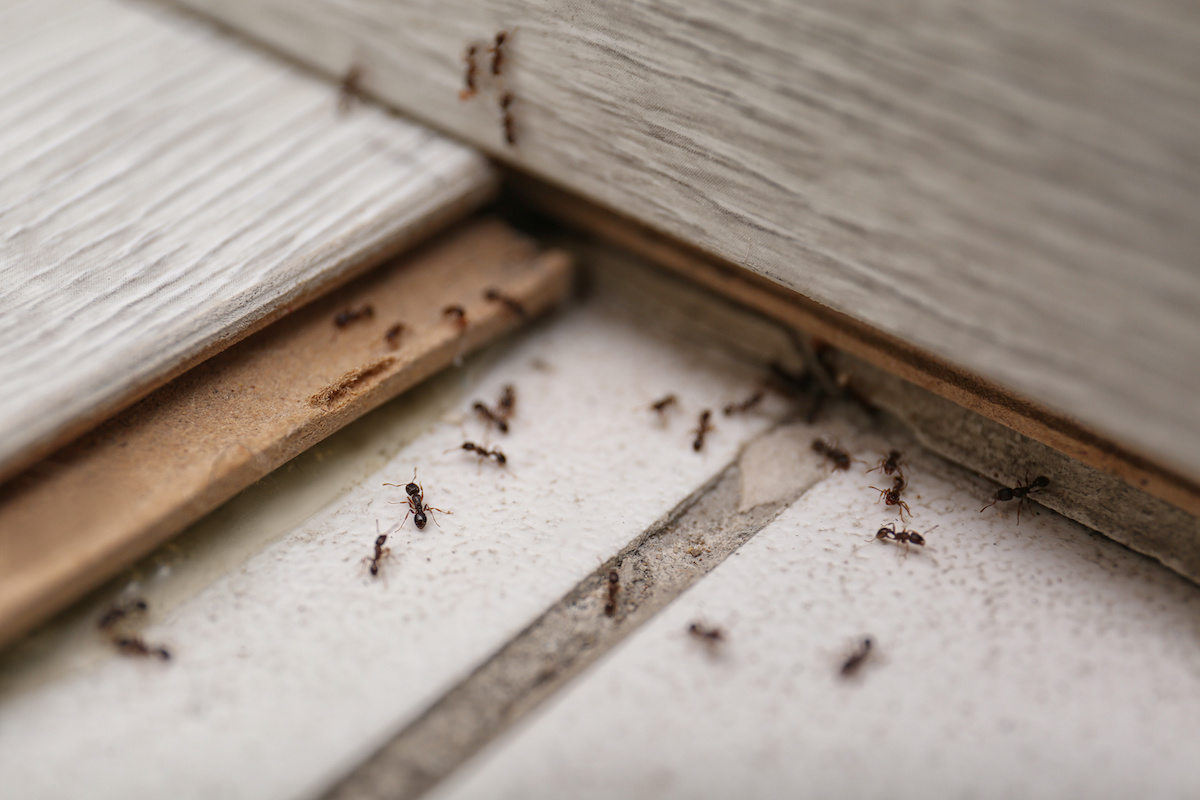 DIY Ant Control Solutions
While it's important to hire a pro to help with ant control in Florida, there are other techniques to try for infestations. Here are some DIY solutions to prevent ant infestations:
Keep your home clean and free of food scraps: Ants will sniff out food sources, so be sure to clean up any spills or crumbs immediately. Don't leave dirty dishes in the sink overnight.
Seal entry points: Ants can enter your home through cracks or gaps in windows, doors, or walls. Seal these entry points with caulk or weather stripping.
Use natural repellents: Some natural repellents such as vinegar, cinnamon, or peppermint can help deter ants. Place these repellents near entry points or ant trails to discourage ants from entering your home.
It's important to note that while these DIY solutions can help prevent ant infestations, they may not be effective in controlling an existing infestation. If you already have an ant infestation, it's best to seek the help of a professional pest control service.
While natural ant control methods can be effective in controlling an ant infestation, they may not work for all ant species or infestation levels. If you have a severe ant infestation or are unsure of how to control it, it's best to seek the help of a professional.
Do You Need Professional Ant Control Services?
Professional ant control services are designed to help homeowners and businesses control ant infestations. These services are typically provided by licensed pest control companies that specialize in ant control.
Furthermore, ant control in Florida may include a variety of methods, including baiting, spraying, and dusting. Pest control experts will typically inspect the property to identify the type of ant species and the extent of the infestation. They will then develop a customized treatment plan that is tailored to the specific needs of the property.
Some professional ant control services use environmentally friendly and non-toxic methods to control ant infestations. These methods may include the use of natural repellents, such as essential oils or diatomaceous earth.
Why You Shouldn't Skip Regular Ant Inspections in Florida
Pest inspections are a thorough examination of a property to identify any signs of pest infestations or damage caused by pests. These inspections are typically conducted by licensed pest control experts who have the knowledge and expertise to identify pest species, their behavior, and the extent of the infestation.
The inspection may cover both the interior and exterior of the property, including basements, attics, crawl spaces, and other areas where pests may reside.
Meanwhile, regular ant inspections can assist with the following:
Early detection of ant infestations before they become a major problem
Prevention of property damage caused by ants, such as chewing through electrical wiring or wooden structures
Protection of human health by identifying and eliminating any potentially harmful ant species
Improved sanitation and hygiene by identifying and eliminating ant nests in and around the property
Cost savings by addressing ant infestations before they require costly treatments or repairs
Peace of mind knowing that the property is free of ant infestations and the associated risks and nuisances.
Pest inspections can prevent ant infestations by identifying potential entry points for ants and taking steps to seal them off. Additionally, pest control can identify conditions that are conducive to ant infestations.
Get Help With Ant Control from Drive-Bye Exterminators
Ant control in Florida homes is an ongoing process that requires a combination of preventative measures and targeted treatments. By working with a licensed pest control professional and implementing proactive measures such as regular inspections, homeowners can effectively manage ant populations and safeguard their homes against the negative impacts of ant infestations.
If you are facing a possible ant infestation, contact Drive-Bye Exterminators for help with ant control.