It's that time of year again! The weather is warm and the bugs are thriving. It starts out innocent enough, maybe you spot an ant or two scurrying across your kitchen counter, but before long you have so many that you start to wonder if they're living in your home or if you're living in theirs. Ants in summertime is certainly not fun, and if you're careful they can easily invade your home.
Don't let this happen to you. We're here to tell you everything you need to know about ants. This includes how to prevent them from invading your home and how to get rid of them.
What Kind of Ants are Found in Florida?
Ants are insect members of the family Formicidae, and they are among the most widespread animals on the planet. There are about 12,000 species of ants in the world and they are found on every continent except Antarctica.
We're not going to bore you with the details about thousands of different kinds of ants, but we should take a moment to identify the species that you are most likely to encounter living in Florida:
Florida Carpenter Ants– These flying ants account for roughly 20% of the home ant infestations found in south Florida. Despite the destructive reputation of carpenter ants, this particular species does not eat wood. Instead, they prefer to nest in crevices already formed from rotting wood. They can even attack and overthrow termite infestations to steal their galleries. They can do considerable damage to your home, and they do have a painful bite if provoked.
Fire Ants– While fire ants are most easily identified by the distinct mounds they build in your yard, these aggressive ants can be lured indoors in search of food. They are known for their painful stings and bites, often delivered in swarms. Fire ant bites can cause blistering, swelling, itching, and even life-threatening allergic reactions.
Bigheaded ants– Although this species of ant looks very similar to fire ants, they are much less likely to bite, and if they do it's painless. Big-headed ants can usually be identified by their name-sake large heads, but when in doubt, don't get too close. Although this species of ant is harmless, they tend to nest in very large colonies. This can make them difficult to exterminate.
Sugar Ants– The most common type of ant you will find in south Florida is the Sugar Ant. These tiny ants are also known as Ghost Ants because their translucent bodies allow them to scurry by undetected. Sugar ants are attracted to sweet food and water sources, so they are most often found in kitchens and bathrooms.
Preventing Ants
It's far easier to prevent ants in the summertime than it is to get rid of them. Here are a few helpful tips to avoid an ant infestation:
Don't leave out food– Ants will often enter homes in search of a food source. Clean and sweep your kitchen thoroughly because even crumbs can provide a feast for these tiny insects. Wipe up sticky spills as soon as they occur. Furthermore, don't forget easily overlooked areas like garbage can lids and cabinet handles. Store food (including pet food!) in air-tight containers and take the garbage out every night, even if it's not full.
Eliminate water sources– Food isn't the only thing ants need to survive, they are also attracted to water. Take a moment to mop up spills and run an exhaust fan after showers. Keep an eye out for leaky pipes under your sink and repair them right away. Consider running a dehumidifier in moist areas.
Seal up entry points– If you don't find where ants are entering your home they will continue to invade year after year. Check your home carefully for cracks and crevices around your foundation, paying special attention to the areas where utility pipes enter from outside. Make sure that you have screens on your windows and that they are not torn or loose. Check the seal around doorways and window frames. Ants in summertime can enter through the tiniest of openings. It pays to be careful.
Don't forget outside– You might not mind ants outside, but if they get too close to your home they are bound to get inside. Keep trees and bushes trimmed away from your home. Meanwhile, rake up leaves and other yard waste. Never store wood piles too close to your home, as they can attract and shelter all kinds of pests. Lastly, make sure your gutters are clean and that your downspouts drain water away from your foundation.
Hopefully, if you establish these habits you'll be able to keep the ants out of your home. But if you do spot a few ants how do you know if it's an infestation?
Signs that You Have Ants in Summertime 
Ants aren't loners. They prefer to stay with others and seldom venture far from the colony. So, unfortunately, if you spot a cluster of ants in your kitchen there probably are more soon to follow. Keep an eye out for other signs like discarded wings, nests, and dirt mounds around your property.
If you do develop an ant problem it's important to act fast. It's much easier to get rid of ants before they've had a chance to nest, reproduce and make themselves at home.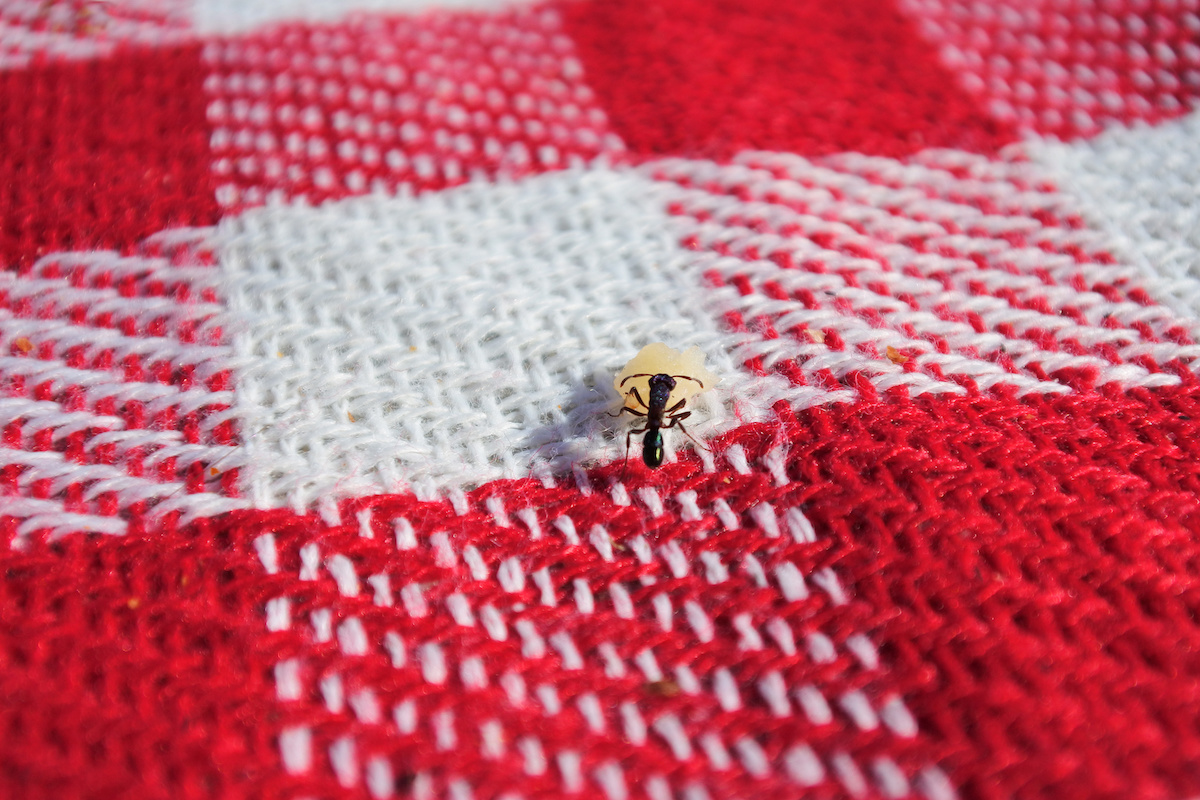 Getting Rid of Ants in Summertime Naturally
The fastest and easiest way to get rid of any pests is to call a licensed exterminator. They are trained to identify the type of ant you are dealing with and get rid of it safely. However, if you'd like to go it alone there are a few DIY methods you can try first:
Scrub down your home down– Ants leave pheromones behind as they walk. The scent acts as a "map", allowing them to find their way to and from their colony and providing a trail for other ants to follow. Aside from eliminating the ant's food source, giving your home a good thorough cleaning can erase the map and deter the ants from reentering your home.
Diatomaceous Earth– This handy substance is a type of silica made from powdered marine fossils. It's completely non-toxic and safe to use around children and pets. Simply sprinkle the powder anywhere you see ants. It kills insects by absorbing the oils in their exoskeleton and dehydrating them. Boric Acid or Borax can be used in a similar way, but they can be toxic to children and pets.
Essential oils– Some types of pungent essential oils such as peppermint, tea tree, and eucalyptus can be used to repel insects. Simply mix 5-10 drops of oil with 2 cups of water in a spray bottle. Spray it liberally around your home, inside and out, to drive away ants and prevent them from returning.
Household products– Cinnamon, citrus peels, black pepper, and used coffee grounds can possibly ward off ants in summertime.
Attack the colony– Boil a pot of water and pour it down every ant hill that you spot on your property. Reducing the number of ants around your home will reduce the number of ants inside your home.
Get Professional Help with Ants in Summertime 
If you've tried everything to get rid of ants and they still won't go away, it's time to call in the professionals. Drive-Bye Exterminators serves all of the Tampa Bay area, including Clearwater, St. Pete, and Tampa and they have years of experience dealing with ants in south Florida.
The experts at Drive-Bye can evaluate your ant problem, get rid of the pests quickly and safely, and even help you prevent them from returning. Call today for a free estimate!