While summer heat is still in the air, the reality is that autumn is around the corner. Our state might not see low temperatures like other areas in the country, but this doesn't mean that you won't see creepy crawlies looking for a new place to call home. Being aware of common insects in the fall can keep them at bay while your home stays pest-free. Not only are insects common in the fall, you can also see an influx in rodents. Let's discuss common insects in the fall, as well as rodents, for the state of Florida and how to prevent infestation.
Why are Some Insects More Prominent in the Fall?
You might notice that there are certain types of insects you see at different times of the year. There are several explanations behind this that can help you remain more prepared if an infestation occurs. First, when temperatures eventually drop, most insects and critters are looking for a place to stay warm. If they can't find access to a warm home to ride out the cool nights, they will look to your home as a solution. Other critters may be looking for a spot to nest. The last thing you want to find is a spider or wasp nest during the fall season, but the good news is that they are preventable with a few action steps. But first, we will talk a look at the common insects in the fall as well as the mention of a rodent or two.
Ants
The ants may come marching one by one, or dozens by dozens in the fall. You can find them in your kitchen as they seek out food or even inside your walls. Unfortunately, ants are common insects in the fall and there are several species that you may encounter.
Carpenter Ants
Carpenter ants are the typical black ant that you'll find scurrying around on the floor or up the wall. They are attracted to wood and can eat their way through flooring and wood framework.  If you suspect that you have a carpenter ant infestation, you may find that they are hiding behind the walls. This is a common spot  Fire ants are another common insect that you will find throughout Florida in the fall. If fire ants are nesting inside your house, you will also need to find the source of where they are living. Keep in mind that many ants are attracted to damp areas where they can get water. If you find ants in your home, you want to make sure that all food containers are tightly sealed in the kitchen. Make sure your counters are clean at all times, wiping them away from food and crumbs any time that you use the area for prep work. Sealing off entry points is another wise way to make sure that carpenter ants and fire ants do not come into your home this autumn.
Spiders
It's also not uncommon to find different species of spiders in your home during the fall season. They, too, are trying to find a warm place to stay during cool autumn nights. What kind of spiders can you expect to see> One common spider in Florida is the wolf spider. A wolf spider is medium brown in appearance, slightly hairy, with darker brown stripes on the back. Luckily, the wolf spider is not dangerous or poisonous to humans. However, it will bite if it feels threatened. The southern house spider, also known as a crevice Weaver, is another typical spider that you'll find in your home. These spiders do not like sunlight. You'll find them hiding and nesting in areas such as attics or closets. Lastly, jumping spiders may take refuge in your home during the cool weather. They like to live in tiny nooks and crannies in your house. They can live in areas such as the crevices between hardwood floorboards, inside of bookshelf corners, and much more.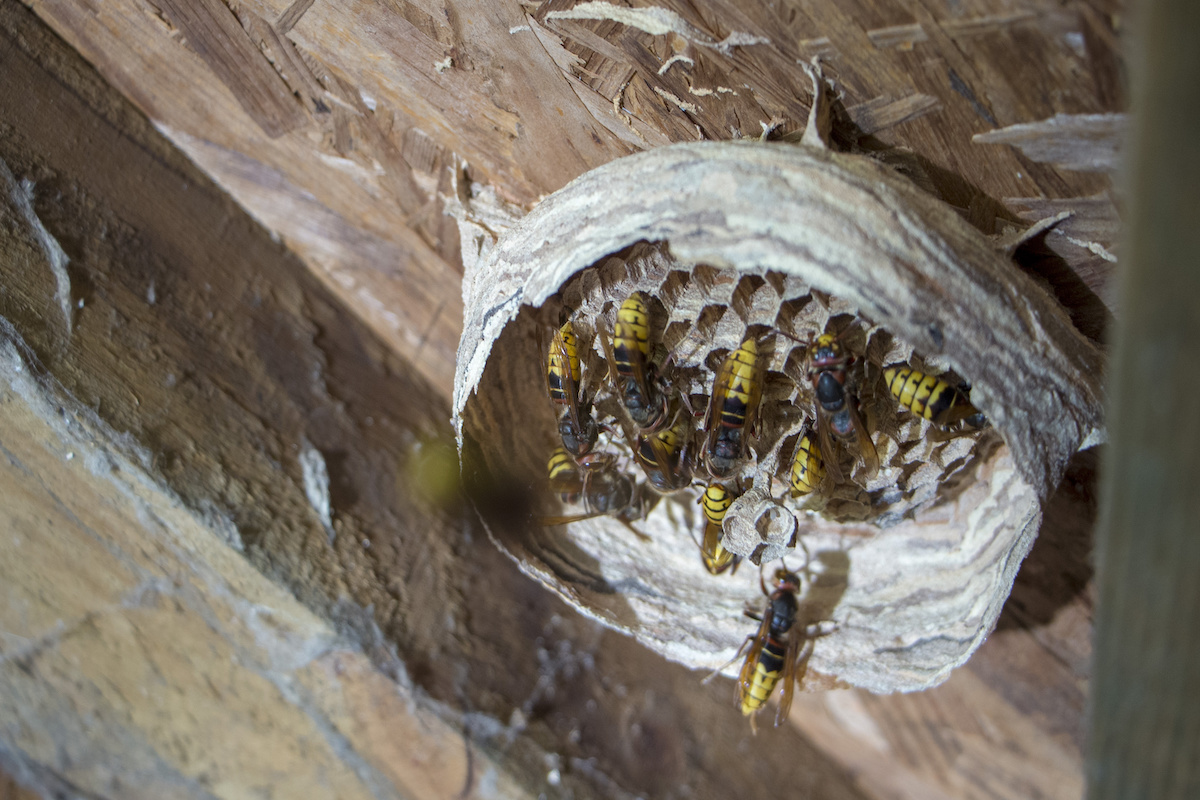 Stinging Insects
Florida has its fair share of stinging insects. In the autumn, you might encounter a variety of stinging insects. Yellow jackets can be found looking for places to hide from the cold. They are either banded yellow and black or banded white and black abdomens.  Finding a yellow jacket nest will need immediate attention, but proceed with caution. Yellow jackets are more aggressive than wasps and hornets. They ruthlessly defend their nests and will attack even when unprovoked. They also do not die when they sting, so they can continue to sting you more than once. Yellow jacket stings are also quite painful. If you suspect that you have yellow jackets or other stinging insects, it's best to contact a pest control company.
Rats and Rodents
On the hunt for food in a warm place to call home during the autumn, rats and rodents are also on our list of creepy crawlies. They might not be insects, but they are still pests. Rats and mice can be incredibly damaging to your home. They will chew through anything, including drywall, wires, and even PVC pipe if they can manage to get through it. Mice and rat teeth are incredibly strong, and you cannot underestimate the power of damage if they can do it. Rodents will seek refuge in quiet and undisturbed areas of your home. You might find them in your garage or even hiding inside of cabinets or cupboards. They want to be close to food and water sources. If you have food lying around, this can be a magnet for rats and mice. Furthermore, if you have an area in your home that is particularly cluttered, it makes a perfect hiding space for rats and mice.
How to Avoid Autumn Infestations
As you can see, there are a variety of tasks that can be found in your home during the fall season. You can still prevent the infestation of common insects found in the autumn by following the advice below:
Keep Doors Closed
Whether it's a cool autumn night or a day that isn't sizzling hot, you might decide to turn off the air conditioning and enjoy the nice weather. Some people prefer to open their doors to let in air, but the problem is you can be leading in insects as well. Keeping your door closed is a simple yet effective approach to preventing infestations. It doesn't take a lot of time for spiders, ants, or even mice to find an open door and slip past without you noticing. A general rule of thumb is to keep your exterior doors closed no matter the weather.
Add Glass Or Screen To Doors And Windows
If you still want to enjoy the fresh breeze, you can do so while adding glass or screen to windows and doors. This allows you to get fresh air without the worry of bugs coming into your home. If you have windows or storm doors that don't have glass or screen, consider getting one or the other installed.
Clean Out The Garage And Keep It Dry
Here in Florida, we don't have basements. Many of us rely on our garage for storage. While this is convenient, it can also lead to another myriad of issues.  First, the clutter attracts many common insects such as roaches. You can also find rats and mice hiding inside boxes and other areas that are away from sight. Giving your garage a good autumn cleaning can help keep those insects at bay. You can also spot any damp areas that may attract even more pests.
Install New Door Sweeps And Weatherstripping
Insects can easily make their way through tiny cracks and crevices. Doors and windows are typical culprits where insects can gain access.  One solution to this is to install new door sweeps and weather stripping. Door sweeps keep out insects from crawling inside. An added bonus is that sweeps can help with energy efficiency.  Weatherstripping will also block insects from gaining access to your home. It blocks the small crevices around the windows where bugs can easily come inside.
Check The Functioning Of Your Outdoor Drainage System
Lastly, you'll want to check the condition of your outdoor drainage system. Your gutter system can serve as a breeding ground for mosquitoes. This happens when the gutters become clogged and filled with water. Mosquitoes are attracted to standing water. To prevent bugs from making a home out of your outdoor draining system, make sure your gutters are cleaned out at least once a season. If you live near a lot of trees, it might be necessary to clean more often.
Get Rid of Common Insects Found in Fall
Now is the time to start thinking about autumn infestations from insects. By taking a proactive approach, you can keep your home clear from critters of all sizes. Contact us now to learn more.