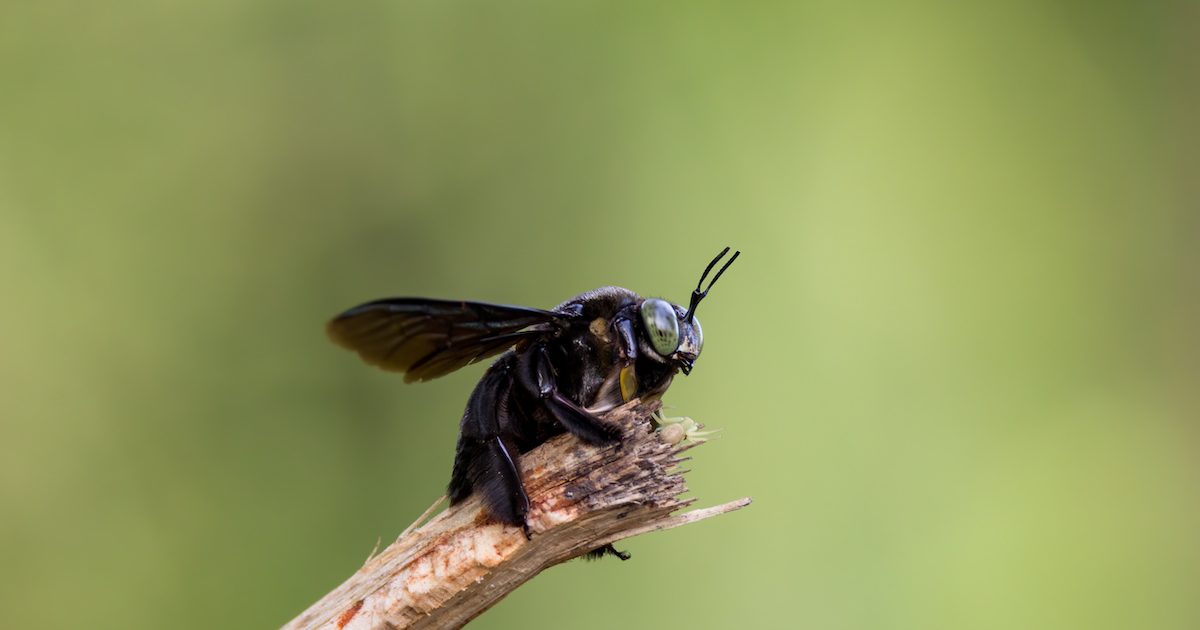 Flying insects in Florida can make your skin crawl, quite literally. Many of them sting or bite, and these pests are not something that you want around your home, family or pets.
They can carry illnesses, spread disease, and ruin a perfectly good day if you're forced to spend time swatting at them, or worse yet, dealing with the consequences of being stung or bitten.
There are many different types of insects that fall under the "flying" category, and they all have their own traits and habits.
When it comes to flying insects in Florida, this blog will give you a heads up of what you need to avoid and how to get rid of these pests.
Flying Insects in Florida: Bees
Not all bees are bad. This is especially true for the honeybee. Honeybees are not classified as pests and they are critical for pollinating. In fact, bees are instrumental in the development of many agricultural products we enjoy today. This includes foods and flowers that you'll find here in Florida.
Honeybees are important for agriculture and attracting them to your backyard can be a great way to help increase crop yields. The attraction of bees, in particular the honeybees, will also give you an opportunity to study their behavior.
They are, however, considered a nuisance because of the reactions to their stingers. The bite of a honeybee is not a problem for most people, but the sting can be. The sting of a honeybee, though not fatal, can cause swelling, pain, and itching. The honeybees found in Florida are native and do not sting unless they feel they are in danger.
Meanwhile, carpenter bees are more problematic than honeybees.
The Problem with Carpenter Bees in Florida
Well, there are several problems with carpenter bees. First, the good news—they are pollinators. We need pollinators to help our world flourish.
However, they build nests in homes and outbuildings. That is bad. Carpenter bees drill and chew their nests in wood. They can not be too picky about the wood and will accept plywood, particleboard, lumber, and even paper. If you have wood siding, lattice, or a sunroom, you may attract a carpenter beehive.
What's bad about carpenter bees? Even though carpenter bees are considered beneficial insects, they can cause problems in Florida, especially for homeowners.
Adult carpenter bees are large and black. They may also be yellowish-orange and get confused with the bumblebee.
Unfortunately, carpenter bees are attracted to both wooden structures and the material used to seal them (paint, caulking, siding, etc.) Both carpenter bees and their larvae can cause damage to the wood and other materials which can weaken the structure. This is why they are considered pests, but their sting can also result in an allergic reaction as well.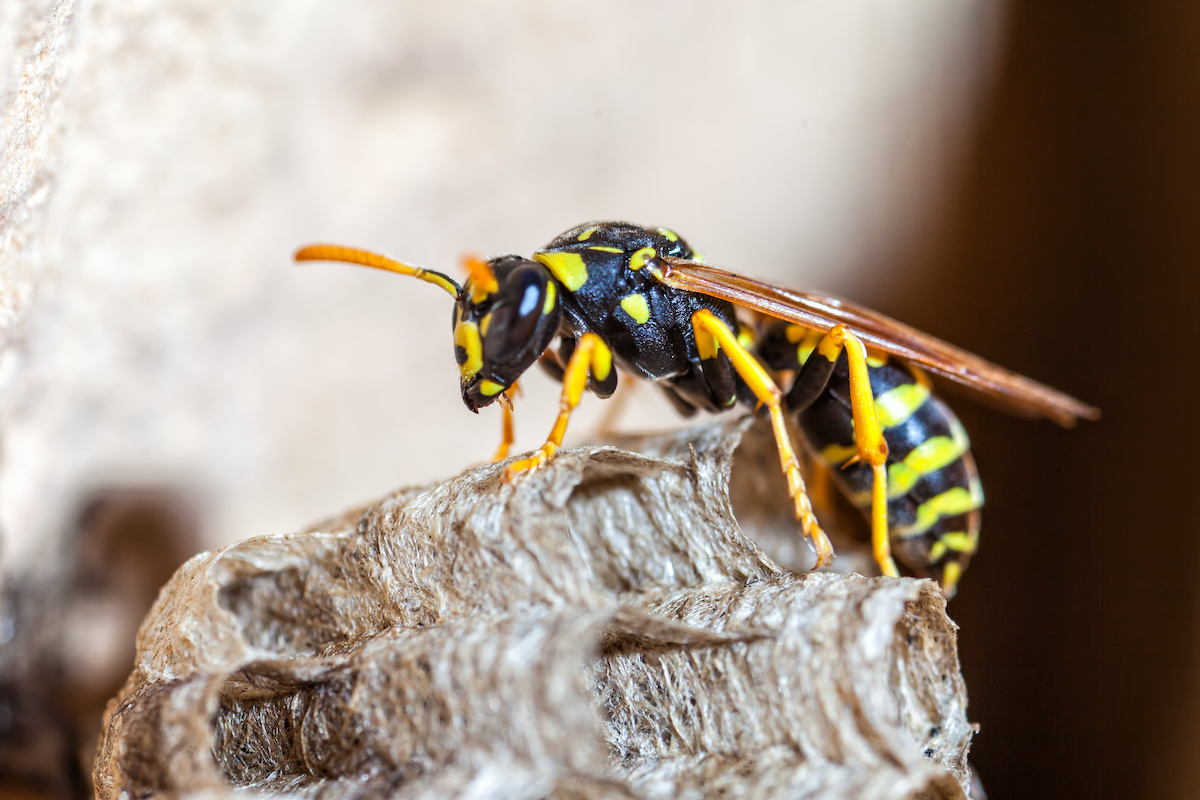 Watch Out for Wasps
Carpenter bees are bad news, but that's not where it ends with flying insects in Florida that bite or sting. Wasps are a big red flag when it comes to pests, and one of the reasons you may need to call pest control.
What kind of wasps will you find in Florida?
Did you know that there are 30,000 identified species of wasps in the world? Luckily, there aren't that many wasp species in Florida, but they aren't a flying insects that you want around your home. When you're on the lookout for wasps, you'll need to be on guard for most species including
Bald Faced Hornet
Are you aware of the Bald-Faced Hornet in Florida? This is not a true hornet, but it does belong to the family of yellow jackets and wasps. Are they aggressive? Are they dangerous? How do I identify them? How do I get rid of wasps?
It is a medium-sized black and white wasp with a yellow marking on its face. This wasp can deliver a painful sting when threatened, so if you happen to encounter one, you should leave it alone. A colony of bald-faced hornets can have thousands of members. However, adult bald-faced hornets are about an inch in length and are not as large as the other kinds of hornets.
A bald faced hornet sting is no joke, which can throb for 5 minutes. It's described as feeling as if your hand got smashed in a revolving door. The last thing you want to do is come face-to-face with a bald-faced hornet, especially a swarm of them.
Despite the painful sting, this wasp is very beneficial because it preys on caterpillars and other destructive insects. They are active during the late summer and autumn months.
How to Get Rid of Bald Faced Hornets
Did you discover a colony of bald faced hornets? You'll have to get access to the nest to effectively get rid of bald faced hornets. Please be careful trying to use pesticides as they can be dangerous to you. You also do not ever want to attempt to light the nest on fire!
The best thing to do is to hire a professional pest control company to deal with the problem. The hornets are extremely aggressive and may attack if you get too close.
Cicada Killer Wasp
Does the thought of a Cicada Killer Wasp give you the creeps? Bright yellow and brown in color, are not harmful to humans. Males do not sting and female cicada killer wasps avoid people at all costs. Although these wasps are huge, think of them as gentle giants. You don't need to worry much about Cicada Killer Wasps.
Paper Wasp
Gathering fibers from wood and paper, paper wasps create umbrella-shaped nests that are very distinctive. Once the nest is complete, the female wasp lays eggs inside and then dies. The larvae then emerge and feed on the eggs and each other until they pupate and emerge as adults the following spring.
The wasps prefer to build in sheltered locations, such as under decks, overhangs, ledger boards, etc. The wasp tends to be shy and will sting only if squeezed or stepped on.
Regardless, you still don't want a paper wasp nest hanging around your house. You'll want to get rid of the nest in the safest manner possible, which typically involves hiring a professional.
Yellowjackets
Are yellow jackets bad? Yes, more so than bees. Yellowjackets are certainly aggressive and their sting can be quite painful, but they are only mildly dangerous — at least for adults. However, even though their sting is not dangerous, their habit of nesting in large groups and entering homes can be a serious problem for homeowners.
Yellowjackets are social wasps, living in colonies of one queen and many workers. These wasps are smaller than hornets and may be yellow, black and white striped. These flying insects in Florida construct nests out of chewed wood fibers, making a paper like material that is water-resistant and helps the nest last a long time.
What Should You do if You Spot a Yellowjacket Nest?
First and foremost, don't panic! Inspect yellowjacket nests carefully, but don't put your hand into the hole or try to dig it out. Yellowjackets are attracted to sweet things such as soda and fruit juice. If you have any of these items in your yard, move them away from your house as far as possible.
The first thing you should do if you spot a yellowjacket nest is to recommend that people in the area avoid the area. It's important that the entryway to the nest is not blocked in any way, as this will prevent any yellowjackets from being able to leave the nest. Additionally, exercising caution when using any pesticides or insecticides in the area will be helpful.
If you locate a yellowjacket nest, don't try to treat it yourself. Call a professional, who will be able to safely remove the nest and treat the area with an insecticide. They can also remove any yellowjacket nests that are located inside the home or on the property. The last thing you want is an unsuccessful attempt at getting rid of wasps and yellowjackets, leaving you back at square one.
Get Rid of Flying Insects in Florida
If you have these flying insects in Florida near your home, we can help. We're the local experts at getting rid of wasps and other potentially dangerous flying insects.
Please don't attempt to go it alone, as problems ranging from painful stings to emergency allergic reactions are possible. Get in touch with us today for fast and permanent removal of wasps and more.