Subterranean Termite Swarms are here in the Tampa Bay area, and they will continue on and off until April. Termites have become one of the biggest threats to damage your home, property, or business. Each year they cost homeowners and insurance companies over one billion dollars in damages.
Termite Swarm
Your home is most at risk during a "Termite Swarm" which usually happens during the early months of spring. In the swarm, winged termites leave their nest to mate and start a new colony.
Florida Termite Types
There are three termite types found in Florida
Subterranean termites, which nest in the soil
Dampwood termites, which infest damp wood, and
Drywood termites, which infest dry wood.
What are Subterranean Termites?
Subterranean termites can be the most destructive of the three species because they infest wood from underground. These termites have become a burden to homeowners today because it is not until there is a severe infestation that these hidden creatures are seen. They live in colonies that can consist of millions of individuals that share resources, such as food and shelter, and cooperatively care for their young. These colonies consist mostly of workers but also include soldiers and reproductive.
What do Subterranean Termites Look Like?
Subterranean termites are black to dark brown in color and are about 3/8 inch in size. They are referred to as "swarmers" and their main job is to mate and start new colonies. What can make it hard Termite swarmers may or may not have wings, as their wings often are shed shortly after flight. If termite swarmers are found indoors, it is a strong sign that you have an infestation.
Steps to Take for Prevention

Moisture
Termites can't survive without a moisture source. Any source of moisture in, on, under, or around your home gives termites the conducive conditions needed to thrive. Homeowners need to ensure that all drainage directs away from their homes. Homeowners need to repair any leaks that are present in a timely manner. Ensure the moisture release of your air conditioner unit is away from the foundation of your home.
Routine Maintenance
Homeowners should keep on top of routine home maintenance. This would include such things as, sealing any cracks in the foundation, cleaning gutters and water lines from debris, and removing any dead trees or stumps. During a termite inspection, we look for mud tubes on the exterior foundation wall or new damage to any wood members.
Wood to soil contact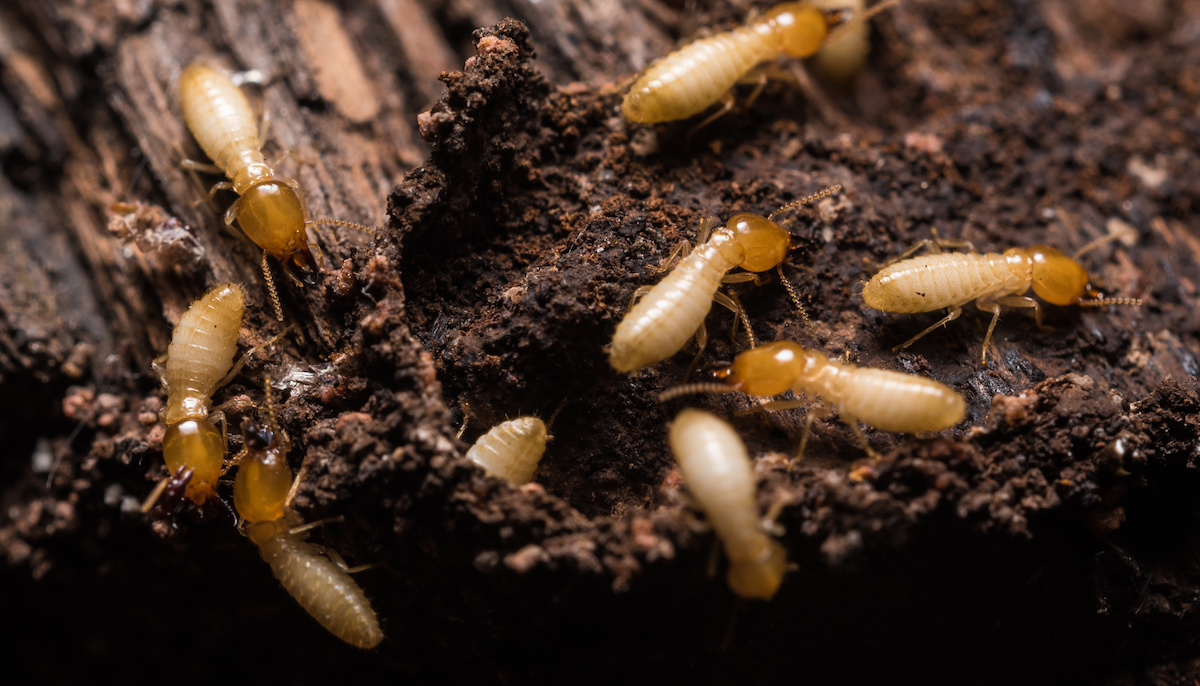 Termites consume wood or any cellulose material as an ideal source of food for the termite colony. Potential termite access points are any wood that goes into or touches the ground. Examples of this would be wooden rear decks, sheds sitting on the ground, piles of firewood touching homes, and any wooden stakes that were used in the construction process that were not removed. Firewood should be away from the home and stored on a metal rack to keep wood off the ground. Cardboard boxes filled with paper and photos are a good source of food for termites. Use plastic boxes instead to store items in the attic.
Request a FREE Pest Control or Termite Inspection today with the Professionals of Drive-Bye Exterminators. Contact Us today at 727-423-9040.
Why Choose Drive-Bye Exterminators For Your Termite Protection
Who can you trust with the protection of your home? Drive-Bye Exterminators. The pros at Drive-Bye are happy to lend a helping hand. We have the tools and knowledge to protect your home against dangerous termites. Consider it another form of homeowner's insurance. If you need any pest control assistance, contact Drive-Bye Exterminators by calling 727-787-2127 or booking an appointment.
Drive-Bye Exterminators offers home and commercial pest control services in Clearwater, Florida, and the surrounding areas. Family owned and operated for over 25 years, Drive-Bye Exterminators have state-certified inspectors, and exterminators provide roach, subterranean termite, dry wood termite, roaches, spider, ant, and flea services to both commercial and residential clients. Whether a business owner needs help getting rid of a termite infestation, or a homeowner wants to rid their kitchen of ants, Drive-Bye Exterminators offers each client the same level of professionalism and excellence.