In Florida, termites are always looking for an opportunity to create damage to your home, property, or business. Termites have actual "swarm seasons," where the risk that termites will enter your home and multiple is much higher. Learn about the termite swarm seasons in Clearwater and the surrounding cities to prevent termite infestation.
National Termite Awareness Week
This week, March 8th – March 15th, is National Termite Awareness Week to educate people on the damage that termites can cause to your home, property, or business.
Termite Swarm Seasons
Three main termites are found in our area, and each has a unique swarm season or time period.
Subterranean Termite Swarms
Winter and Spring months [February to April]
Drywood Termite Swarms
Late Spring and Summer [April through July]
Formosan Termite Swarms
Late Spring & Summer months at night
Subterranean Termite Swarms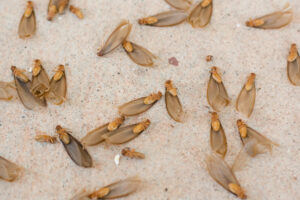 Subterranean Termites have already arrived in the Tampa Bay area, and they will continue on and off until April. The winged termites swarm an area looking for new nest sites, food sources, and a mate to start a new colony. They come into your home from cracks, holes, and the soil. The warm temperature and rain ensure the perfect breeding ground.
Did you know that swarmers are young female winged termites? These swarmers invade your home. Once they have relocated to your home, property, or business, the rest of the termite colony will soon follow.
Best Prevention Method
Are you one of the more than half (52 percent) of Americans that have never had their homes inspected? The best termite prevention method is to have your home, property, or business inspected. At Drive-Bye Exterminators, we offer a free termite inspection. Just contact us today to schedule your inspection.
Steps to Take for Prevention
Besides getting a termite inspection, here are some other suggestions to prevent termites from ever entering your home.
Remove moisture sources in and around your home
Repair any leaky faucets, pipes, AC units, etc.
Seal your home from moisture – weather stripping, roof shingles, etc.
Get rid of woodpiles and other debris under and around the house
Move plants and flowerpots away from your house
Keep bushes and trellises away from the house
Discard any cardboard items in home, attic, or garage
Why Choose Drive-Bye Exterminators For Your Termite Protection
Who can you trust with the protection of your home? Drive-Bye Exterminators. The pros at Drive-Bye are happy to lend a helping hand. We have the tools and knowledge to protect your home against dangerous termites. Consider it another form of homeowner's insurance. If you need any pest control assistance, contact Drive-Bye Exterminators by calling 727-787-2127 or booking an appointment.
Drive-Bye Exterminators offers home and commercial pest control services in Clearwater, Florida, and the surrounding areas. Family owned and operated for over 25 years, Drive-Bye Exterminators have state-certified inspectors, and exterminators provide roach, subterranean termite, dry wood termite, roaches, spider, ant, and flea services to both commercial and residential clients. Whether a business owner needs help getting rid of a termite infestation, or a homeowner wants to rid their kitchen of ants, Drive-Bye Exterminators offers each client the same level of professionalism and excellence.
Request a FREE Pest Control or Termite Inspection today with the Professionals of Drive-Bye Exterminators. Contact Us today at 727-423-9040.