The Tampa Bay area is home to a wide variety of ant species, most of which go about their business without being a bother to you or your Florida home. Some species of ants, however, are known to destroy property, infiltrate food storage, bite or sting. If you do get an infestation of an aggressive ant species, then you'll need an expert pest control service to eradicate the ants. The more you know about Florida ants, the better able you will be at preventing problematic ants from nesting in your home.
Argentine Ants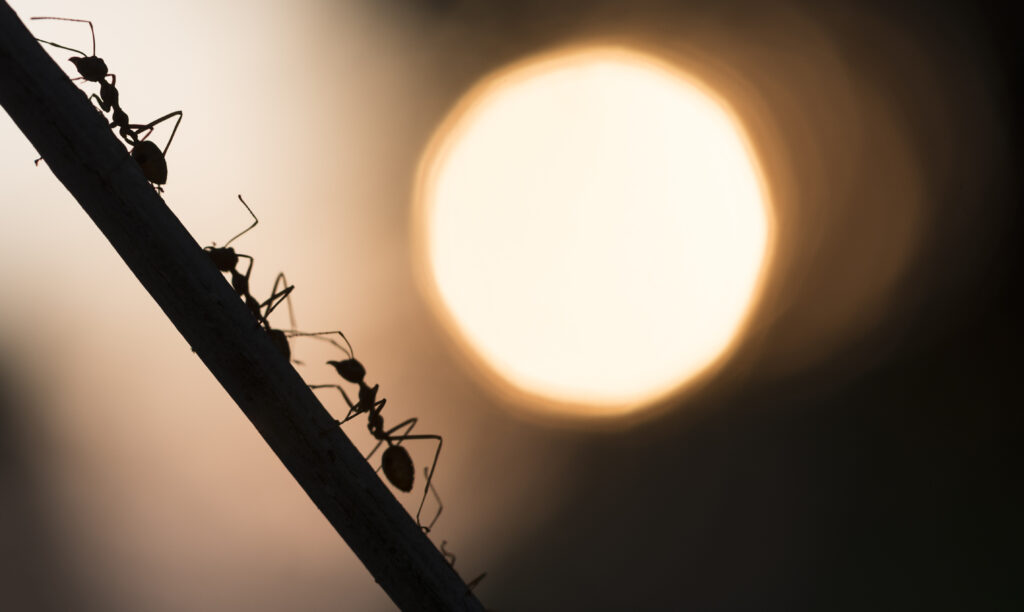 Argentine ants are an invasive ant species that have essentially driven-out many of Florida's native ants. It is a home-infesting pest that thrives in moisture, such as mulch, under debris, and beneath home foundation. When Florida's weather cools-off, Argentine Ants slip through cracks around the house and take up residence in your home.
Don't try to eradicate Argentine ants on your own…their nest supports multiple queens, so they breed fast and create huge colonies that number in the hundreds of thousands.If Argentine ants create interconnected colonies, the infestation can number in the millions! There is no way a store-bought insecticide can reach or keep-up with a super-nest like the one run by Argentine ants. If you have Argentine ants, you will need ongoing treatment over time as eradicating these ants is not a one-shot treatment.
Characteristics of Argentine Ants
Body: smooth, hairless
Size: very tiny
Color: light to dark brown, may appear black
The queens are smaller than other ants in the colony and smaller than most other ant species queens. Queens are winged and mate inside the nest. Once mated, they can lay eggs for their lifetime at a rate of 60 eggs per day. They are fast moving and will leave the next to establish more colonies as needed. Those colonies can become linked.
Signs of Argentine Ant Infestation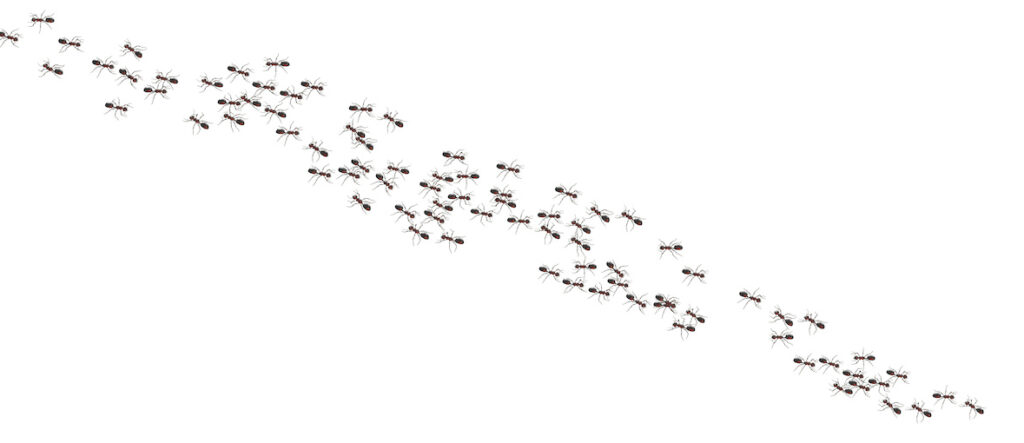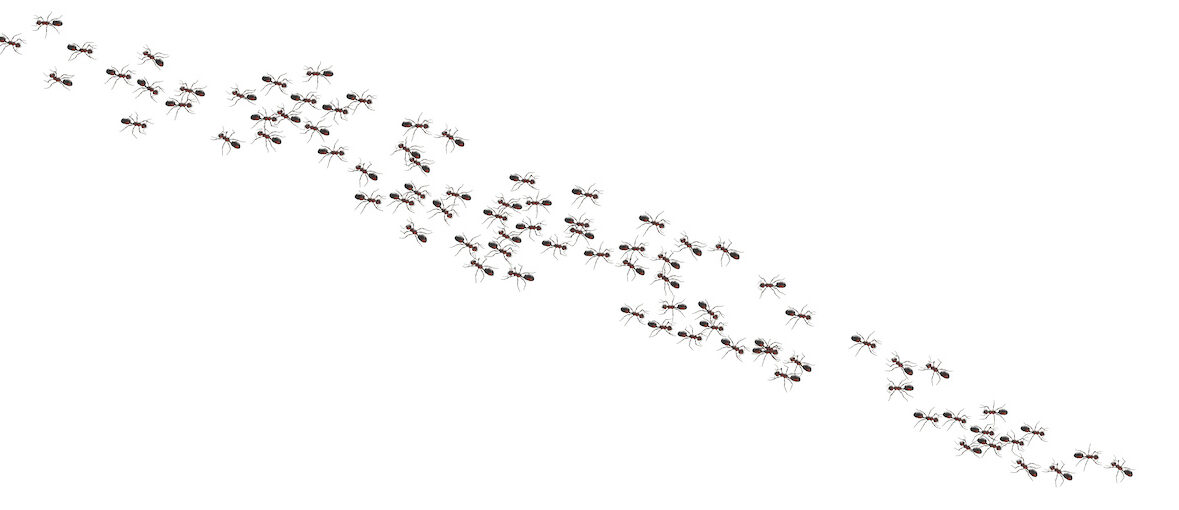 Argentine ants travel in foraging trails that are visible up and down trees, buildings, walls, etc. Eradication of Argentine Ants requires the help of a professional pest control service.
Acrobat Ants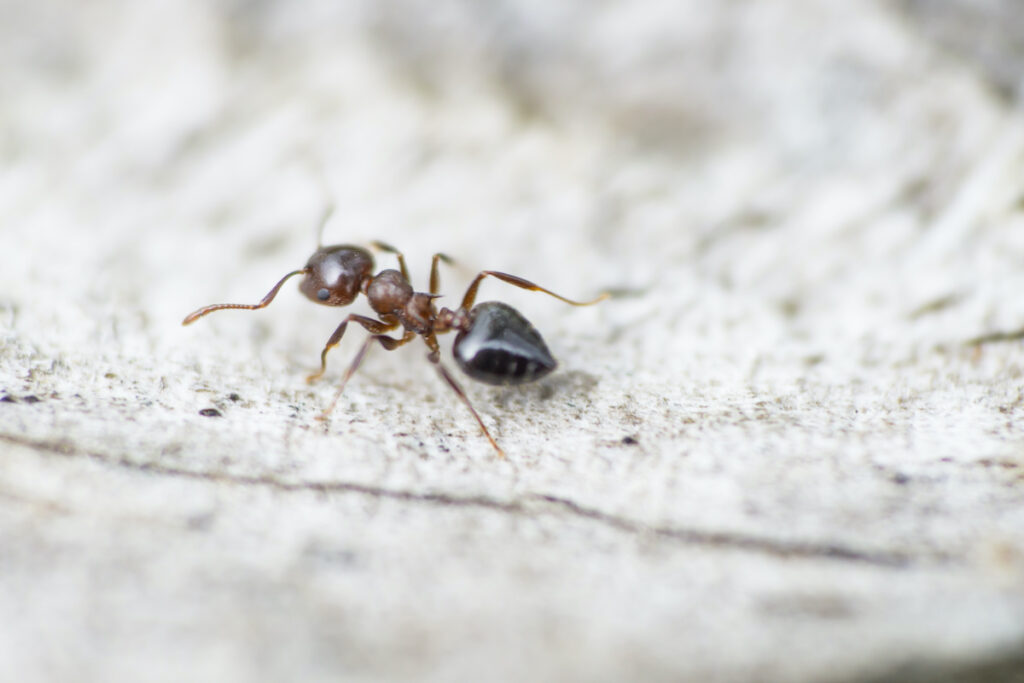 If you've seen ants that raise their abdomen above their head, almost like a scorpion, then you've encountered the acrobat ant. These ants are commonly found outdoors among dead or decaying wood. However, they can get into your home in a variety of ways, including having tree branches growing too close to the house. Once they get in your home, acrobat ants colonize in your insulation and woodwork, as well as the pantry. If you've ever had carpenter ants or termites at your home, your property is a risk for acrobat ants as they will share tunnels with other species.
Characteristics of Acrobat Ants
Body: shear-shaped abdomen
Size: small
Color: dark brown, may appear black
Food: other insects, honeydew, sugary waste excretions of other insects; meat
Signs of Acrobat Ant Infetation
These ants may travel in groups in trails, but not always. The queens are winged and mate outside the nest, then establish their own colony. An acrobat ant nest is hard to track down once they've moved into a home. Eradication requires the help of a professional pest extermination service.
Ghost Ants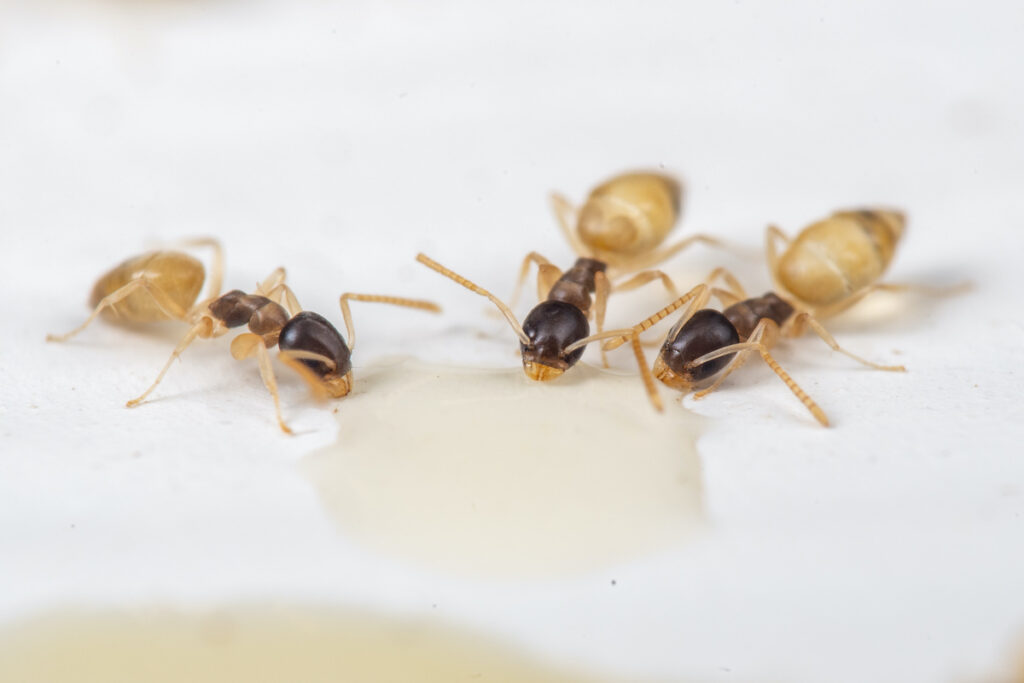 Another extremely small variety of ant, the Ghost Ant gets into homes through openings around doors and windows, fracks in the foundation, and can be carried indoors on infested plants. As the name implies, they are very hard to see. However, if you have enough of them, you might smell ghost ants as they give off a coconut like odor when crushed.
Characteristics of Ghost Ants
Body:  smooth
Size:   very tiny
Color:  dark head and thorax, pale legs and abdomen
Food:  sweets (cereal, sugar, syrup) outdoors, they feed off of other insects
Signs of Ghost Ant Infestation
Ghost ants are usually spotted in the kitchen or bathroom on counters and sinks. They can build nests inside the home as well as outdoors. They've been found nesting in potted plants and in books on a shelf! Nests have been found in walls and between kitchen cabinets. Every new queen will leave the original nest and establish their own colony.
As you can imagine, eradication of ghost ants from your Pinellas County home is difficult because theants can nest just about anywhere. For this reason, you won't have much success trying to exterminate ghost ants on your own, hire a pest control professional.
Pharaoh Ants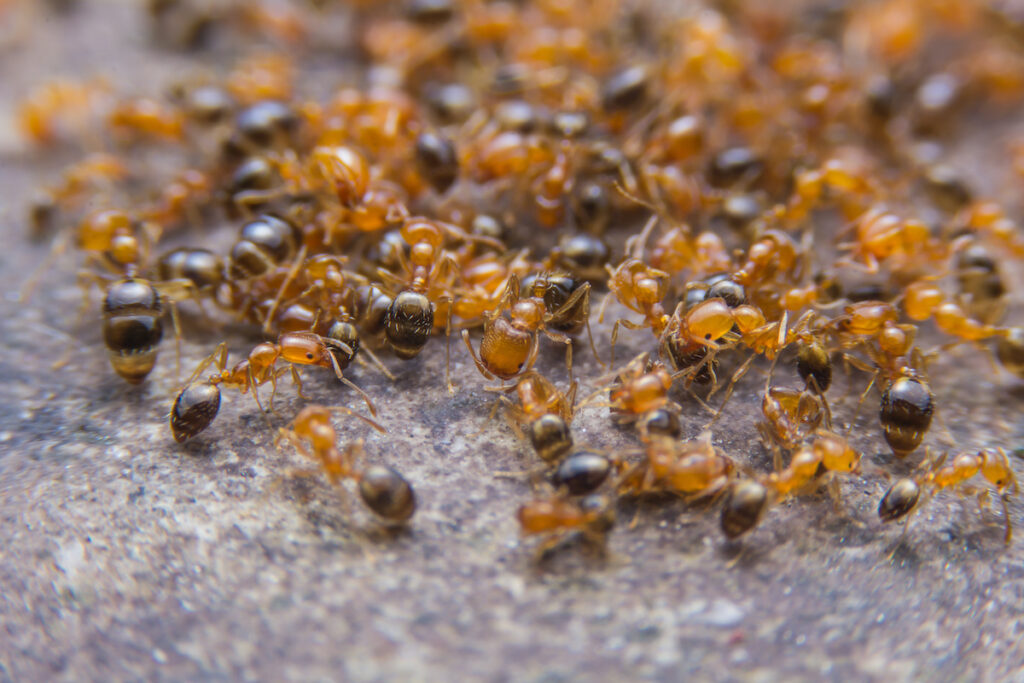 The pharaoh ant is considered one of the most challenging ant species to eradicate. Usually, a home owner tries to get rid of pharaoh ants with pesticide that, unknown to the homeowner, causes the pharaoh ant to "bud" from its existing colony and spread out to new locations. Now, the homeowner has multiple colonies and a very big problem. Pharaoh ants can spread salmonella and dysentery because they will infest food. These ants can also infect sterile equipment and rooms and can spread disease, which makes pharaoh ants a big concern for hospitals, medical clinics, pharmacies, and doctor's offices in the Tampa Bay area.
Characteristics of Pharaoh Ants
Body: smooth
Size:  very tiny
Color:  yellowish brown bodies, red and black markings
Food:  sugary food and proteins (honey, peanut butter, baked goods) other insects
How Pharaoh Ants Get In and Where They Nest
Pharaoh Ants get in your home through window screens, poorly sealed, doors and other types of entryways. They also enter through cracks in the siding and in foundation. The will build nests in walls, baseboards, refrigerator insulation, folded clothing, sheets, and any undisturbed, dark place.
Since pharaoh ants also have multiple queens and colonize quickly, you'll need a pest control expert to get rid of them and prevent them from returning to your property.
There are many other varieties of highly problematic ant species in Florida. Our next blog post will cover these other species. For now, we want to leave you with important tips for preventing and dealing with an an infestation.
General Tips for Preventing, Dealing with Ant Infestation
The following tips apply to the majority of ant species. However, certain species will require novel approaches and specific types of methods, including the species discussed in this article. This is why proper identification of the ant species is the crucial first step to knowing how to get rid of ants on your Florida property.
Correctly Identify the ant species. A pest management professional will be able to do this. If you are able to trap and bottle the ants, that will be helpful but not necessary.
Don't try to treat your property on your own. In all likelihood you'll only treat what is visible and that will cause the ant colony to spread out, creating a bigger problem.
The key to successful eradication is the elimination of the queens, but reaching them requires getting into the colony.
Things you can do to keep ants out of your home:
Don't store firewood against the house.
eal cracks in foundation, siding, around windows and doors, etc.
Cut back shrubs so they don't lean on the house
Don't bring outdoor plants into the home.
Replace weather stripping where needed
Be sure doors and windows close snugly.
Don't allow food into bedrooms.
Don't leave dirty dishes around. Keep counters clean. Clean the fridge regularly.
Be sure all foods are stored in seal-tight packaging.
Pest Control & Eradication Done the Right Way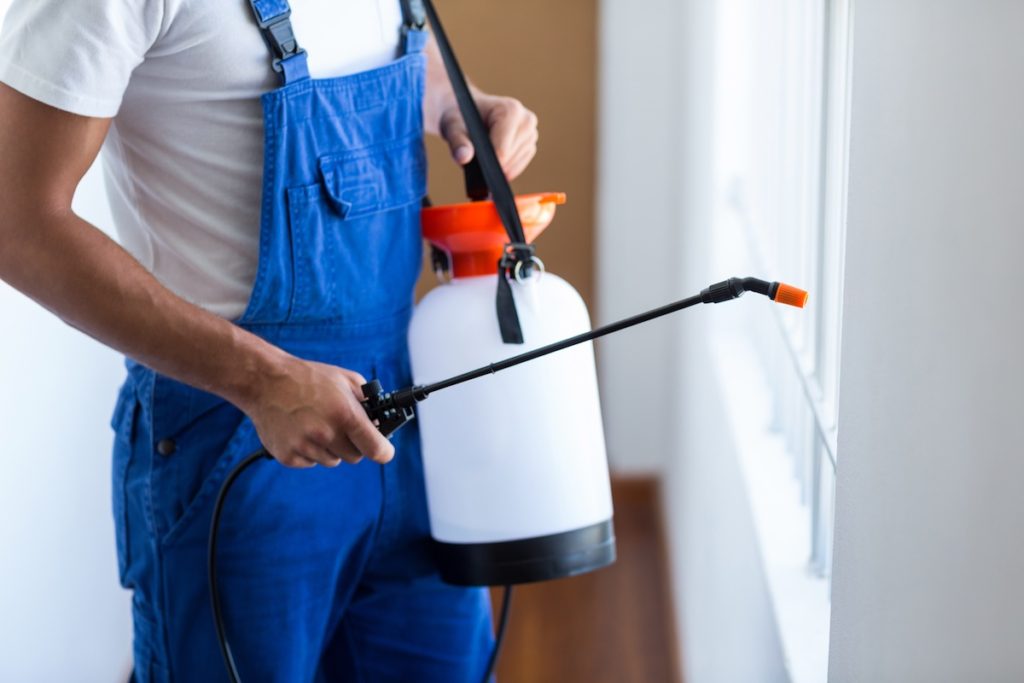 When you hire a pest management professional you want to make sure to get a thorough inspection of your home and property. Chances are the ants you see are not the only ants —or pests—you have. You want your pest control service to be done the right way from the start. This means hiring an experience exterminator who understands the behavior of ants and other pests that are common to Clearwater, St. Pet, and Tampa. Contact Drive-Bye Exterminators today for a free estimate and a thorough inspection of your property. Our company is proud to have been serving Tampa Bay for over 25 years.
Resources
Pests in and Around the Southern Home
University of Florida Extension Program