As the name indicates, dogs are the primary hosts for the brown dog tick, and they are a year-round pest. Ticks cannot fly or jump. Instead, they simply lie in wait for a dog to brush up against them, and they climb on. Additionally, when outdoors, they will scale up shrubs, grass, and other vegetation, attaching themselves to passing hosts such as dogs, deer, rabbits, and rarely, even humans.
If you think you may have ticks in your home or yard, there are several things to do. But first, contact your local pest control company, like Drive-Bye Exterminators.
Brown Dog Tick Appearance
The brown dog tick is very similar in color and looks between males and females. They are reddish-brown without any real markings per se on their oval-shaped bodies. However, the females take a larger blood meal and will typically get more engorged than males.
Before feeding, they are 1/8th of an inch. But after feeding, they can expand to1/2 inch and turn a bluish-gray. And the larvae have 6 legs, where the mature tick has 8 legs. These ticks live about two years and go through four stages: egg, larva, nymph, and adult. To progress through the four stages, the tick must have blood for each meal.
Have you seen a bug on the bed that looks just like this? Hurry, and contact Drive-Bye Exterminators before you have a full-blown infestation.
Brown Dog Tick Habitat
Possibly the worst part about the brown dog tick is that they can live their entire lifecycle indoors. That means they can successfully from breeding to maturity in kennels and homes. You can find them along baseboards, under windows, in cracks and crevices in the walls, and furniture. When not in homes, they are throughout the US but are primarily in the warmer states.
If you find brown dog ticks in your home or on your dog, Drive-Bye Exterminators will come right out and begin the process of eradication.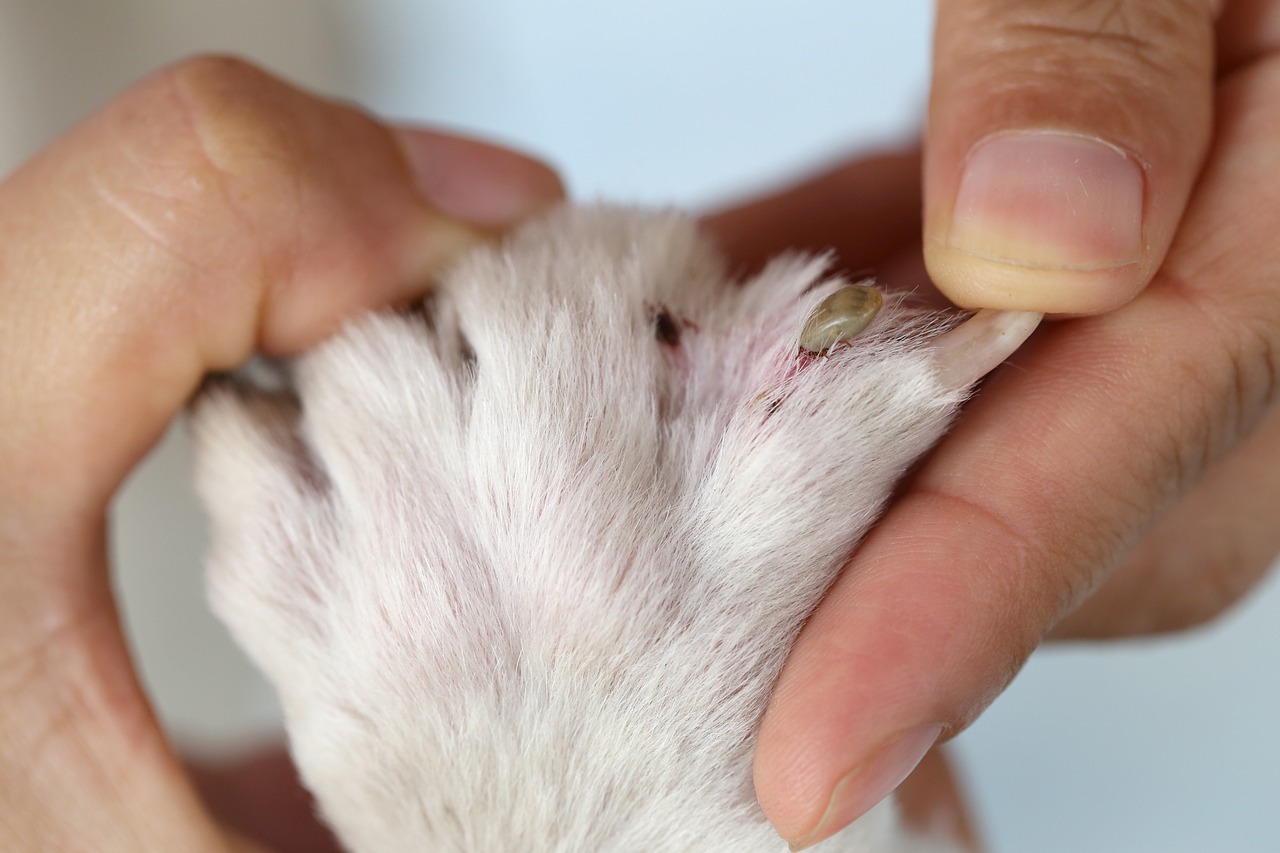 Dangers Associated
Brown dog ticks are not as dangerous as other tick varieties. However, they have recently been identified as carriers of Rocky Mountain Spotted Fever. However, this is rare because they seldom bite humans. As for dogs, these ticks do transmit Canine Ehrlichiosis and Canine Babesiosis.
On your dog, you will find them in the following spots:
In the ears
On the head and neck
On the belly and chest
And on the legs and between the toes.
As soon as you recognize ticks on yourself, in your yard, or on your pet, contact the staff at Drive-Bye Exterminators. Be sure the entire tick is off, and call your doctor if the tick was on you for any time.
How Tick Diseases Spread
The transmission of tick-borne illnesses to dogs is easy since they bite and drink blood. They are actually quite good at it. First, the tick will locate an excellent spot to feed on the host. Then it will grab on and insert the feeding tube. If unnoticed, the tick will then proceed to drink blood from the host for several days.
Now, when the tick moves into the next stage of life, most varieties will find a new host and transmit the disease to that one as well. So, the quicker humans get the tick off, the less chance they have of becoming sick from the tick. That is why it is so important to check for ticks after each hike.
Bite Symptoms
Should you get bitten by a tick, here are the immediate symptoms you may see:
Itching
Fever
Tick paralysis
Typically, the symptoms of a tick-borne disease will occur within a few days to a few weeks after a tick bite. However, make sure you see your doctor immediately after receiving a tick bite, even if you don't have symptoms.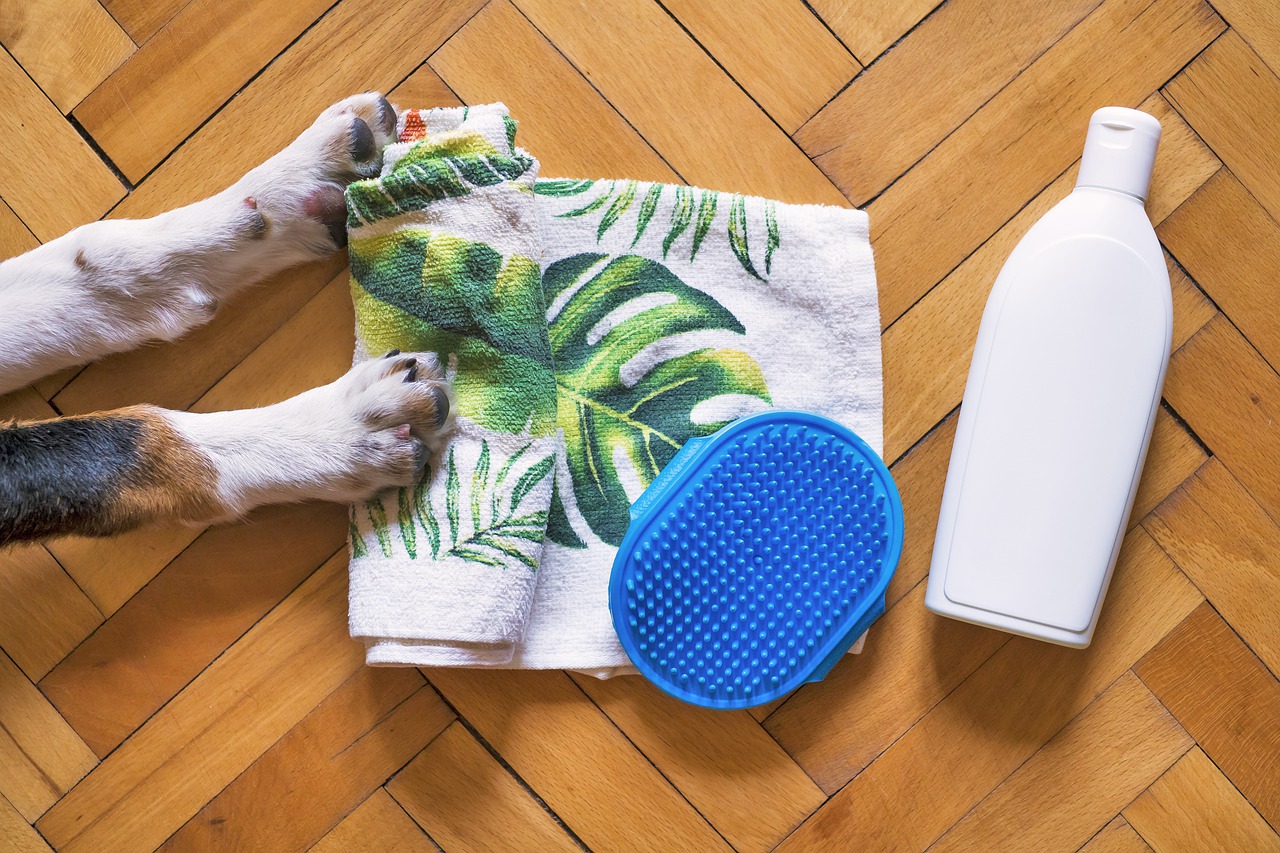 Tick Prevention
These hitchhikers can be relentless, so preventing them from ever getting on your dog or entering the home is the best idea. Here is what we suggest at Drive-Bye Exterminators.
Remove ticks as soon as noticed on a person or pet.
Apply insect and tick repellant to uncovered skin and clothing.
When in grassy areas, especially tall grass, wetland, and shrubbery, wear clothing covering the arms, legs, and feet (tuck pants inside socks or boots). Wear a hat.
Wear light-colored clothing as this will make it easier to see ticks.
If you are going to be in the garden or touching plants, wear garden gloves.
Immediately after being outdoors, check clothing and remove it before entering the home. Place clothing in a plastic bag to go directly into the wash.
Shower immediately after spending time outdoors and check your skin and scalp.
Be sure you are using a veterinary-approved tick control method for your pet.
Most importantly, call your veterinarian to check your pet that a tick has been entirely removed.
Always clean kennels and bedding areas if ticks are discovered on your dog.
For more information on the brown dog tick, check this out at PestWorld.org.
Brown Dog Tick Elimination
When walking your dog through the forest, you cannot eliminate the ticks from the area. Therefore, the only way to stop them is to take preventative measures. That said, if your pet brings them in and you get an infestation in the home, your house may need treatment by a professional exterminator. The best way to keep away an infestation is to keep all pet bedding cleaned and vacuumed. In addition, pet owners must have a routine flea and tick preventative.
Drive-Bye Exterminators offers home and commercial pest control services in Pinellas County, Florida, and the surrounding areas. Family-owned and operated for over 25 years, Drive-Bye Exterminators has state-certified inspectors and exterminators. And we provide flea and tick extermination services to commercial and residential clients. Drive-Bye Exterminators offers each client the same level of attention, professionalism, and excellence.
Request a Pest Control or Termite Inspection today with the Professionals of Drive-Bye Exterminators. Contact Us Today