Does your kitchen or bathroom have tiny little bugs resembling ants running all over the counters and walls? As soon as you think they are gone, are they back? Mistakenly called sugar ants, one of the most common type exterminators are called out for is the ghost ant.
And believe it or not, once you start noticing them, the ants have already swarmed into the thousands. Homeowners find them hiding in walls, cabinets, on the floors, garbage areas, bathrooms, garages, potted plants, and more.
If you locate a swarm of ghost ants in your home or business, be sure to call Drive-Bye Exterminators right away. We are your local team of experienced and friendly technicians equipped to deal with the pest problems in and around your Pinellas County or Tampa area home.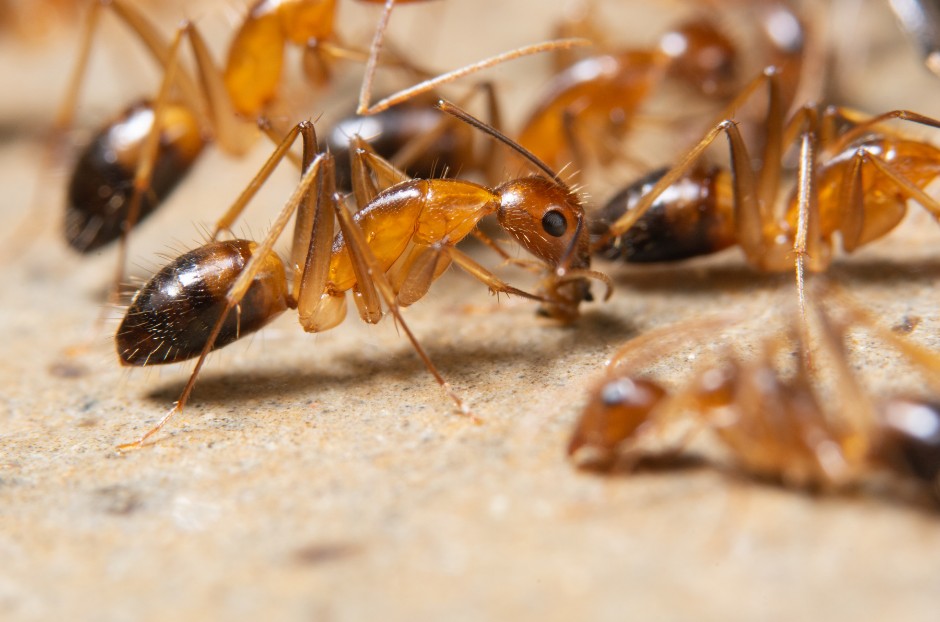 Appearance
Ghost ants are among the smallest species of their kind, and you may not even see them at first. They can be identified by their whitish abdomen, unlike most ant species, which are solid black, tan, or brown.
Ghost ants can be distinguished from the other ant species by the following characteristics:
They are tiny; in fact, they are about 1/16-inch long.
The head and thorax are dark in color, but the abdomen, legs, and antennae are pale, whitish clear.
They have antennae that are divided into 12 segments.
Good news, they do not sting.
Fun Fact:
"Ghost ants emit a coconut-like scent when crushed, similar to the odorous house ant."
Homeowners will usually see them in the kitchen or bathroom. You find them hiding in walls, cabinets, on the floors, garbage areas, bathrooms, garages, potted plants, and more. If you locate a swarm of ghost ants in your home or business, be sure to call Drive-Bye Exterminators right away.
Behavior
If you have seen these ants scurrying in your home, there is no mistaking them. They run around your counters, floors, and walls in a "zig-zag" pattern.
So, if you locate a group of erratic ants on your kitchen counter or bathroom floor, call the experts in dealing with ghost ants at Drive-By Exterminators. Immediate treatment is needed before the swarm expands and the colony multiplies.
Habitat
Yes, ghost ants are tiny; however, their nests and breeding habits are highly adaptive. This quality makes it easy for them to inhabit a wide range of environments.
They most often reside in tropical and subtropical areas. Ghost ants are unable to adapt to colder climates. They are confined to greenhouses and buildings that provide conditions allowing them to thrive.
Outside, they make their nests in the ground near stones, logs or woodpiles, and even moist grass and plant stems. Additionally, ghost ants are cooperative and will share nests and spaces with spiders and more. This way, they are protected from predators, and the spider uses their nest as a mound for web creation.
In the case of a ghost ant infestation, Drive-Bye Exterminators will come right out and begin the process of eradication.
Ghost Ants Prevented
Entering buildings on trails that they make along the ground, ghost ants enter houses by running along utility lines, tree limbs, and shrubs touching the house. When they make nests indoors, it is typically inside walls, behind cabinets and baseboards, and flowerpots.
To prevent an infestation, homeowners take the following preventative measures.
Keep shrubbery trimmed.
Ensure tree branches are cut back.
Remove all leaf litter and debris around the yard.
Make sure potted plants brought indoors are free of insects.
And store firewood at least 20 feet away from home.
Controlling ghost ants requires time and patience. Homeowners should contact us at Drive-Bye Exterminators to treat an existing problem and then set up a preventative pest management plan.
Ghost Ants Eliminated
Drive-Bye Exterminators will locate the pheromone patterns and the entry point to begin the process of eradicating the ants. Ghost ants do not eat the bait; instead, they take it to the queen, and she ingests it. Once the queen is gone, the colony will collapse. So, the best and most effective way to treat the home for ghost ants is with a liquid bait provided by your local exterminator.
That said, it takes a bit of time and occasionally two or three treatments to get rid of the queens, especially if there are more than one. Don't be discouraged if it seems like the treatment didn't work. The pros at Drive-Bye will rid you of the ghost ants for good.
Drive-Bye Exterminators offers home and commercial pest control services in Pinellas County, Florida, and the surrounding areas. Family-owned and operated for over 25 years, Drive-Bye Exterminators has state-certified inspectors and exterminators. And we provide ghost ant extermination services to commercial and residential clients. Drive-Bye Exterminators offers each client the same level of attention, professionalism, and excellence.
Request a FREE Ghost Ant, Pest Control, or Termite Inspection today with the professionals of Drive-Bye Exterminators. Contact Us Today