About the Thief Ant
The Thief ant is a very small insect. However, don't let their size fool you. These pests have received their fitting name for a reason.
On this Pest ID page, you'll discover why these interesting ants are known as thief ants. Furthermore, you'll learn to correctly identify the thief ant by its appearance, behavior, and other defining characteristics.
Drive-Bye Exterminatorsis the company to call if you suspect a thief ant infestation. After getting more familiar with the thief ant, schedule a routine inspection with our knowledgeable team to know more about how to prevent these common pests.
Appearance
One of the smallest home-invading ants, this unique species only reaches a max of 3mm or 1/8 inch long. They can be as small as half a millimeter or 1/32 inch!
Thief ants have pale yellow or brown bodies with small eyes and stingers at the end of their abdomens. Some members of the thief ant colony have wings during specific times of the year. These are the reproductive individuals called swarmers.
Pharaoh ants and thief ants are often confused with one another. They are similar in appearance. However, the thief ant is significantly smaller and has other characteristics that make it different from the pharaoh ant.
Behavior
So, why are these little ants called thief ants? They get their name from a fascinating behavior of nesting close to other ants' nests from which they steal food and consume the young ants. At times, thief ants will even take over the rival ants' nest.
In general, thief ant colonies are smaller than that of other ant species. They can have just one or multiple queens. There are typically thousands of worker ants, making up most of the colony. Furthermore, the swarmers, or reproductive individuals, will mate from June to late fall. You'll observe more winged ant members within the nest and surrounding areas during this time.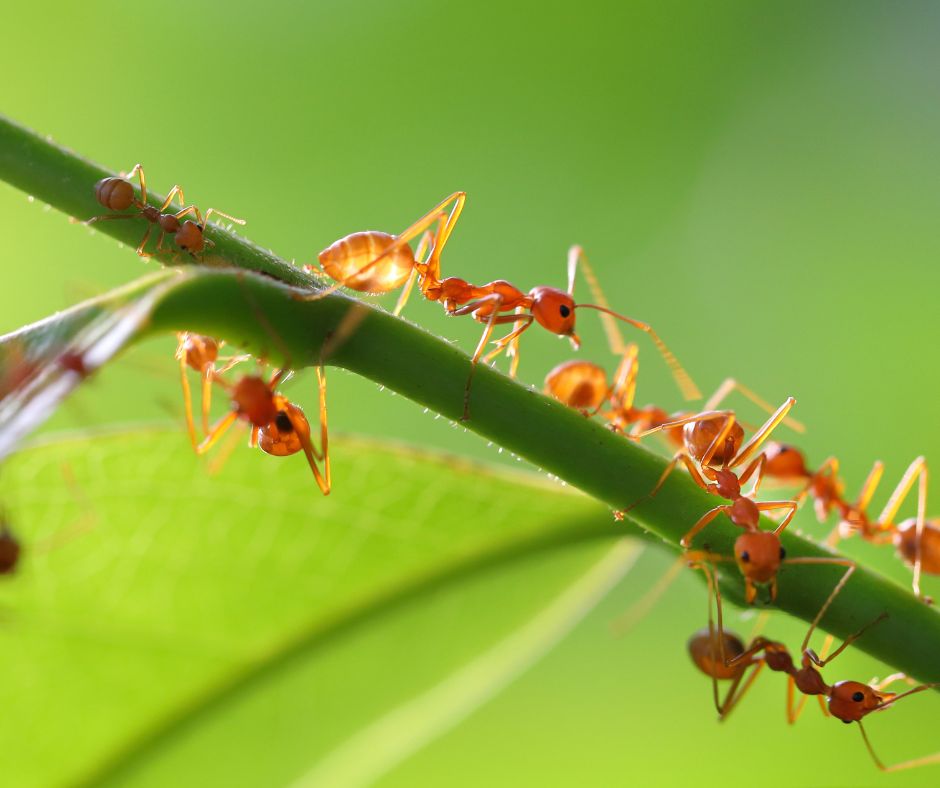 Diet
Thief ants have a generalist diet, meaning they consume various foods to gain the nutrients they need. They'll eat just about anything they can find. However, unlike most ants, they aren't very fond of sweet substances.
You may hear thief ants referred to as "grease ants." This is because they are highly attracted to food with high oil content, especially household foods, like:
Cheese
Meat
Grease or oil spills
As mentioned, thief ants feed on the larvae and pupa of other ant colonies. They will also consume parts of dead insects and rodents. Unfortunately, their small size allows thief ants to get into packaged pantry foods effortlessly.
Due to their dirty feeding habits, when the thief ant infests kitchens and food products, they can spread diseases they carry from the animal and insect carcasses.
Habitat
Thief ants are abundant throughout the eastern and central United States. They'll nest in various locations, only requiring proximity to food and water sources.
Outside, you may spot them nesting in several areas, including:
Under rocks
Around walkways
Near the home's exterior
Inside rotting wood, including trees and wood stumps
In exposed soil
Like most ant species, thief ants can certainly make their way inside your home. According to the University of California's pest experts, thief ants "may travel from one room to another by traveling on electrical wires; may be seen in electrical outlets."
Indoors, thief ants can be found in the following locations:
Within masonry
Under floors
Behind baseboards
In kitchens
Inside cabinet voids
Underneath countertops
In pantries and food products
About Thief Ant Infestations
Thief ants may be small, but infestations are undoubtedly challenging to control. In most regards, they are considered nuisance pests. However, they are capable of spreading disease. You may first notice this pest in your home by seeing a trail of tiny thief ants foraging for food.
The first step to eliminating thief ants is often locating the nest. This can be difficult because they tend to hide away in the home's structure and other unreachable areas. Removing an infestation of thief ants is typically attained through hiring a professional pest control company.
Preventing Thief Ants
The best thing you can do to avoid future problems with these stubborn pests is to implement the top prevention methods at home. Here are some expert tips on how to keep thief ants at bay:
Immediately clean up food and beverage spills.
Stick to preparing and consuming food in just a couple of home areas.
Remove yard debris from the property.
Eliminate rotting wood and tree stumps.
Trim trees and bushes near the home.
Keep landscaping features away from the home's structure.
Seal all tiny cracks and openings in the home's exterior.
Schedule routine pest inspections with your local experts.
Drive-Bye Exterminators Eliminates Thief Ants
Have you noticed little yellow-brown ants scurrying around your home or yard? You may have a stubborn thief ant infestation. Reach out to Drive-Bye Exterminators for an inspection from our skilled and knowledgeable team.
We have the tools and experience to determine what ant species are infesting your home. Once the species is identified, we know precisely what to do to eliminate the ants as quickly as possible.
Give Drive-Bye a call to get rid of pesky thief ants effectively and promptly. Our friendly staff looks forward to working with you!