Pharaoh ants are one of the most challenging pests to control and are located all around the world. It's almost always found indoors, except in hot and humid climates, making it well-known for dangerous infestations.
Its name is quite unique. According to entomologists at the University of Florida, "The name possibly arises from the mistaken idea that it was one of the plagues of ancient Egypt."
In this Pest ID page from Drive-Bye Exterminators, you'll discover some shocking facts about the Pharaoh ant. Read on to learn how to identify these fascinating insects and what to do about an infestation.
Appearance
The Pharaoh ant is a small ant species better characterized by its behavior than its appearance. It is often confused with other tiny pale ants like the big-headed ant, fire ant, and thief ant. Use the following information to identify this unique species by appearance:
Physical Traits of the Pharaoh Ant:
Pale yellow or reddish body with a dark or black abdomen
Six legs
1/16 inch long
Segmented antennae
The Pharaoh ant also has a stinger present. However, it is hardly ever used.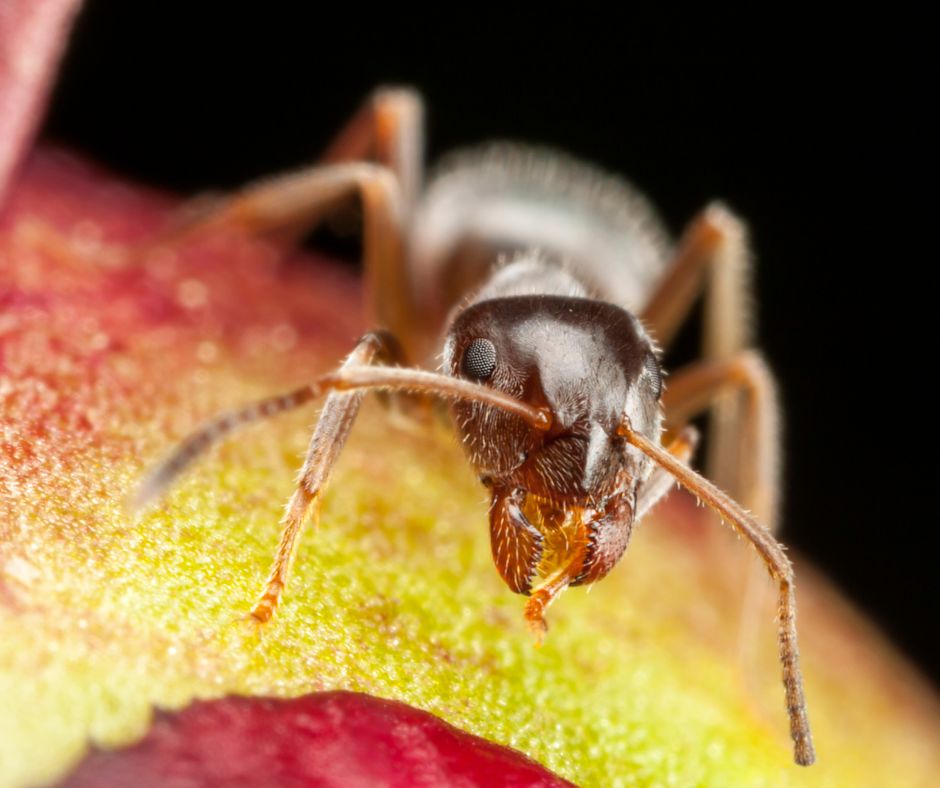 Behavior
The Pharaoh ant colony includes the female workers, males, eggs, and larval stages. There's generally at least one queen ant, but more than one can also exist in a colony. A single colony can have thousands of members.
When the Pharaoh ant colony is disturbed, it implements a process called budding. This is one of the reasons why this resilient ant species is so successful. The massive colony divides into "daughter colonies" and moves to other locations to establish many other nests.
Additionally, because Pharaoh ants are so little, they have a terrible habit of getting into secured foods. Of course, this leads to contamination and has become a significant issue for building infestation.
Diet
These tiny and mighty ants do not typically survive outdoors. Instead, you primarily spot them nesting in buildings where humans reside. From our spills, crumbs, and exposed foods is where they get their nutritious meals.
The Pharaoh ant is a generalist when it comes to its diet. And they will consume just about anything they have access to, including:
Sweets
Oils
Proteins
Fruits
Syrups
Dead insects
Habitat
It's theorized that Pharaoh ants originated in Africa. However, they have been transported to every inhabited part of the world through commerce ships and trucks. This ant can occasionally be found outdoors in warmer climates, like southern Florida. Otherwise, they find safety and warmth indoors. Pharaoh ants are mainly found in heated buildings in the coldest climates.
Virtually, the Pharaoh ant will make a home inside of any building. But these intelligent insects prefer to nest in buildings that handle food. Unfortunately, they often use electrical wires and telephone lines to secretly make their way indoors. Here are some of the establishments where they are most commonly infesting:
Restaurants
Homes
Hotels
Grocery stores
Hospitals
Food production factories
Office buildings
Bakeries
You see, they typically nest in hidden warm and humid areas with access to food and a water source. They are often unnoticed because of their sneaky nesting areas, like wall voids, baseboards, inside furniture, between bed sheets, in appliances, and piles of trash.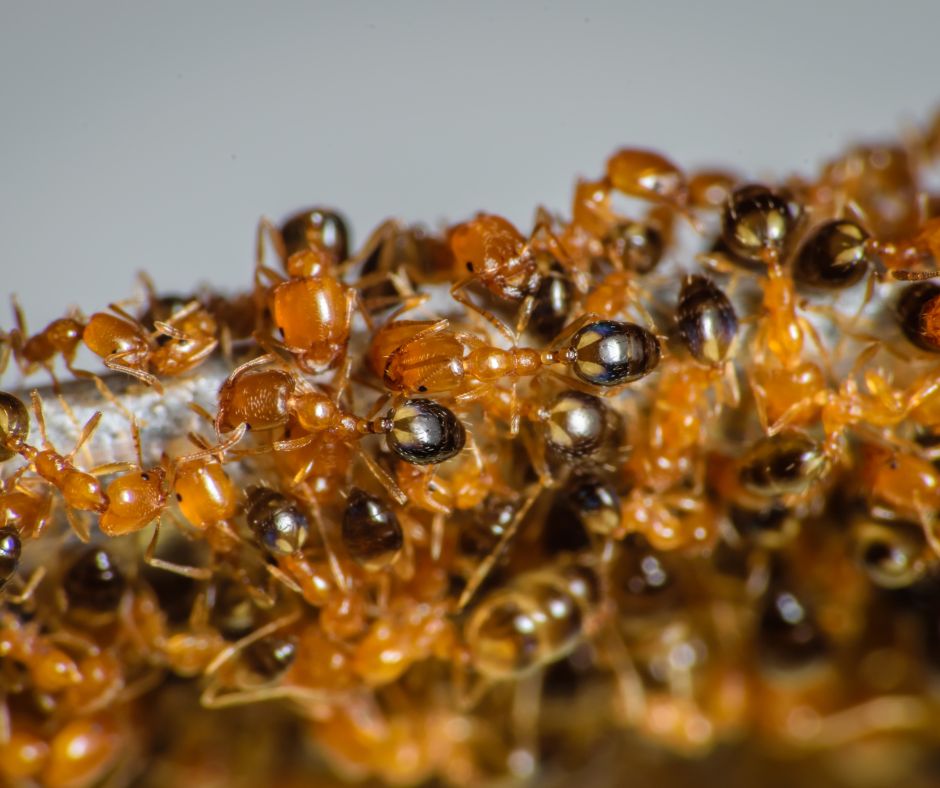 Do You Have a Pharaoh Ant Infestation?
Pharaoh ants are notorious for causing all kinds of trouble in the buildings they infest. Their colonies can grow to enormous sizes, and it's a matter of time before precious food is contaminated. If you suspect a Pharaoh ant infestation, it's best to call your local pest control company immediately.
However, it's not only food you need to worry about. When Pharaoh ants invade commercial buildings, like hospitals, factories, and hotels, they are known to get into some hazardous situations. The following accounts only scratch the surface of what has occurred with Pharaoh ant infestations:
They have invaded highly secured DNA laboratories.
Pharaoh ants can spread illness to at-risk hospital patients, like burn victims.
They can even crawl into the mouths of newborns, searching for a water source.
These ants can enter exposed wounds and even IV bottles.
It is imperative you contact the professionals when you've spotted even just one of these dangerous ants in your home or business.
Preventing Pharaoh Ants
Pharaoh ants are tough to eliminate due to their massive colonies, multiple reproducing members, inaccessible nesting locations, and budding strategy. Homeowners have even sold their houses upon discovering these challenging pests.
So, the best way to keep them from infesting your residence or business is to implement expert prevention methods:
Eliminate excess moisture from plumbing leaks and other sources.
Trim trees and bushes that may give them access to enter your building.
Make necessary repairs to the structure of your home or business, like filling gaps and openings.
Clean up after spills and messes immediately.
Never leave food products and pet feed exposed.
Schedule regular inspections with your local pest control company to catch infestations early.
Rid Your Home or Business of Pharaoh Ants with Our Trusted Team
When you have a Pharaoh ant infestation on your hands, reach out to Clearwater's most reliable and effective pest control experts at Drive-Bye Exterminators.
We will eliminate these stubborn ants from your home or business in the most efficient ways while providing excellent customer service and care. Stop the infestation before it gets out of hand with Drive-Bye Exterminators!