Often, there is confusion on the differences between the Black Widow and the Brown Widow Spider. In this article, the professionals at Drive-Bye Exterminators aim to alert customers to the differences and dangers of these spiders.
Count on your local Drive-Bye Exterminators for immediate spider treatments.
Learn More About the Brown Widow Spider
Spiders are the stuff nightmares and horrors are made of, right? People use spiders to make anything appear ominous or scary. But actually, they are more afraid of you than you are afraid of them. Come with us on a PEST ID journey to learn more about this, the Brown Widow Spider.
Appearance
A spider with mottling of tan and brownish accent markings identifies the Brown Widow Spider. So, you may not think they look much like the famous black widow. But assuming that would be remis. The Brown Widow Spider has the same hourglass mark as the black widow, but it is much less prominent. It appears as a yellowish-orange color rather than the distinct red on a sea of black.
Unlike the black widow, the legs of a brown widow may have bands. And like all spiders, they have eight legs.
Have you seen a spider that looks just like this? Hurry, and contact Drive-Bye Exterminators before you have a full-blown infestation.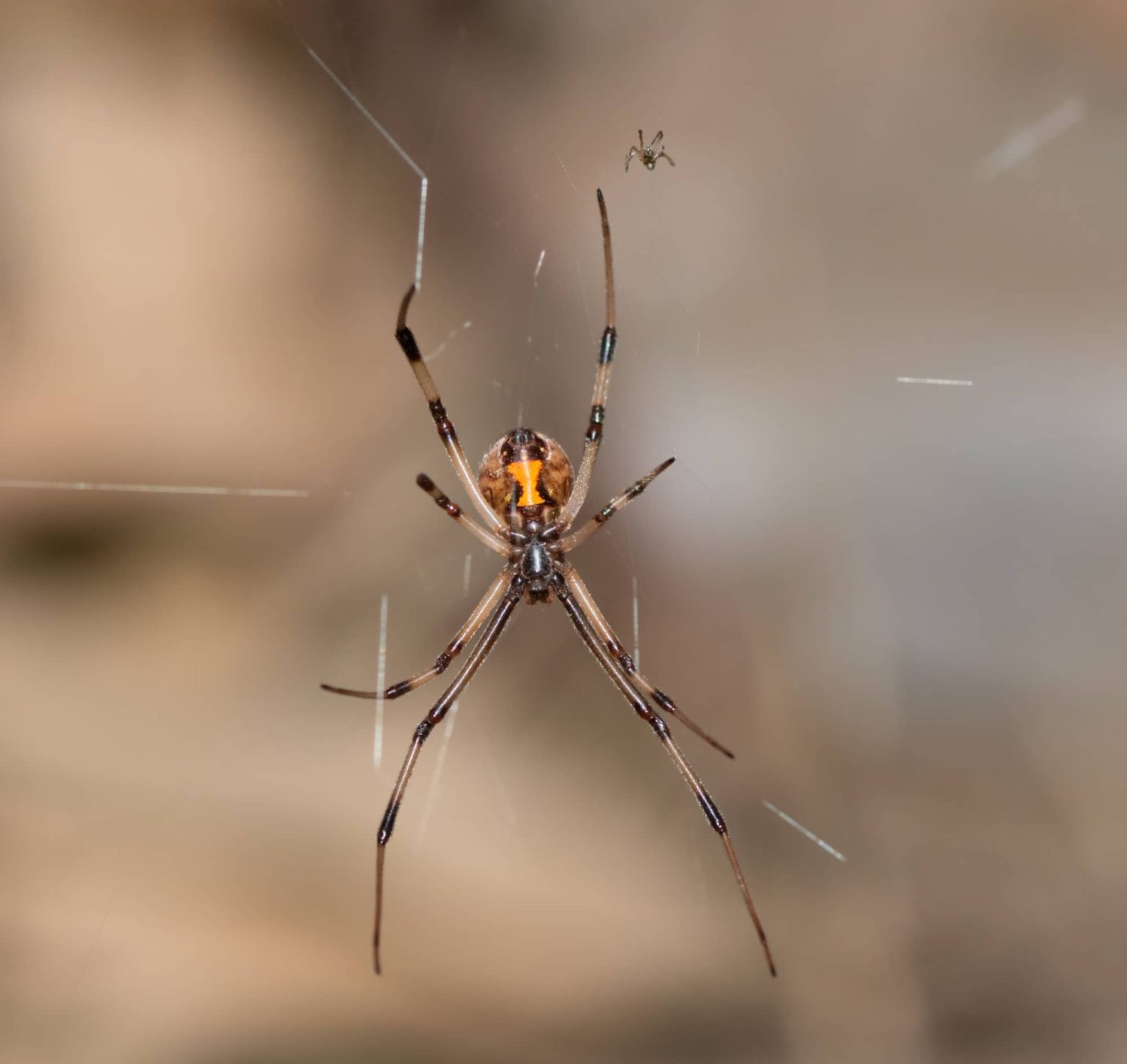 Habitat
The Brown Widow Spider is a spider that hides around homes and in vegetation with branches. You may find them in mailboxes, garbage cans, plant pots, storage containers, closets, sheds, and more. While they are not always out in the open for all to see, the Brown widow spider is not the elusive pest that the black widow is. In fact, they often lay their eggs right in the path of human interaction.
The Danger of a Spider Bites
According to the Center for Invasive Species Research, "The bite of a brown widow spider is minor in comparison to that of a black widow. Although one frequently cited study demonstrates that, drop per drop, brown widow spider venom is as toxic as other widow species, venom toxicity is only one aspect when considering a spider's bite potential."
The symptoms of a Brown Widow bite are:
Pain at the time of the bite.
A red mark on the skin with a puncture wound.
Pain around the bite site.
Therefore, while the bite of the brown widow won't kill you, its venom affects humans and other mammals. Both the brown and black widow spiders are known to be poisonous. Thankfully, like other stinging or poisonous insects, the brown widow is more of a nuisance than a life-or-death situation. Brown widows are also less aggressive and more likely to retreat to guard their eggs.
Spider Prevention
Clearly, most people prefer to keep spiders out of their homes. So, to prevent spiders from getting into your home, incorporate the following into your daily routines:
Keep your attic, garage, and basement clear and decluttered
Keep shoes and clothing off the floor
Seal any crevices and cracks around your home
Enclose your crawlspace
Sweep any cobwebs that appear
Contact a local and professional pest control company for an inspection and evaluation for removing all pests from your home and property.
Brown Widow Spider Elimination
The best way to rid your home of Brown Widow Spiders is to sanitize and clean the house often. This will eliminate the webs and the spiders too. Additionally, you can eliminate spiders and insects, but it requires a professional service. The professional application combines techniques that pose the lowest risk to your health and the environment. Make sure you hire a pest control company with experience with spiders, licensed and certified.
Drive-Bye Exterminators offers home and commercial pest control services in Pinellas County, Florida, and the surrounding areas. Family-owned and operated for over 25 years, Drive-Bye Exterminators has state-certified inspectors and exterminators. And we provide pest extermination services to commercial and residential clients. Drive-Bye Exterminators offers each client the same level of attention, professionalism, and excellence.
Request a FREE Pest Control or Termite Inspection today with the Professionals of Drive-Bye Exterminators. Contact Us Today