No homeowner wants to hear the words "you have a termite infestation." Hardy little buggers, these termites can do extensive damage to the structure of a home. That is why we have determined to educate our clients on the prevention and control of Dry Wood termites.
Dry Wood termites are hazardous. Therefore, if you have seen evidence of Dry Wood termites in the wood around your home, call Drive-Bye Exterminators right away.
Dry Wood Termites Appearance
A creamy white to brown insect, Dry Wood termites, are only 3/8 to 1 inch long and are long, skinny, and oval-shaped. They have 6 legs and antennae. Some of them have wings, and others do not.
The Swarmers are the flying adults and are most often the first to be noticed. They colonize in attics where temperatures can reach up to 113 degrees Fahrenheit. Living their life within the wood, they eat against the wood grain and create connecting tunnels in the wood of your home or furniture.
If you locate what you think may be a termite in your home or furniture, please contact >Drive-Bye Exterminators before you have a full-blown infestation.
Habitat
Infesting the wood found in the framing of homes and buildings is precisely where you'll discover Dry Wood termites nesting. Additionally, they can be found in factories and stores where furniture is stored. However, unlike the subterranean termites, they rarely come in contact with soil. And their colonies are much smaller than the underground colonies.
Drive-Bye Exterminators will come right out and begin the process of eradication for the entire colony.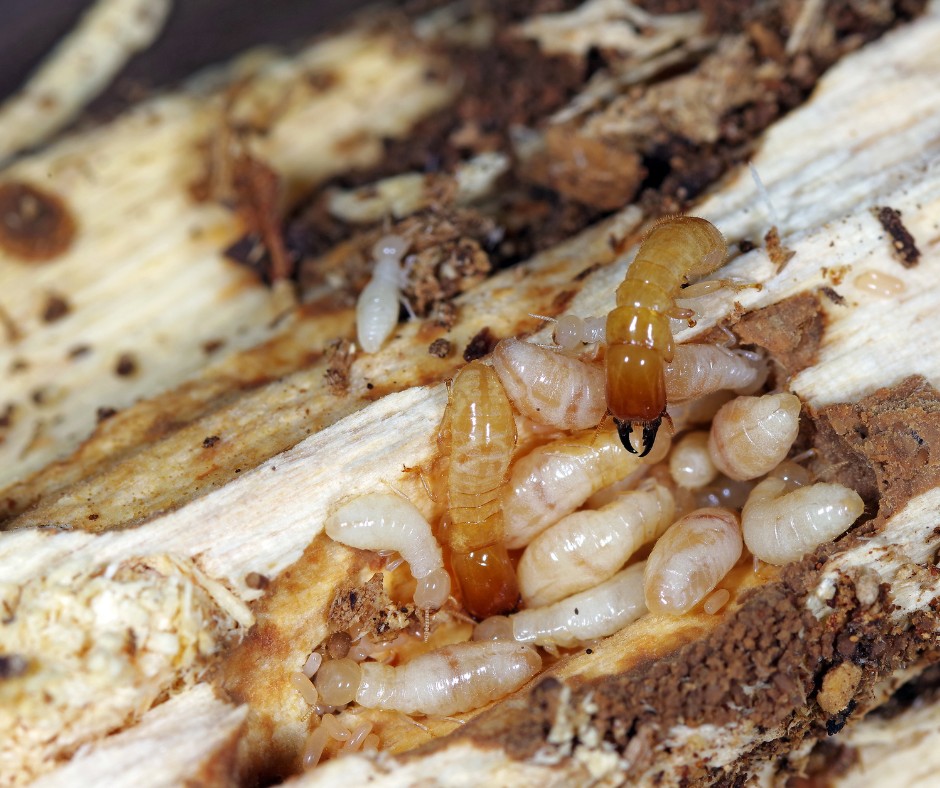 Damage from Dry Wood Termites
Did you know Dry Wood termites do over a billion dollars worth of property damage each year? What's worse, the damage is rarely covered by insurance. Then, suppose irreversible damage is done to any wood that is vital to the house's structural aspects. In that case, the place may be dangerous to live in.
You see, an exterminator looking for Dry Wood termites will inspect exposed wood areas, such as attics, walls, or decks. Termites will hide, nest, and feed in these areas, tunneling through the wood and ruining its integrity. And unlike other species of termites, they do not need moist soil or water nearby, thus, the name.
Dry Wood termite infestations can sneak up on homeowners. Once they are in, it is hard to get them out without professional help. To get rid of Dry Wood termites effectively, professional service must come out to treat the problem. As soon as you recognize the signs, contact the staff at Drive-Bye Exterminators.
Controlling the Spread of Dry Wood Termites
Should you locate a swarm of emerging termites from small holes in wood, you have unfortunately found an infestation. And there are other signs to look for, as well.
What to Look For:
Look for tiny holes in wood parts of the home to detect their presence.
Blistering on wood surfaces.
Pellets, what looks like coffee grounds or the like, are the dropping of termites.
Hollowing wood panels.
Dry Wood Termite Prevention
Keep firewood and other lumber at least 20 feet away from home.
Rake mulch 15 inches from the walls of the house.
Use an exterminator to check for termite activity regularly.
Always check second-hand furniture and imports for termite damage.
Once Dry Wood termite nests become ingrained in the wood, the only solution is to replace the wood. A better solution is to detect the bugs before they cause any damage at all. Your local pest control company will find these bugs and destroy them, including adults, larvae, offspring, and queens.
Homeowners trust the premier Florida pest control company, Drive-Bye Exterminators, to keep their homes safe from termites.
Drive-Bye Exterminators Takes Care of Dryeood Termites for Good.
Do you know who to trust for termite protection? Drive-Bye Exterminators offers home and commercial pest control services in Pinellas County, Florida, and the surrounding areas. Family-owned and operated for over 30 years, Drive-Bye Exterminators has state-certified inspectors and exterminators.
And we provide dry wood termite extermination services to commercial and residential clients. Drive-Bye Exterminators offers each client the same level of attention, professionalism, and excellence. Our clients consider it another form of homeowner's insurance. If you need any pest control assistance, contact Drive-Bye Exterminators by calling 727-787-2127 or booking an appointment.