The Yellow Sac spider comes in from the cold in the winter months, and your home may be just the hiding place they need to keep warm and build their protective sacs. These spiders are found throughout the United States but are more abundant in the southern states where it is warm.
One interesting fact about the yellow sac spider is that they do not spin webs. Instead, they build a sac or a silken tube under leaves, in corners of walls, and under stairs and the like.
If you happen to locate one of these sacs, you will need to call for extermination. Most likely, there are more hiding in the crevices of your house.
Count on your local Drive-Bye Exterminators for immediate spider treatments.
Learn About the Yellow Sac Spider
Appearance
Yellow Sac spiders are a pale yellow to yellowish-green color. Some may have hues of black as well. Interestingly, they look albino but can have a rosy tint, depending on what they dine on that day. Their black feet make them easier to see on your home's walls.
The abdomen of a yellow sac spider has a lance-shaped mark running down it. They are tiny, only measuring ¼ of an inch in both the males and the females.
Hurry, and contact Drive-Bye Exterminators before you have a full-blown infestation.
Habitat
The Yellow Sac spider's natural habitat is outside in the grass, shrubs, woodpiles, and other vegetation. They are most active during the evening, hiding in their web masses during the daylight hours. They will also hide in rolled leaves, organic debris, and other hiding spots.
Diet
They hunt for their prey in the night rather than using a web, like most spiders. The diet of a Yellow Sac spider consists of other spiders and garden and agricultural insects and their eggs. When food is scarce, they will even eat their own eggs or become cannibals.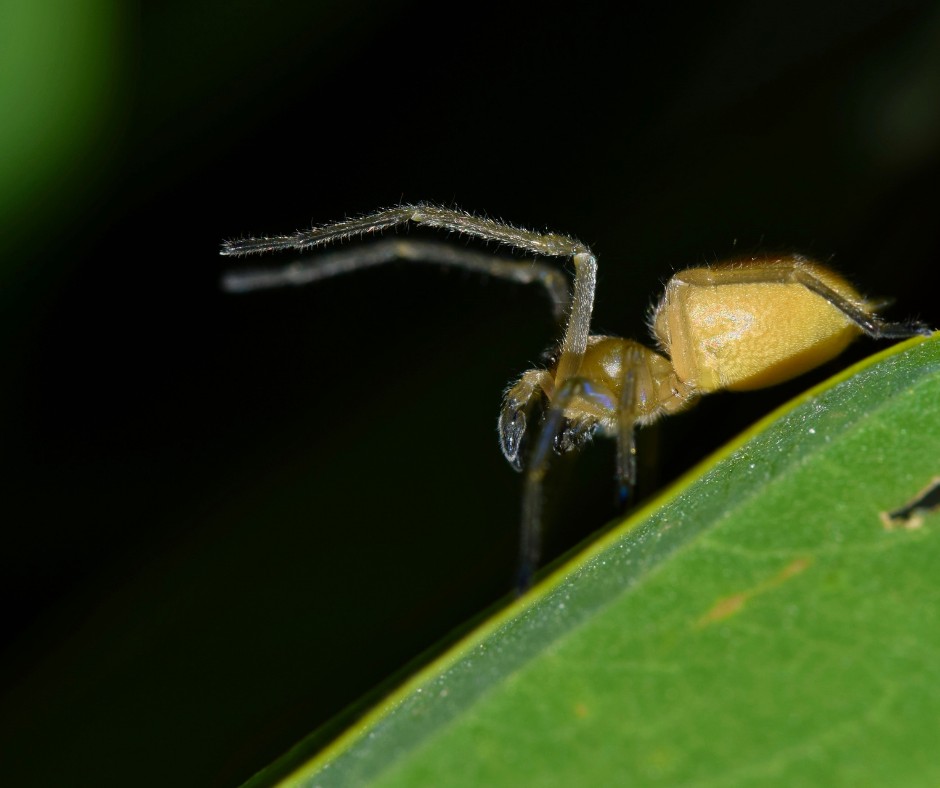 Are Yellow Sac Spiders a Danger?
The Yellow Sac spider is an aggressive variety, and it will bite when threatened. Now, these spiders are venomous. The bite does contain a toxin that can be mildly necrotic. That is where the venom damages the skin tissue. The bite is painful for some, and others do not even notice the initial bite. Then some people get a red bump that goes away in a few weeks. Others get swelling, burning, and pain on the bite site, and then a pustule will form.
But typically, the bite from a Yellow Sac spider is not medically important and is no real cause for concern.
Spider Prevention
Clearly, most people prefer to keep spiders out of their homes. So, to prevent Yellow Sac spiders from getting into your home, incorporate the following into your daily routines:
Keep your attic, garage, and basement clear and decluttered.
Seal any crevices and cracks around your home.
Enclose your crawlspace.
Sweep any cobwebs or sacs that appear.
Store firewood away from home.
Install yellow bug lights that do not attract a meal for invading Yellow Sac spiders.
Set up dehumidifiers in particularly humid areas.
Contact a local and professional pest control company for an inspection and evaluation for removing all pests from your home and property.
Yellow Sac Spider Elimination
The best way to rid your home of Yellow Sac Spiders is to sanitize and clean the remote spaces of the house often. This will eliminate the sacs and the spiders too. You can eliminate spiders and insects, but it requires a professional service. The professional application combines techniques that pose the lowest risk to your health and the environment.
Drive-Bye Exterminators offers home and commercial pest control services in Pinellas County, Florida, and the surrounding areas. Family-owned and operated for over 25 years, Drive-Bye Exterminators has state-certified inspectors and exterminators. And we provide pest extermination services to commercial and residential clients. Drive-Bye Exterminators offers each client the same level of attention, professionalism, and excellence.
Request a FREE Pest Control or Termite Inspection today with the Professionals of Drive-Bye Exterminators. Contact Us Today