With more than 6,300 species found all over the planet, Jumping Spiders are the largest family of spiders.
The different types of Jumping Spiders vary significantly in appearance. Additionally, they live in numerous climates and environments, which has evolved the Jumping Spider's behavior to be quite diverse.
No need to panic, the Jumping Spider is hardly a threat, and the experts at Drive-Bye Exterminators have all the knowledgeable tools to help you prepare.
Appearance
Jumping Spiders vary significantly among species, but a few traits join this family of spiders. All Jumping Spiders are relatively small. The largest Jumping Spider measures just under an inch, while the smallest is a quarter of its size. Although there are some exceptions, most species are covered in tiny hairs and appear fuzzy.
The eyes of a Jumping Spider are one of its most defining traits. Jumping Spiders have four pairs of eyes, with the two largest top and center. This arrangement gives the spider a "cute" expression, making it one of the only spiders that the average person will call "adorable."
Jumping Spiders can be colorful and wildly patterned or dull and drab. Because they occupy many unique habitats, they have adapted to these environments and lifestyles. The result is a family of spiders that can look like they hardly relate to one another.
Phidippus Adumbras: an orange-red abdomen with a tiny, detailed, black and white pattern in the center.
Apache Jumping Spider: slick black bodies with bright red patches.
Bold Jumping Spider: primarily black and white with a couple of golden-yellow spots on this abdomen and metallic-appearing teal on its face.
No matter what species, female Jumping Spider will almost always appear duller in color and less decorative.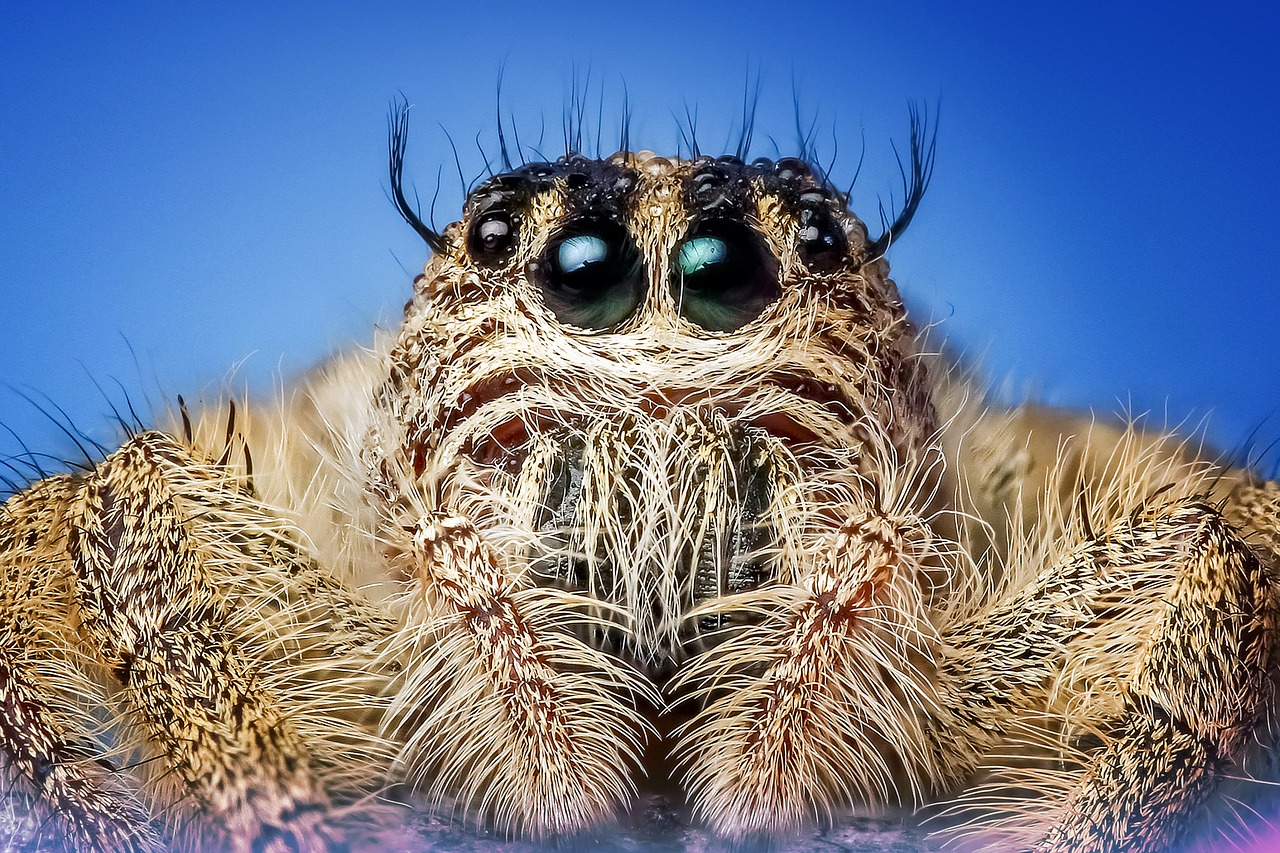 Behavior
Unlike other creepy crawlers, Jumping Spiders are mainly active in the daytime. They are athletic spiders. Instead of spinning webs to catch their prey, Jumping Spiders will roam the ground, chasing down targets, or wait for it to come near, then pounce. Jumping Spiders are skilled hunters due to their incredible and impressive eyesight.
Nathan Morehouse is an expert on Jumping Spider vision. He says,
"They have to stalk and jump to capture their prey… To do all of that, they need really exceptional vision. And their vision, depending on how you measure it, is the best for anything as small as they are."
Jumping Spiders can jump up to 6.3 inches- that's over six times their size! They will produce a thin thread of web that acts as an anchor as it leaps.
Mating Practices
The mating practices of most spiders are simple and to the point. Jumping Spiders take mating another level in the arachnid world.
It's infrequent for most spiders to so elaborately choose a mate. Males will go to extensive lengths to find the right partner, and females are picky and need multiple options.
Male Jumping Spiders use many strange techniques to attract their mate.
Flashing colors and limbs
Unique dances
Body vibrations
Drumming
Researchers theorize that such elaborate mating practices are possible for the Jumping Spider because of its advanced vision.
Habitat
Jumping Spiders have proven to be highly adaptable in several ways. The endless list of habitats occupied by the Jumping Spider is a perfect example of their resiliency. Tropical forests, grasslands, and desserts are just a few of the environments they call home. Antarctica is the only continent where Jumping Spiders have not been observed.
Diet
A carnivorous creature, the Jumping Spider consumes primarily tiny insects and other spiders. They are exceptionally skilled at catching pesky flies. Some Jumping Spiders successfully capture and take down small lizards and frogs.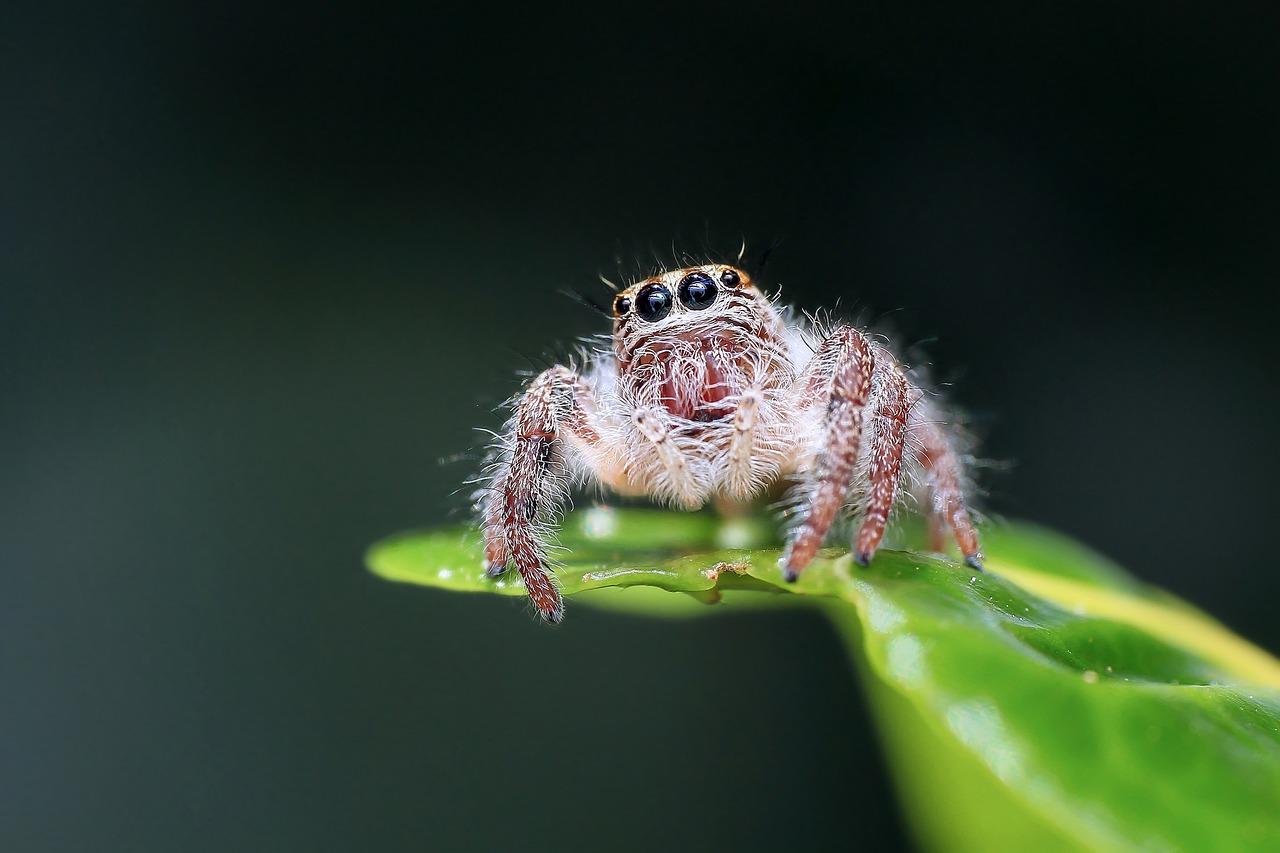 What to Do If You Spot a Jumping Spider
Unfortunately, Jumping Spiders can find their way into your home or place of business, but you don't need to panic. In fact, Jumping Spiders consume many of the genuinely unwanted pests in our homes, like flies.
Jumping Spiders can bite, but it is rare for a human to be their victim. Only when the spider is mishandled or physically threatened does it feel the need to defend itself. The affected area may appear like a mosquito bite and is nothing to fret over. A bite from a Jumping Spider will not cause pain to humans.
Where Might Jumping Spiders be in Your Home?
Near windows or doors
Around light sources, like lamps or the T.V.
Under furniture
In the cracks of wood flooring
In fabrics or drapes
Where Might Jumping Spiders be in Your Yard?
In leaf litter
On bushes
Scaling fences
Clinging to external walls of the building
Jumping Spider Extermination
Although they are not a threat to your family's health, the Jumping Spider still may be a nuisance in your home. If you find an unwanted Jumping Spider on your property, it's best to leave them be and give the professionals a call. Drive-Bye Exterminators pest control company gives you complete Jumping Spider extermination and stops the issue for you and your family.
Drive-Bye Exterminators offers home and commercial pest control services in Clearwater, Florida, and the surrounding areas. Family-owned and operated for over 25 years, Drive-Bye Exterminators has state-certified inspectors, and exterminators provide services to both commercial and residential clients.
Contact us today to schedule an appointment with one of Florida's best pest control companies.