All About Pyramid Ants
There are so many ant species worldwide that it can be challenging to tell each apart. Pyramid ants are another small, darkly colored ant that may easily be confused with others, like the sugar ant and pavement ant.
However, with the help of the experts at Drive-Bye Exterminators, you'll learn all about pyramid ants and how to identify them correctly.
Continue reading this Pest ID page to get the top prevention tips and other important information about the pyramid ant.
Appearance
Pyramid ants are a relatively small ant species. Their head and thorax are typically reddish-black. However, it can range from yellow to brown tones. The abdomen of a pyramid ant is usually black, and the overall shape is slender and twig-like.
Physical Traits of the Pyramid Ant:
Color ranges from yellow and brown to reddish black
About 1/8 inch in length
Two antennae
Six legs
Slight pyramid-like elevation at the top of the thorax
Behavior
Pyramid ant colonies are generally limited to a few hundred members. In contrast, many other species have colonies with thousands of ants. Furthermore, while other ants may have multiple queens in a single nest, the pyramid ant commonly has only one queen.
More likely than not, you'll spot a single ant rather than many gathered together. This ant is searching for food. While other species may do this as a group, pyramid ants usually take on the task independently.
Use caution when handling pyramid ants. They can bite if provoked or cornered. Fortunately, they do not have a stinger. When these fascinating little insects are crushed, they have a gland that produces a distinct odor. Some people compare the scent to rotten coconut.
When you see a pyramid ant indoors, they are likely there in search of food due to depleted resources in their natural habitat. Fortunately, they never nest inside a building or residence.
Diet
In general, the pyramid ant is fond of sweet food sources. They will also consume other nuisance pests, like the fire ant. For this reason, many regard these critters as beneficial insects to have around.
Some of the pyramid ant's favorite meals consist of the following:
Honeydew from aphids and mealybugs
Live or dead insects
Sugary food left behind by people
Habitat
Although pyramid ants are found all over the United States, they are most abundant in the south.
They prefer sunny open areas to build their nests. However, they sometimes dwell under rocks and other objects on the ground. Dry, sandy soil is ideal for pyramid ant mounds. One of the key identifiers aside from the physical appearance of the insect is the distinct look of their nests. They reassemble a volcano, having a mountain-like mound and a caved-in center with an entryway in the middle.
Interestingly, pyramid ants often build their unique nests next to fire ant mounds. Their proximity to rival ant nests can be explained by their tendency to consume other ant species. Seeing many pyramid ant nests can indicate the presence of fire ants or other invasive species nearby.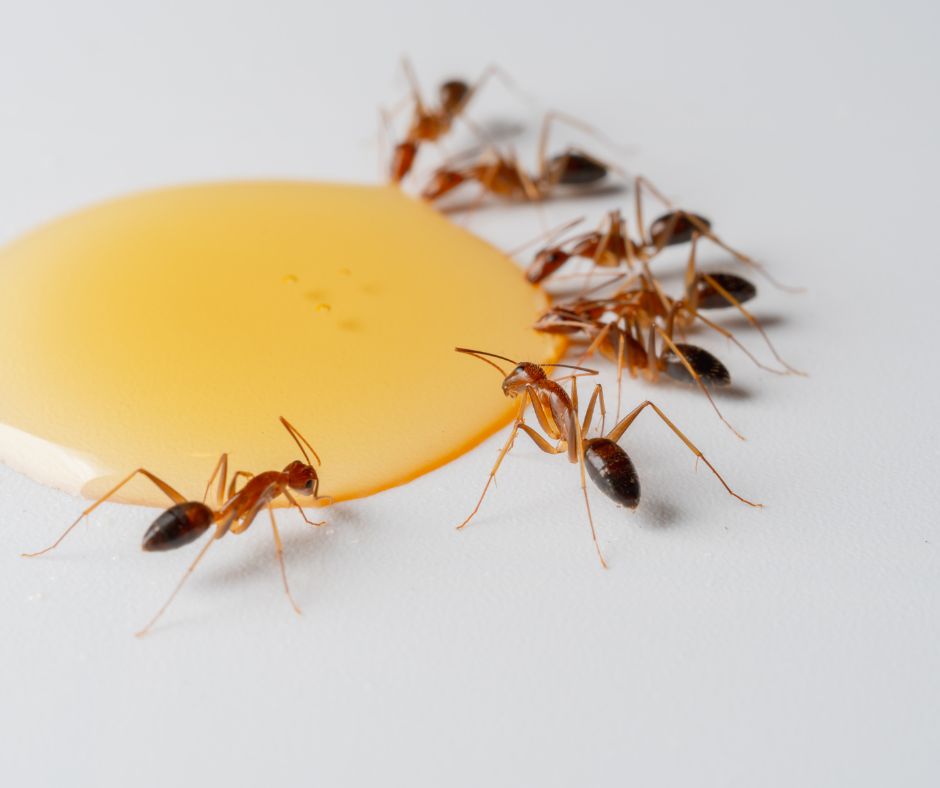 Do You Have Pyramid Ants?
Fortunately, these ants are not considered a threat to humans. In fact, they are often labeled as a beneficial species rather than a nuisance. Nevertheless, their mounds can be unsightly on the lawn and make mowing more of a challenge. They will also bite when their nest is disturbed, which is undesirable if you have young children or pets playing in the yard.
The most common way to identify an infestation of pyramid ants is by noticing several nests scattered throughout your property outdoors. They rarely come inside, but if they do wander indoors, you'll likely only see one- perhaps two-  ants at a time. Home infestations are virtually nonexistent. The visit is brief as they forage for sweets and sugary crumbs left behind.
Preventing Pyramid Ants
If you're concerned about pyramid ants invading your home, adopt the following tips and tricks to keep them away.
Repair all cracks and openings in the home's structure to eliminate accessible entryways for these tiny pests.
Clean up spills and leftover crumbs as soon as possible.
Vacuum and wipe down the surfaces throughout your house frequently.
Remove excess moisture by promptly fixing plumbing issues and ensuring adequate outdoor drainage.
Schedule regular pest control services to avoid ants taking over your property.
Eliminating Pyramid Ants at Your Home or Business
Pyramid ants are no match for our outstanding commercial and residential pest control services. The Drive-Bye Exterminators are a friendly team of professionals who have been in the pest control industry for many years. Being a family-owned and operated company for over 25 years, we truly have seen it all.
Reach out to the Drive-Bye Exterminators to get rid of the pesky pyramid ants for good.