Pest ID: Fire Ants
If fire ants have ever bitten you, there is no doubt as to why they are called fire ants. Fire ants measure up to their name in both color and sting. The aggressive stings trigger painful welts that can lead to severe allergic responses. And as you probably know, the sting burns for quite a bit, and then the itching sets in. If you get into a fire ant mound, you could be in real trouble. What's more, they can be a problem for pets too.
Making matters worse, many people are allergic to fire ants! Triggering an allergic reaction in a person or pet can lead to a fatal end. You certainly don't want that. So, what are you to do about fire ants that keep popping up in your yard? We're going to tell you in the following Pest ID. First, let's get to know the fire ant.
If you locate a fire ant mound in your yard, call Drive-Bye Exterminators for removal right away.
Appearance
These ants are a dark reddish-brown color on most of their body and head. But the abdomen is definitely the darkest. They have three pairs of legs and one set of antennae. However, the worker ants are black to red. The size of the ant and is about 2-6mm in length.
Habitat
Fire ants build their nests in soft soil near riverbanks, well-watered lawns, ditches, and around ponds. The mound appears as a dome shape when out in the open, but the ants prefer to place their underground nests under rocks, tree branches, and the like.
Also, they are capable of building massive mounds. In fact, these mounds can be as much as three feet high or larger. And they do not live just within their mound. Fire ants can take a trip 100 yards from their pile, searching for food.
Massive, well-developed mounds might need several treatments to eliminate them. Then a broadcast application of bait is spread out around the yard to kill any remaining ants that have wandered from the mound. The goal is that the fire ants believe the bait is food and take it deep inside the mound and throughout the colony.
Behaviors
A fire ant colony can be quite extensive. In fact, there can be so many ants in a single colony that they can actually gang up on a small animal and kill it. So, if fire ants are disturbed, they will be aggressive and attack people and animals. Their large mandibles grab on, and the abdomen delivers a stinging toxic alkaloid venom.
Fire ants start emerging when temperatures reach between 70 and 95 degrees and mostly come out at night. However, they are capable of surviving extreme conditions. They have even been known to survive floods.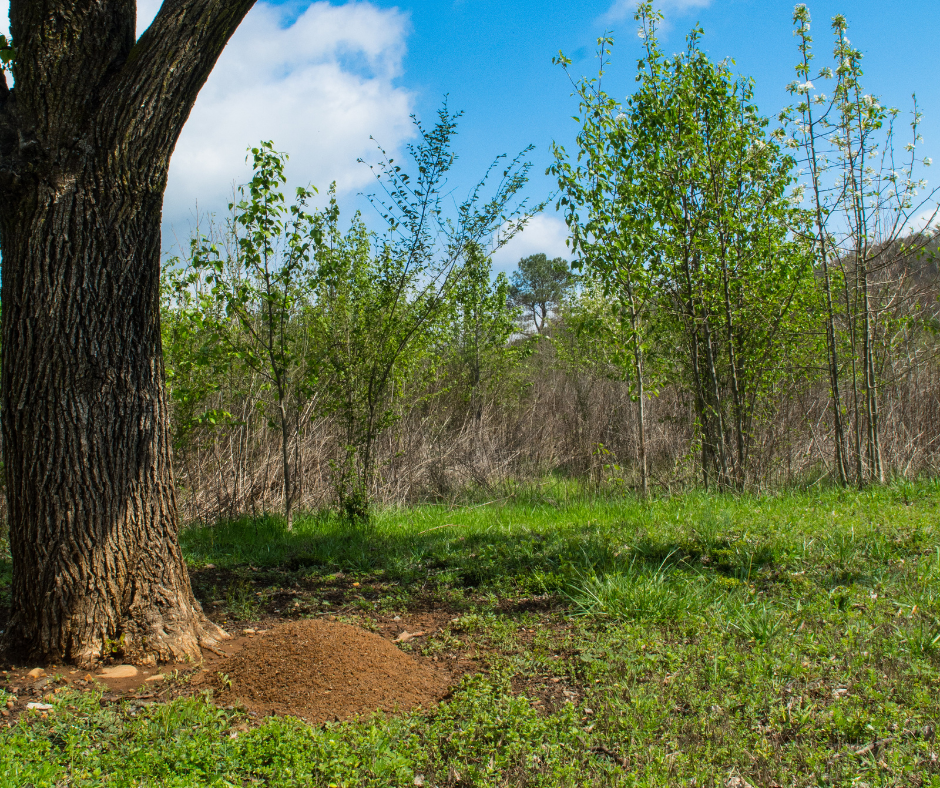 Three Types of Fire Ants in the Colony.
Queens
The queen ants are the reproductive members of the colony. They will live up to seven years and can lay 1600 eggs per day. It is no wonder they spread so quickly.
Males
The males serve one purpose. On the night of the nuptial flight, they will inseminate a female, and then he is done. He is not accepted in the colony again and will die soon after.
Workers
The workers are, by far, the most interesting and complex of the fire ants. They are three sizes and perform tasks according to that size. The larger workers have mandibles capable of macerating and storing the food for the colony. The medium and small-sized fire ants are responsible for the remainder of the chores. They will tend to the eggs, clean the nest, forage for food, and other ant duties.
Are Fire Ants Dangerous?
Studies suggest that fire ants infest more than 325 million acres across the southern United States and sting more than 20 million people per year. If stung by a fire ant, most people can take an oral antihistamine and use topical treatment. If left alone, the bite will dissipate on its own. But if the pustule that forms is scratched, the bite may become infected.
Certainly, if there is someone in your home that is allergic to fire ants, have Drive-Bye Exterminators come out to survey and treat for ants.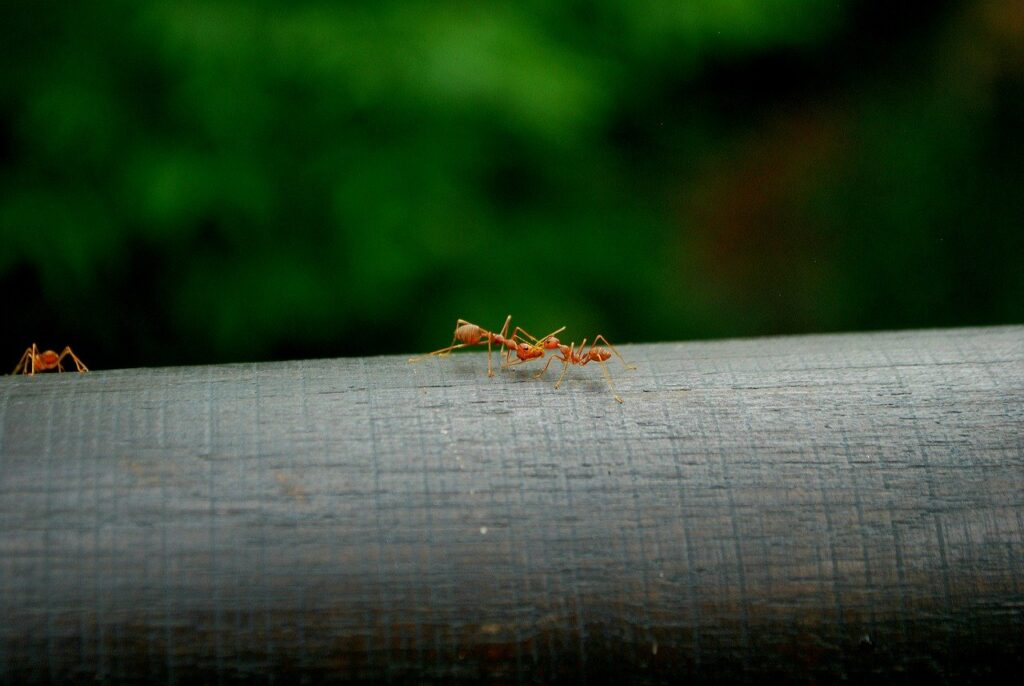 Fire Ant Elimination
Fire ants can be eliminated, but it requires a professional service and pro strength chemicals. This application combines techniques that pose the lowest risk to your health and the environment. Therefore, it is essential homeowners hire a pest control company with experience with fire ants.
Here are a few tips to keep your family safe if you spot ants in the yard.
Bring toys and other items inside every day. You see, they are really good at finding spots to hide their mounds. They will even pop up overnight under a bike, toy, or other item left on the ground.
Attempting to treat the mound may only cause them to spread unless it is thorough. Call an exterminator to get the entire mound eradicated.
Always walk outside and look over the yard before allowing small children to play in the yard.
Keep pets away from the mound if they get curious.
Ensure all firewood piles and the like are kept a reasonable distance from where people congregate, and children play. And if you have a firewood rack, that would be best.
Wearing insect repellant with DEET will help repel fire ants you may accidentally come upon.
Keep the lawn well-trimmed and do not allow overgrowth. The more activity in the yard, the fewer chances ants will get to build a big mound.
Drive-Bye Exterminators Eliminates Fire Ants for Good
These days we all need some time outdoors. Being stuck inside is not healthy for us. So, keep your yard and your health in excellent condition this year without fire ants. Contact Drive-Bye Exterminators today to get proactive in your fight against fire ants.
Drive-Bye Exterminators offers home and commercial pest control services in Pinellas County, Florida, and the surrounding areas. Family-owned and operated for over 25 years, Drive-Bye Exterminators has state-certified inspectors and exterminators. And we provide fire ant extermination services to commercial and residential clients. Drive-Bye Exterminators offers each client the same level of attention, professionalism, and excellence.
Request a FREE Fire Ant, Pest Control, or Termite Inspection today with the Professionals of Drive-Bye Exterminators. Contact Us Today