Tiny and dangerous, these insects are not harmful to you but to your home and the property on which you live. Hearing you have termites in your home is a statement no pest control wants to make and no homeowner wants to hear. However, you can count on your local Drive-Bye Exterminators for immediate subterranean termite treatments.
To learn more about the subterranean termite, keep reading this article provided by Drive-Bye Exterminators.
Subterranean Termite Appearance
Subterranean termites tiny but pack a big punch. They range from 1/8 of an inch to one inch long, with six legs and two antennae. The body is oval-shaped, and they range in color from creamy whiter to dark brownish-black.
They live in colonies with a queen, king, soldiers, workers, and alates. Those colonies can have up to two million termites living and working together.
Should you see an insect that might be a termite, contact Drive-Bye Exterminators before you have a full-blown infestation and the damage that comes with that.
Subterranean Facts
Subterranean termites live underground, creating mud tubes around the home as they forage for food. Unlike the drywood termite, their colonies begin in the soil. But like other termite species, subterranean termites feed on wood and wood pulp. And they eat 24 hours a day, seven days a week.
With termites, out of sight does not mean out of mind. Though they live underground, subterranean termites can be highly damaging to walls, floors, and other assets around your home.
Possibly the most intimidating fact about the subterranean termite is the rate at which they reproduce. You see, the queen can lay 1000 eggs per day. Obviously, that can really add up quickly. And since they can remain undetected for years, the damage can really sneak up on homeowners.
Drive-Bye Exterminators will come to the rescue, locating the nests and destroying the colony before they damage your home.
Signs of a Subterranean Termite Infestation
Do you know how to recognize the signs of an infestation? If you see mud tunnels or tubes clinging to the outside of your home or around your basement, you may have an underground termite problem.
Here are some of the additional signs of a termite infestation.
Examine any wood flooring in the home for blisters in the wood.
Inspect the other wood in the house for hollowed or damaged wood, like walls, trim, decks, floors, etc.
The droppings will look like mounds of coffee grounds, sawdust, or pellets.
If you find termite wings near the windows, doors, and access points, call a pest control company to check it out.
Schedule subterranean termite extermination for your home or business today from one of Florida's leading pest control companies.
Controlling the Spread
Here is a list of suggestions by Drive-Bye to avoid attracting subterranean termites.
Remedy areas of water pooling around the foundation and walls of the home.
Ensure the home's gutters and downspouts are cleared and working correctly.
Store firewood more than 20 feet away from the house itself.
Rake mulch 15 inches away from the home's exterior walls and keep the bushes off the walls as well.
Have the ventilation of crawlspaces, attics, and basements inspected for humidity levels.
These are just a few of the things you can do to assist in controlling the termites and for the protection of your house. In addition, be sure to get on the schedule with Drive-Bye Exterminators to treat the entire home.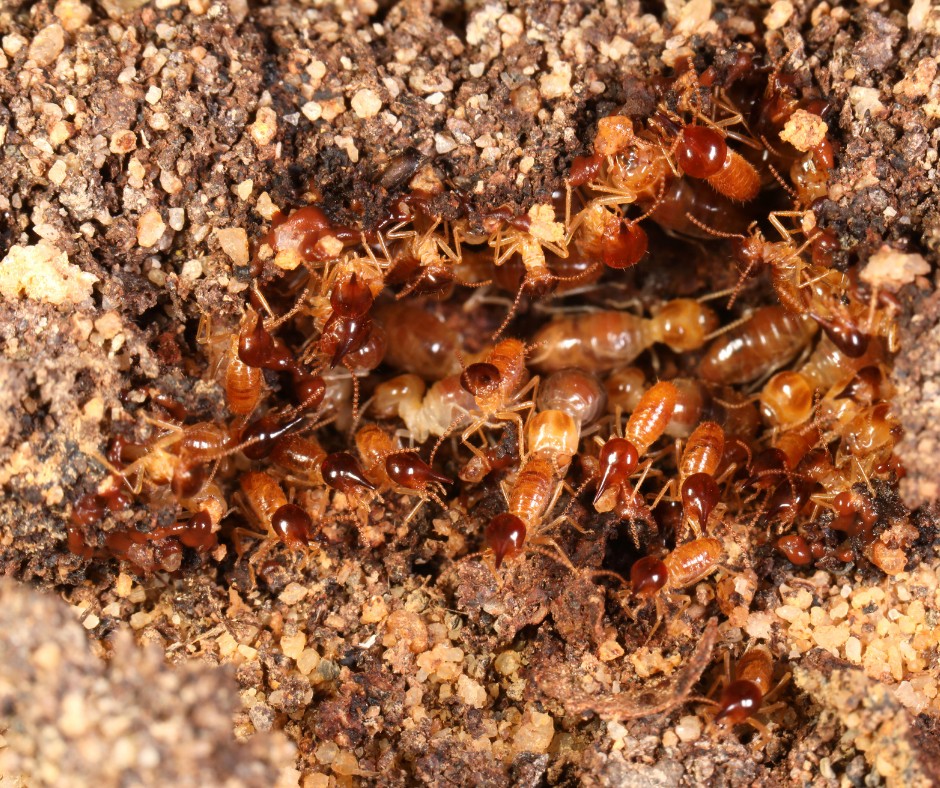 Subterranean Termite Elimination
Let's face it, you can't deal with termites on your own, and you don't want to end up with one of those awful tents over your house. First things first, ensure you hire a pest control company that has experience with termites. That said, prevention is the best way to keep from getting termites of any sort.
Drive-Bye Exterminators offers home and commercial pest control services in Pinellas County, Florida, and the surrounding areas. Family-owned and operated for over 30 years, Drive-Bye Exterminators has state-certified inspectors and exterminators. And we provide termite extermination services to commercial and residential clients.
You can count on the team at Drive-Bye for exceptional pest control care of your house. Contact us today for a no-obligation consultation.