Florida Carpenter Ants are rightly named due to their abundance in Florida and their likelihood to nest inside wooden materials. Also found in North Carolina, Mississippi, and other states, these pests are a common complaint from homeowners, and infestations can be tricky to eliminate. Nevertheless, there are plenty of prevention methods to keep these ants from being attracted to your home.
First, you'll want to get familiar with the appearance, behavior, and nesting sites of the Florida Carpenter ant to correctly identify the species and further understand how to ultimately squash an infestation.
In this Pest ID page provided by the Drive-Bye Exterminators, you will learn how to identify this ant species and more.
Read on to protect your home from these common Florida pests.
Appearance
Florida Carpenter Ants are some of the largest ants in the Sunshine State, which makes them slightly easier to identify than other ant species. Still, they can be easily confused and misidentified. You can use the following physical identifiers to help determine if the ants you are observing are Florida Carpenter Ants.
Physical Traits of the Florida Carpenter Ant:
About 13 mm long, ranging from 6 mm to 20 mm.
Six legs
Thorax is a rusty red-yellow color
Abdomen is black
Elbowed antennae
Wings on some individuals
Behavior
The Florida Carpenter Ant is often confused with the Black Carpenter Ant. Abundant in Florida's panhandle and other U.S. states, the Black Carpenter Ant has a reputation for causing massive damage to wood structures. In reality, the Florida Carpenter Ant does not behave like its relative. They tend to nest in materials previously damaged by other ants and insects rather than destroying structures to build their home.
Nevertheless, they can infest a home in large numbers. Homeowners have every right to be alarmed when spotting these pests inside the house because they bite humans when disturbed or threatened. And if you are unaware of their presence, it's all too easy to cross paths with a Florida Carpenter Ant and accidentally disturb them. In this case, you can be bitten without even trying.
For instance, if Florida Carpenter Ants have nested inside a piece of old wooden furniture and you move it while cleaning or rearranging your space, the ants will be threatened and potentially bite in defense.
Diet
These unique ants typically forage for food at night, so you can expect to see more activity in the evening hours. They are attracted to homes because of their love for sweets and access to moisture. And at campgrounds and parks, they are likely found near vending machines.
They're also fond of floral nectar and the aphid's sweet honeydew. Other insects, alive or deceased, are another food source for the Florida Carpenter Ant, especially when they do not have access to their favorite sweets.
Habitat
Florida Carpenter Ants usually nest inside existing holes or softer materials, like rotten wood or Styrofoam. Unlike the Black Carpenter Ant, these insects do not nest in sound wood.
Nevertheless, if the conditions are right, Florida Carpenter Ants can infest your home and nest in many different locations inside and outside of the building.
External nesting sites include, but are not limited to:
Damaged or rotting wood structures
Trees, like palms and citrus
Logs and tree stumps
Under stones and rocks
Wood paneling
Interior nesting sites include the following and more:
Attic insulation
Under bathtubs
Near windows and doors
Wood paneling
Wooden furniture
Wood flooring
Electrical boxes
Wall voids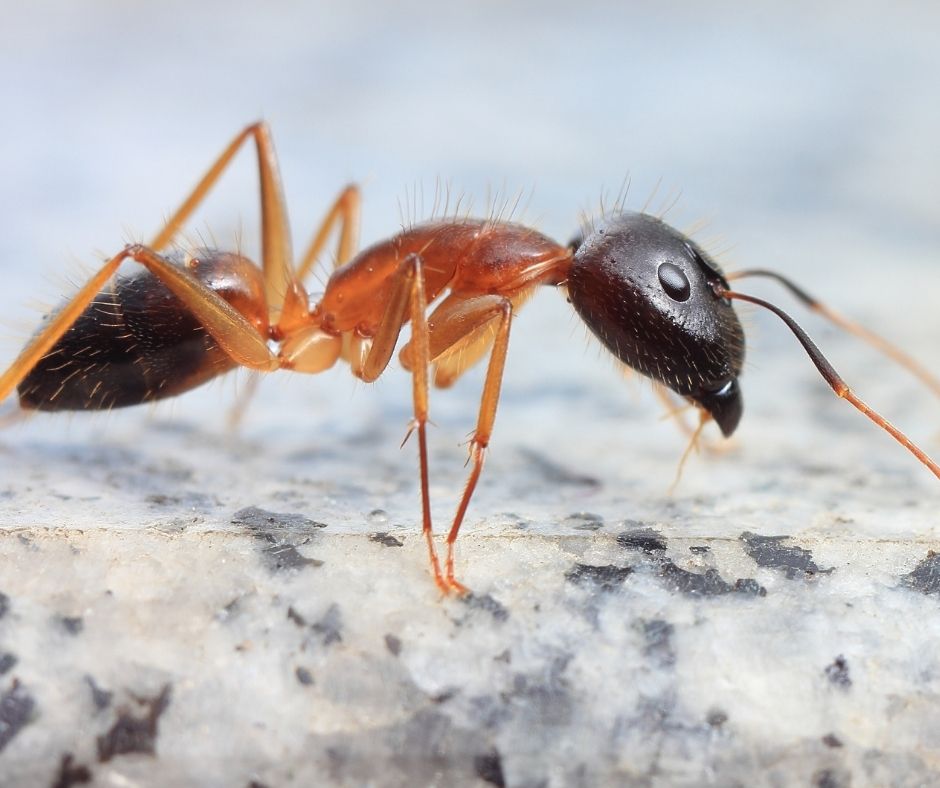 Do you Have a Florida Carpenter Ant Infestation?
The University of Florida's Entomology Department describes the frequency of infestation as so:
"In a survey of common urban pest ant species covering four metropolitan areas of Florida (Daytona-Orlando, Tampa Bay area, Sarasota-Ft. Myers, and the greater Miami area), Klotz et al. 1995 found that infestations of Florida carpenter ants accounted for approximately 20% of all ant complaints by homeowners."
Florida Carpenter Ants are common inside the home, so keep an eye out for these pests by looking for the three major warning signs:
Rustling sounds coming from their typical nesting sites, like inside of walls.
"Frass" or wood shavings and dead ants.
Winged ants searching for food are often seen at night.
Preventing Florida Carpenter Ants
The most efficient way to avoid an infestation of Florida Carpenter Ants is to get rid of the materials and conditions that attract these pests. Use the following tips to create a home environment that doesn't welcome them:
Eliminate moisture and standing water by installing effective drainage systems and immediately addressing plumbing issues, like leaks.
Keep tree branches trimmed and move plants and gardens away from the home. Tree branches and other plants can act as a bridge for the ants to enter your home.
Repair cracks and openings that make for an easy entryway for pests to get inside.
Regularly inspect the wooden structures inside and outside your home for ant infestations.
Schedule seasonal services by your local pest control company to catch infestations as early as possible.
Eliminate a Florida Carpenter Ant Infestation with the Experts
Florida Carpenter Ant nests are notorious for being challenging to find. Their nests are often in hard-to-reach places that are out of sight.
In the case of a Florida Carpenter Ant infestation, it is best to contact your local pest control team to eliminate the pests quickly and completely.
Look no further than the experienced and trusted staff at Drive-Bye Exterminators. We have successfully removed many Florida Carpenter Ant infestations over the years and are more than happy to do the same for you.
Give us a call today to rid your home of these pests and implement the proper prevention methods to keep the ants from returning in the future.