Ever walked along a sidewalk to stop and watch a trail of ants making their way to who knows where? They are pretty busy and utterly fascinating if you stop to take the time. And most likely, they are going back under the sidewalk because they are, in fact, pavement ants. Correctly named, these dark brown to black ants make their homes in cracks, crevices, and under the pavement.
While pavement ants are no threat to people and they are not a public health risk, they can do other damage. You can count on your local Drive-Bye Exterminators for the elimination of pavement ants.
Getting to Know Pavement Ants
All insects and creatures serve a purpose on this earth. Whether we know what it is or if they are even worth it is another story. Pavement ants are relatively harmless and are tiny. They are throughout the US and other countries. Here are some of the more specific facts about the pavement ant.
Appearance
Only about one-eighth of an inch long, these ants are tiny and oval-shaped. They tend to be brown to black in color with lighter appendages than the rest of the body.
Habitat
Watching pavement ants in their natural habitat, you would notice how beneficial their existence really is. They help clean the environment by eating dead insects, dead animals, and organic waste. What's more, they help to create fertile soil when they aerate the ground.
In nature, these ants typically nest under rocks, logs, in mulch, pavement, along curbs, and in cracks. With nowhere to go under, they will build a tiny dirt mound on the pavement.
If they get into a building, pavement ants will be in the masonry walls. But they also nest in other walls, insulation, and under the floors. They invade walls when they are in search of food sources.
Pavement ant nests are difficult to locate. So, the best way to manage an infestation is to contact a pest control professional.
 Habits
Pavement Ants live in colonies with multiple queens and workers. When the settlement is in danger from moisture or temperature changes, the workers will relocate the queens and baby ants to keep them safe.
June and July are typically mating seasons, and when you may see them a bit more active.
According to Pest World,
"These black ants will eat almost anything. Pavement ants have been known to consume insects, seeds, honeydew, honey, bread, meats, nuts, and cheese. They forage in trails for distances of up to 30 feet and are known to climb masonry walls that enter into occupied areas."
Are Pavement Ants a Danger for Homeowners?
Pavement ants do not typically bite. Instead, they will sting if provoked, yet they would rather just go about their business. So, they are really not an issue unless you get an infestation. Then they can be rather challenging to control. Often, their nests are so far down in the soil homeowners cannot get to the depths of the colony.
The best thing you can do if you have a particular problem with pavement ants is to call your local pest elimination company to come out and treat the colony and home.  knows just what to use to get rid of pavement ants.
Prevention of Pavement Ants
To prevent pavement ants from infesting your home, there are a few simple things you can do.
Keep mulch around the home to two inches max.
Eliminate standing water around the home.
Keep tree branches and bushed cut away from the house.
Ensure there are no cracks or tiny openings around your house.
Store firewood and building materials away from your home because they like to build nests in stacks of wood.
Inside the house, clean up spills and crumbs on countertops and kitchen floors right away. You do not want to give ants a reason to stay longer than they planned.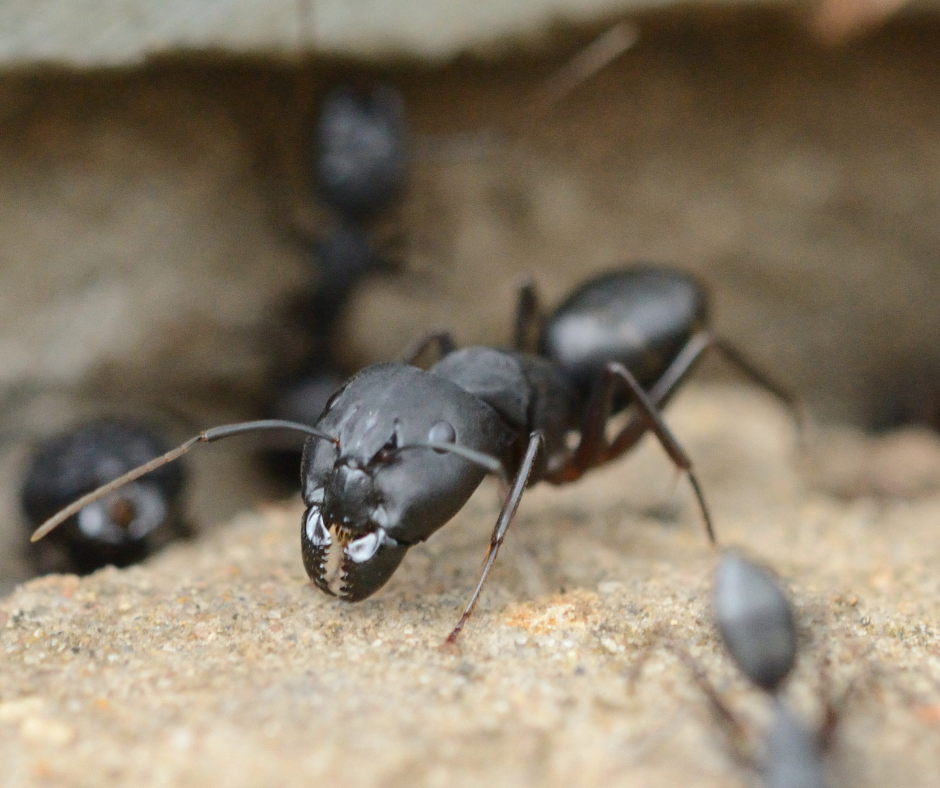 Pavement Ant Elimination
Slow-acting ant bait is the best way to get rid of ants. Your exterminator has the best products available, so the job is best left to them. However, if you want to try on your own, here are a few things you can try.
Mix dish soap and water and pour on the nest.
Spray areas they forage with vinegar and water.
Dried mint leaves are a deterrent for determined ants.
Drive-Bye Exterminators offers home and commercial pest control services in Pinellas County, Florida, and the surrounding areas. Family-owned and operated for over 25 years, Drive-Bye Exterminators has state-certified inspectors and exterminators. And we provide pavement ant extermination services to commercial and residential clients.
Drive-Bye Exterminators offers each client the same level of attention, professionalism, and excellence.
Request a FREE Pavement Ant, Pest Control, or Termite Inspection today with the Professionals of Drive-Bye Exterminators. Contact Us Today